Avengers to battle evil at Royal Farms Arena
As William Irizzary sees it, his break dancing and martial arts skills positioned him perfectly for his job as someone else.
"People think I'm Tony Stark," he said. "They think I'm Iron Man."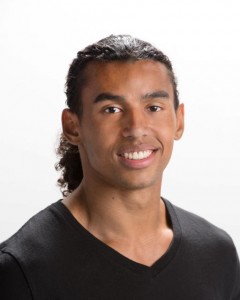 That's because Irizzary, 25, is the iconic super hero, at least for the two hours he wears the red and yellow suit to fight villains alongside his powerful pals in Marvel Universe Live!, which hits Royal Farms Arena from Dec. 10-13.
"The reaction you get from the kids in the crowd is amazing when I put that suit on," Irizzary said.
Irizzary combines his eight years of break dancing with his black belt in karate to bring Iron Man to life and protect the planet alongside his Avenger buddies Hulk, Captain America and Thor, as well as Spider-Man and Wolverine, from being overrun by the evil Green Goblin, Red Skull and Doctor Octopus.
"My break dancing let me move the way I need to so I can copy Iron Man's style," Irizzary, who learned how to bust a move growing up in Manhattan. "My martial arts help me in the way Iron Man carries himself and the way he fights. Iron Man is very confident in his movements."
Irizzary's journey from being an unknown dancer in music videos and commercials to donning the suit worn by perhaps the most recognizable Avenger happened on a whim.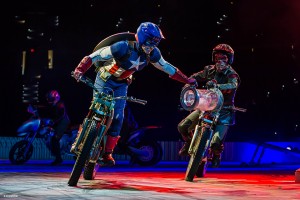 "I heard they were having auditions for the show the next day in Orlando, and I was living in Greensboro, N.C.," he said, recalling November 2014. "My sister and I jumped into the car and drove down there."
Though Irizzary's sister's audition didn't have a comic book ending, William was offered a minor role in the cast, not one of the star superheros or big-name bad guys. But a job was a job, and in December, Irizzary joined the 55-member cast for an 85-city tour.
In May, Irizzary's role changed after the cast member who played Iron Man left the show.
"As soon as they offered me the part, I watched all three Iron Many movies back to back to back," he said. "I wanted to learn everything about him, like how he moved and how he carried himself – everything."
Irizzary, a fan of Iron Man growing up, has no plan of giving up in the fight against evel any time soon.
Marvel Universe Live! is more for elementary-age fans than adults who grew up reading comic books. The two-set performance is filled with explosions, pyrotechnics and a huge projection surface to create sets, which include Tony Stark's laboratory, the Statue of Liberty and mountain ranges.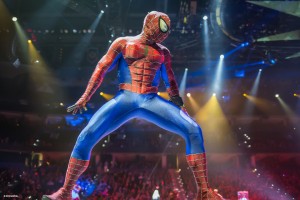 The characters are equally impressive, whether it's Spider-Man defying gravity as he moves across the arena, the eight-foot Hulk who emerges after Bruce Banner becomes angry or Falcon soaring through from the rafters.
The fighting, which is way more PG than PG-13, is basically gymnastics mixed with martial arts blended with choreographed weapon battles.
"What I like the most is the kids' reactions when they see all their superheros fighting the villains," Irizzary said. "You should see the look on their faces."
Marvel Universe Live!
Where: Royal Farms Arena
Shows: Dec. 10, 7:30 p.m.*; Dec. 11, 7:30 p.m.; Dec. 12, 11 a.m., 3 p.m., 7:30 p.m.; Dec. 13, 1 p.m., 5 p.m.
Tickets: $20, $25, $30, $50, $65
*$20, $25, $30 tickets cost $15 each for this show only

Jon Gallo is an award-winning journalist and editor with 19 years of experience, including stints as a staff writer at The Washington Post and sports editor at The Baltimore Examiner. He also believes the government should declare federal holidays in honor of the following: the Round of 64 of the NCAA men's basketball tournament; the Friday of the Sweet 16; the Monday after the Super Bowl; and of course, the day after the release of the latest Madden NFL video game.