The sun isn't setting until well after 8 p.m. Half of your coworkers are on vacation. The NFL is stuck in preseason, and MLB playoffs are still months away. It's peak summer in Baltimore and the District, and that means one thing for those in town—it's cookout season. Whether you're a certified pitmaster, friends with a certified pitmaster (ideal), or someone who generally enjoys spending time in the heat with good company, we at BPE have your next drink menu covered.
For the BBQ purist
We all know this person. You might even be this person. If the sky is blue, there's food on the grill, no questions asked. The BBQ purist knows the meat is the star of the show, but we must occasionally remind them that there's plenty of room on stage to share the spotlight. Enter WhistlePig SmokeStock Wood Fired Whiskey, a collaboration between the craft whiskey giant and Traeger Grills, innovators of the wood pellet grill that launched last month. The Vermont-based distillers age this limited edition whiskey in American Oak No. 3 char barrels and finish it with a low and slow smoke using Traeger's all-natural Apple BBQ wood. They continue to incorporate smoke during the proofing process to create an 86 proof spirit that brings out the flavor when paired alongside anything charred, including veggies. Try adding a bit to your homemade BBQ sauce and marinades as well for a smoky, spicy flair.
Neat, SmokeStock has a subtly smoky nose, spicy palate, and applewood finish. Add a few drops of distilled water to open up the flavor profile significantly, giving way to leather, dried spices, and a more nuanced smoke experience. Enjoy it on the rocks for a summer-friendly complement to a plate of BBQ.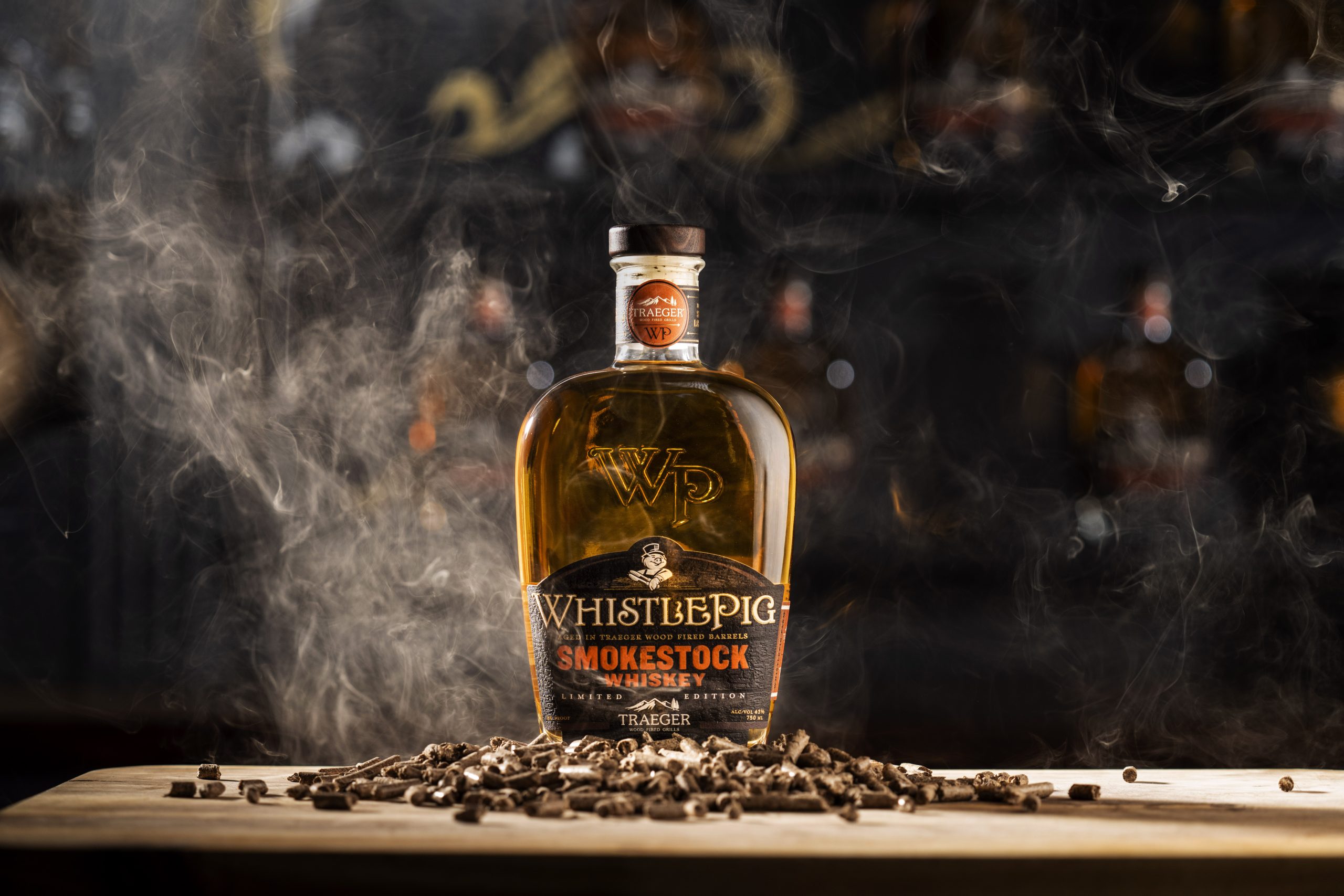 For long days working the grill
Creating a fall-apart rack of ribs or a proper brisket leaves no room for shortcuts. A marathon grill session needs the proper cocktail companion to match. Treat your favorite grill master (or yourself) to a refreshing drink that complements the rich and tangy flavors developing over the coals. Four Roses Small Batch Bourbon, aged a minimum of 6-7 years, blends four original bourbon recipes to yield a mellow and impressively balanced whiskey that stands perfectly well on its own at 90 proof. Enjoyed neat, you'll notice caramel and a subtle spiciness on the nose with a smooth, easy finish, especially given the alcohol content. 
The expertly crafted balance of this bourbon lends itself particularly well to BBQ-friendly cocktails. Here's what BPE enjoyed on a typical DMV summer day featuring temperatures in the high 80s with humidity over 50%.
A typical Moscow Mule this is not. Substituting the standard vodka with Four Roses Small Batch, topped with cold ginger beer and finished with a fresh lime, creates a refreshingly different take on the mule concept. The Rose Mule is tart yet balanced with just enough sweetness to take the edge off of the 90 proof bourbon without overpowering it. We plan to revisit this one at our next cookout.
Recipe
2 fl oz Four Roses Small Batch
Ginger Beer 
Lime
Method
Combine bourbon and ice. Fill glass with desired amount of ginger beer and a fresh squeeze of lime juice. Garnish with a lime wedge.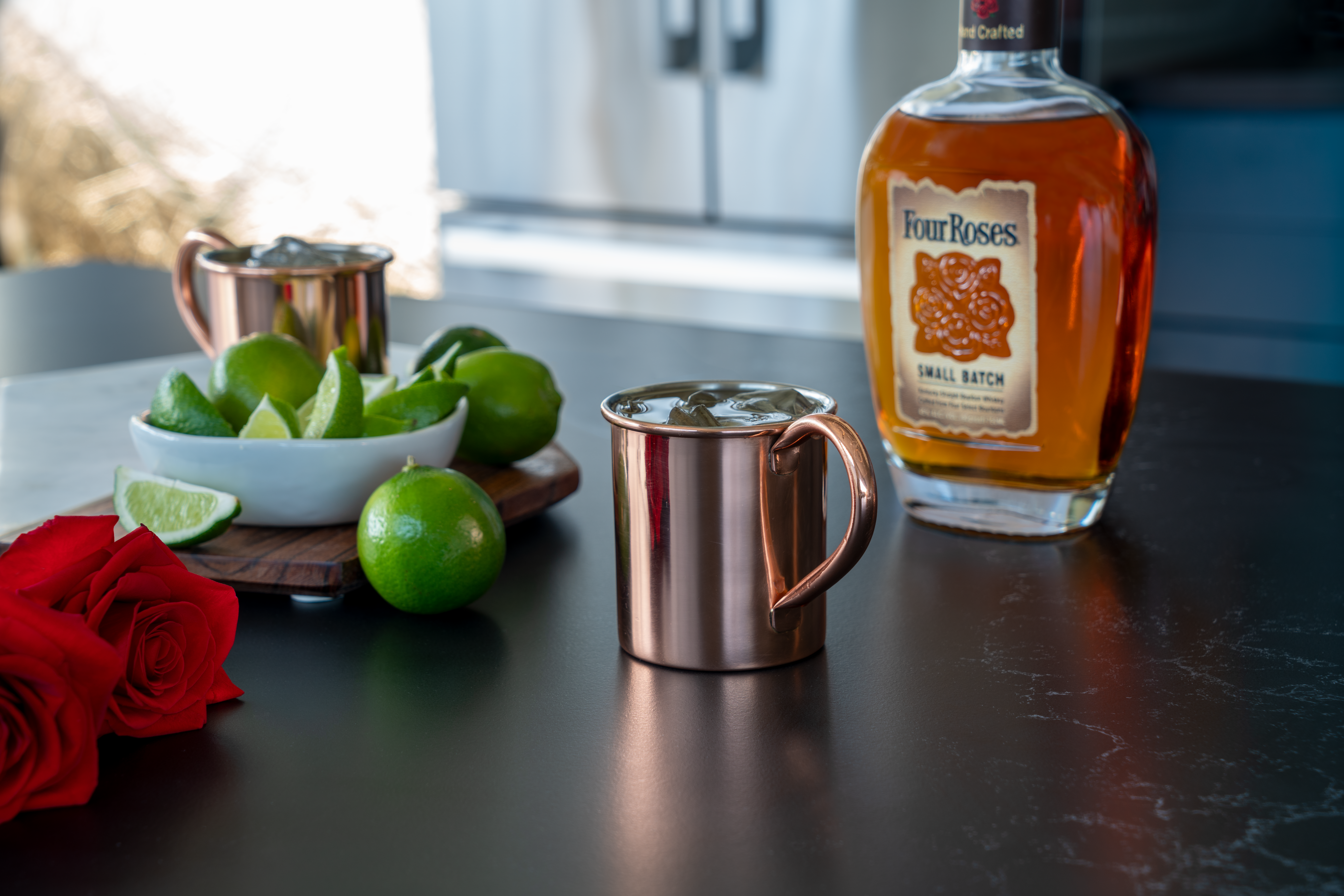 A blend of citrus, clover honey, and Four Roses Small Batch yields a refreshing cocktail guaranteed to keep things cool. The Roses Honey Smash will be enjoyed by whiskey enthusiasts and newcomers alike with honey and citrus dominating the flavor profile. This versatile and moderately sweet drink lends itself particularly well to a scaled-up batch served from a pitcher.
Recipe
1 ½ fl oz Four Roses Small Batch
1 fl oz Orange Juice 
½ fl oz Clover Honey
Lemon 
Orange
Method
Cut lemon and orange wheels (3 each) and add ingredients to mason jar. Add ice, close mason jar and shake.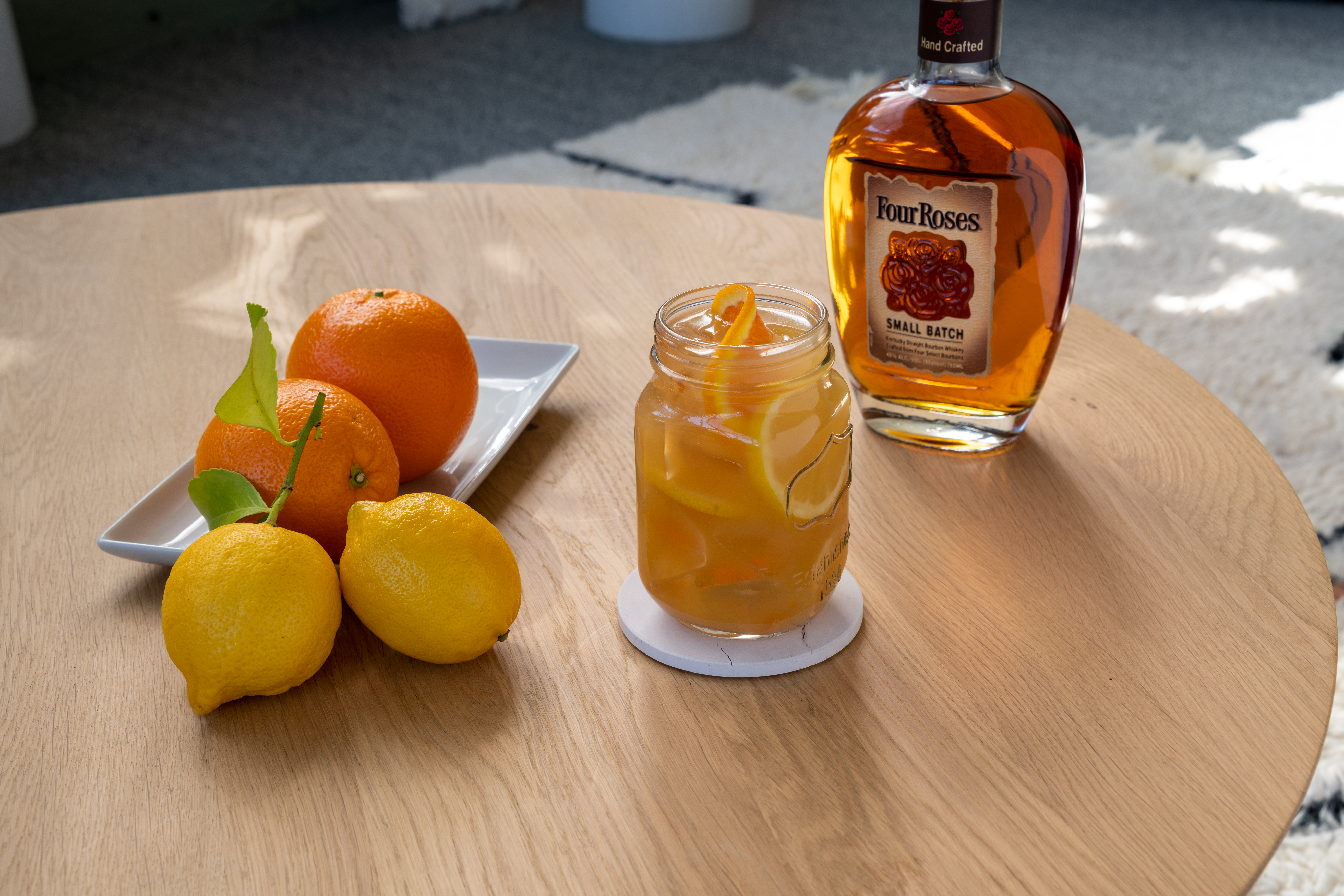 For the inspired chef
We at BPE have been watching reality TV series "Bar Rescue" for years. It never gets old watching Jon Taffer subject floundering bars to his entertaining yet effective brand of tough love, and the turnaround is endlessly satisfying. (Author's note: Taffer is opening a new restaurant concept, Taffer's Tavern in DC later this month). If you have seen even a few episodes, you'll recognize Mia Mastroianni, the master mixologist who develops tailored beverage programs for bars in need of a refresh while training their staff to develop complex drinks with consistency and flair. 
The "lead cocktail engineer" at Soho House West Hollywood has teamed up with food industry giant, Hormel Foods, to translate flavors of summer into creative cocktails with both drinkable and eatable components. The construction of these innovative concoctions is a standalone activity in its own right. When your pork shoulder still has hours to go before you can shred it, try making these at home to pass the time faster and stave off your hunger. Even those younger than 21 will enjoy assisting the grownups with prep work on these—just be sure to pick up extra Hormel pepperoni, Justin's chocolate, and Planter's peanuts for snacking.
Brunch before the BBQ? Try this inspired take on a bloody Mary and build on it with the spicy and savory bite of pepperoni. We'll never say no to a drink that comes with a meal. With some planning, you'll impress your friends with a truly unique and DIY cocktail experience. We made this our own by adding hot sauce for an extra kick. Bloody Mary lovers will find it impossible to have them any other way after trying this elevated take.
Recipe
Chili lime seasoning or celery salt for glass rimming
Bloody Mary mix
2 ounces HORMEL® Pepperoni Infused Vodka
1 cup HORMEL® Pepperoni slices
2 cups vodka
Suggested garnish: Pepperoni, pepperoni sticks, string cheese, fresh basil, pizza slice, cherry tomatoes, lime wedges, bacon strips, celery, pickled okra, pepperoncini, olives, pickled onions, pickled spicy green beans, etc.
Method
Bloody Mary Directions:
In tall, rimmed, ice filled glass, pour vodka. Add Bloody Mary mix. Skewer and add suggested garnish, as desired.
HORMEL® Pepperoni Infused Vodka Directions:
Heat oven to 350°F. Line large, rimmed baking sheet pan with foil. Lay pepperoni slices out on sheet pan in single layer. Bake 6 to 8 minutes, or until pepperoni is beginning to crisp and fat is rendered.
Transfer pepperoni slices and rendered fat into a large glass jar. Add vodka. Cover jar and shake vigorously. Allow to sit in a cool, dry place 3 hours or overnight, shaking occasionally.
Strain mixture, discard pepperoni. Keep stored in clean glass jar in refrigerator for up to 3 months.
Peanut Butter & Banana Frozen Cocktail
We shouldn't have to sell you on the classic combination of banana, chocolate, and peanut butter. We're here to encourage you to take your mixology to the next level by crafting an indulgent frozen drink based on the iconic trio. We couldn't get enough of this one, so plan to double the recipe for each guest as an after-dinner cooldown treat but be careful to remember that there is alcohol in this flavor bomb. Hint: leave out the booze* so the kids can enjoy it with you.
Recipe
1/3 cup JUSTIN'S® Classic Peanut Butter, divided
8 JUSTIN'S® Mini Dark Chocolate Peanut Butter Cups, chopped
1 large banana
1/2 cup unsweetened almond milk
2 ounces peanut butter whiskey
1 ounce banana liqueur
1/4 teaspoon cinnamon
Method
Spread rim of large glass with 2 tablespoons of peanut butter. Roll in chopped peanut butter cups.
In blender cup place remaining peanut butter, banana, almond milk, whisky, banana liqueur and cinnamon. Add ice. Blend until smooth. Pour into prepared glass.
Garnish with fresh banana slices and additional peanut butter cups.
*To make a non-alcoholic shake, omit peanut butter whiskey and banana liqueur. Substitute ½ cup plain, non-fat Greek yogurt.
Mia outdid herself on this one. A definitively unique and bold punch that blends tropical fruit flavors with rich and savory roasted nuts, your friends will talk about the time you made this all winter long. It tastes like something you'd order at a high end cocktail bar in terms of nuance and complexity. Perhaps the most interesting cocktail we at BPE have made at home, we encourage you to have fun with this one. Include vodka for an extra kick if your BBQ might turn into a game night.
Recipe
2 ounces dark rum
1 ounce lime juice
1 ounce orange juice
1 ounce pineapple juice
2 dashes bitters
1 ounce PLANTERS® Mixed Nut Orgeat
2 cups PLANTERS® Lightly Salted Mixed Nuts
1 1/2 cups granulated sugar
1 1/4 cups water
1 teaspoon orange flower water
1 ounce vodka, optional
Method
Punch Directions:
In mixing glass place all ingredients. Add ice and shake. Strain into tall ice-filled glass.
Garnish with 2 pineapple fronds, fresh pineapple cubes and an orange half-moon slice
PLANTERS® Mixed Nut Orgeat Directions:
In blender or food processor, chop nuts until very finely chopped.
In saucepan over medium heat, combine the sugar and water. Stir continuously until sugar has dissolved and the liquid is clear.
Add chopped nuts. Bring to a simmer over low heat, stirring continuously. When mixture comes to a boil, remove from heat.
Cover. Allow mixture to sit 3 to 12 hours. Strain mixture through a fine mesh strainer pressing with spoon to extract liquid.
Stir in orange flower water and vodka, if using.
Store in refrigerator in glass jar or bottle, for up to 1 month.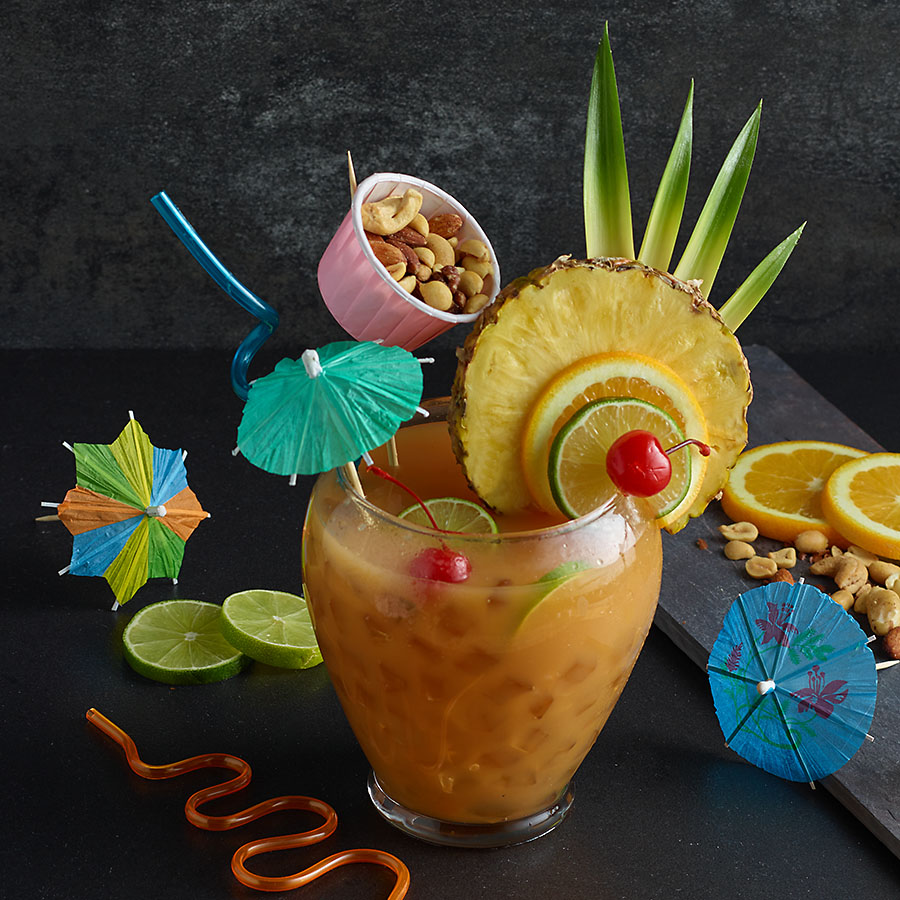 Alex May has been attending concerts in the DMV for his entire life. He was born and raised in Maryland, attended college and graduate school in Virginia, and lives in DC with his girlfriend and dog. He believes all music sounds best live, and he never misses a Sunday show.