Argentine chef brings Cuban cuisine to East Coast
Washington's most popular Cuban restaurant is owned by two Jews from Philly and managed by an Israeli who's never been to the island. Its chef is an Argentine whose sole connection to Cuba is his wife — a distant relative of the island's third president.
And its moderately expensive food, some critics say, is distinctly un-Cuban.
Yet the Cuba Libre Restaurant & Rum Bar — at 9th and H streets at the entrance to Washington's Chinatown — continues to pack customers in night after night.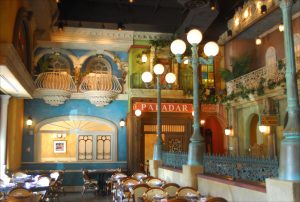 On Friday and Saturday evenings, the Cuba Libre's dining room magically becomes a stage where professional salsa dancers thrill patrons with their colorful exotic floor shows.
And unlike any other restaurant we know of, this one has actually braved official bureaucracy on both sides of the Florida Straits to not only bring Cuban chefs to the United States, but American foodies to Cuba, too.
"We're sold out on the first trip, and starting to book the second one already. I think it's going to be in October of this year," said Guillermo Pernot, the restaurant's Buenos Aires-born chef. "The New York Times is going with us, a lady named Marian Burros who wrote an article about food in Cuba, and now she's going to revisit the island."
Pernot, 56, spoke to Baltimore Post-Examiner , squeezing us in for a few minutes at his restaurant before the dinner rush.
The award-winning chef, who came to the U.S. in 1975, is married to Lucia Menocal, a distant cousin of Aurelio Mario Gabriel Francisco García Menocal, who served as Cuba's president from 1913 to 1921.
"We both used to work at the Four Seasons Hotel in Philadelphia, 24 years ago," he told us. "I was in the dining room and Lucia was the night manager at the hotel's front desk."
In December 2010, Pernot's sister-in-law — a professor at Yale — announced she was going to Cuba for the first time in more than 50 years, to gather research to write a book about her illustrious family (Lucia's grandmother, Maria Wilson Menocal, was the model for the famous statue that graces the entrance to the University of Havana).
"My wife said, 'why don't you go with María and spend the New Year in Havana?' In a matter of a week, I got my papers in order and left.
"While I was in Cuba, I started looking at different restaurants. They have some lousy food and some great food," he said. "We came back with the idea of discovering these paladares [newly opened private restaurants] and the beauty of the Cuban cuisine that has since been lost."
Pernot (no relation to Pernod-Ricard, the French conglomerate that produces Havana Club rum in a joint venture with the Cuban government) discussed his trip with one of the restaurant's two owners, Barry Gutin. Together, they hatched a brilliant idea: Pernot would go back to Cuba, and arrange to bring the best Cuban chefs to the U.S. for a visit.
"I went back to Havana in March, brought all the chefs together and made a proposition: let me spend time in the kitchen with you and see exactly what you're doing. Then I will pick five of you, take you to the United States and we'll make a paladar there — three nights in Philadelphia and three in Washington."
Pernot selected five chefs, four of whom accepted immediately. The only one to decline was Lilliam Domínguez, proprietor of La Cocina de Lilliam — one of the most expensive yet highly regarded paladares in Cuba.
"The U.S. Interests Section in Havana was very interested and offered to help me as much as possible to expedite their papers," he said. "I try not to get involved with politics, but since it's a good thing to bring artists and musicians, I thought, 'why not chefs?'"
Everything worked out, and the first chef to visit was Luís Alberto Alfonso Pérez — known as Lucio — of El Gijones, back in February.
His signature four-course menu: lobster salad, pineapple sorbet and truffle oil-infused black sesame seeds, followed by eggplant-wrapped raviolis, lamb ropa vieja filling, then "chuleta de jabalí lechal" — baby wild boar rib chop, sour orange-canela compote and yucca tamal — topped off with flan de queso.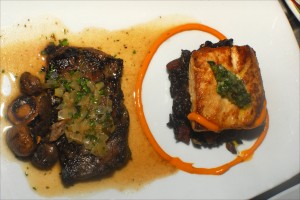 Pernot's next Cuban visitor will be Alain Rivera of Doctor Café, who arrives in June.
His four-course menu sounds equally mouth-watering: "merluza al escabeche" — fresh cod in vinegar-chili sauce, lamb tongue and beet salad — followed by fresh corn pasta cannelloni and sweet crab meat enchilado filling, then a third course of grilled yellowfin tuna, malta-honey reduction, ruby red grapefruit and lavender supreme, finished off with chilled mango soup and Cuba Libre's own five-year-old rum ice cream.
Conversely, Pernot and his wife Lucia are bringing Americans to Cuba to sample those same dishes at the source, under a special "people-to-people" license provided by Insight Cuba, a division of Cross-Cultural Solutions.
A large advertisement at the entrance to the restaurant, and on its website, proclaims: "Taste what Cuban cuisine is today. Meet the chefs that inspired Cuba Libre's new menu. Dine at the premier paladares, hand-selected by Chef Pernot. Visit the Cuban Culinary Association and interact with students working to restore Old Havana."
At $4,000 per person, the trip isn't cheap — but the whole concept of traveling to Cuba still has that forbidden fruit appeal, so it's no surprise that all 18 slots quickly filled up. In fact, the cross-cultural culinary exchange has gone far more smoothly than Pernot anticipated.
"The Cuban government has been very welcoming," he told us. "Knock on wood, they haven't given us any trouble so far."
Unfortunately, the same can't be said about some restaurant patrons.
"One woman came in here very upset, asking how come we arrange trips to Cuba, saying it's obscene and why are we feeding the government," Pernot said. "I told her we're not interested in helping the Cuban government. We just want people to experience food in Cuba today. That's all we care about."
Amnon Pick, the restaurant's Israeli-born general manager, joined the company in 2004 when it opened in Atlantic City. He helped open the Washington location in October 2010, working with Cuba Libre's parent company, Guest Counts Hospitality.
The D.C. restaurant seats 236, including 26 patrons in the main bar. In the summer, an additional 74 people can sit on the patio. Pick says "business is pretty good, with lunches averaging 100 and dinners of 150 to 200 during the week, and 400 to 500 on the weekends."
The first Cuba Libre restaurant opened in Philadelphia, so it's an 11-year-old concept.
 "We try to put you in the street scene of Old Havana and give you a high-energy dining experience," said Pick, who grew up in the Mediterranean resort town of Caesaria. "Our servers are dressed in guayaberas to create the feeling that you're in Havana. It's always fun to see the impression of guests walking in here for the first time."
How Cuban is the food at Cuba Libre, we asked Pick.
"It's what we call nuevo cubano," he replied. "We do have traditional food, but we want to represent Cuba as it should have been allowed to develop culinarily, but because of communism wasn't allowed to. If their chefs were given the right tools, they'd be in a much more advanced stage today."
Pernot agrees wholeheartedly.
"The Americans are eating Cuban food that is 50 or 60 years old," he insisted. "Cuba has changed. It's no longer just rice and beans, and ropa vieja. Our menu has a couple of classic dishes, but also new items, and for this reason some people say this is not Cuban food. My own brother-in-law refuses to eat here."
But business is business, and Pernot said the owners — who don't discuss revenues or profits — want to open outlets next in Atlanta and Boston, and possibly Chicago, though not New York ("too expensive," he says) or Los Angeles ("the West Coast is too far").
What about South Florida, home of the world's largest Cuban exile community?
"That's something we've thought about in the past," said Pick. "Miami already has lots of Cuban restaurants, so we're not eager to go there. But if the opportunity is right, of course we would."

Larry Luxner is news editor of The Washington Diplomat and former editor of CubaNews. Born and raised in Miami and based in Bethesda, Md., since 1995, Larry has reported from every country in the Western Hemisphere. His specialty is Latin America and the Middle East, and he's written more than 2,000 articles for publications ranging from National Journal to Saudi Aramco World. Larry also runs an Internet-based stock photo agency at www.luxner.com.