An Exclusive Interview with SEO Marketing Expert Lance Bachmann
People who are in the businesses of serving their communities understand just how confusing things can be right now in connection to doing business and the COVID-19 crisis. Community is more important now than ever before. As we turn to our networks and adapt how we do business during these strange times, many entrepreneurs and leaders are continuing to rise to the challenge of serving communities with unwavering passion, dedication, and support. Lance Bachmann, the founder of 1SEO, shares his insights on the crisis, community, and the task of doing business in an ever-changing world.
In speaking with Lance, it's obvious he is a very confident guy with an unwavering dedication to his community. With a passion for digital marketing, Lance took 1SEO from startup to industry leader status in record time. After earning the coveted Google Premier Partnership and Facebook Marketing Partnership awarded to only 1% of digital marketers, Lance was able to take his business to new heights and now reaches people through his show The Lion's Den on Facebook, IGTV, YouTube and his website the digitallion.com. One look, and it's clear Lance knows what he is talking about.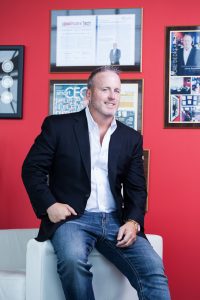 Before we get into current events, what inspired you to branch out on your own with 1SEO?
Overseeing over 800 employees in 20 different offices around the United States, I​ had been working at AT&T at the time when digital marketing was starting to gain a lot of speed, and I saw early on that it would be bigger than just advertising. I saw how the digital space would become an arena where businesses could expand operations and how entrepreneurs could utilize this to their best advantage.
T​here are a lot of digital marketers out there. What sets you apart from the crowd?
W​ell, I am not called the digital lion for nothing! I take a no-nonsense approach, and my clients trust me for my honesty. They know I don't pull any punches, and what I share is about as real as it gets. I share information people can make sound decisions on.
W​hat's your take on the current COVID-19 crisis? It's undoubtedly hit businesses exceptionally hard.
C​OVID-19 came in like a tornado. Quick, fast, and destructive, but it also proved that in business, we have to adapt. You saw companies shifting their models and their processes. Businesses started moving entirely online by offering experiences on Zoom, or pick-up orders, and online shopping. It forced us to rethink how we do business. Entrepreneurs expanded their social media presence. COVID-19 proved that embracing digital media is the future. There is no getting around it anymore.
What do you think businesses can do to protect themselves in times of crisis and stay afloat?
I​t's all about being hyper-aware. What do people need? What do they want? Can you give them an experience all while diversifying online as a hedge against the restrictions we are seeing with COVID-19? The businesses with a robust digital presence were better prepared for this as the quarantines began shuttering physical locations nationwide. People now understand a strong digital marketing strategy is the best protection they can have right now.
Community is important to you. Before we close out, would you like to touch on that?
Yes! Our businesses thrive in strong communities supported by entrepreneurs. I believe in giving back to the community and giving back to each other, and that is why throughout this crisis, I committed to continue to deliver the same level of excellence in digital marketing and thought leadership via my YouTube channel and social media pages. Knowledge is vital, and I believe in sharing that as openly as I can so we can keep our businesses and communities afloat.
If you are working with Lance Bachmann, you have yourself more than just a digital services provider; you have yourself an ally. Lance continues to break ground in the digital marketing scene with innovative yet pragmatic ideas that help get businesses off the ground, running, and diversified.