Alethea Kauffman whose son was victim in 2016 Las Vegas unsolved double homicide, arrested
LAS VEGAS — Alethea Simone Kauffman, 43, the mother of Nehemiah "Neo" Kauffman, whose body along with his girlfriend Sydney Land was found in their Southwest Las Vegas apartment on October 27, 2016, was arrested on October 5, 2019 for violation of probation/condition of suspended sentence.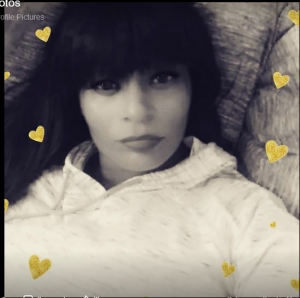 According to Nevada Eighth Judicial District Court records, Kauffman is a convicted felon stemming from an arrest on October 24, 2012 for one count of unlawful acts concerning food stamps.
Kauffman pleaded guilty on May 6, 2016. 
On August 22, 2016 Kauffman was sentenced to a minimum of 12 months to a maximum of 34 months in the Nevada Department of Corrections.  She was given credit for time served, 1 day, prison time was suspended, and she was placed on probation for a period not to exceed 5 years.
As a condition of her probation, Kauffman was to:
Comply with curfew imposed by probation officer

Pay $22,238.00 in restitution in minimum monthly payments of $694. 93, subject to modification by Probation and Parole on income verification.

Abstain from use, possession, control of alcohol

No driving unless proof of driver's license

Complete 4 hours of community service work each week during the term of probation, unless employed full time.  
Alethea Kauffman is being held in the Clark County Detention Center, awaiting a Parole and Probation hearing on October 21, 2019.
Nehemiah Kauffman and Sydney Land were both found shot in the head.  The 2016 double homicide is unsolved.

Doug authored over 135 articles on the October 1, 2017 Las Vegas Massacre, more than any other single journalist in the country. He investigates stories on corruption, law enforcement and crime. Doug is a US Army Military Police Veteran, former police officer, deputy sheriff and criminal investigator. Doug spent 20 years in the hotel/casino industry as an investigator and then as Director of Security and Surveillance. He also spent a short time with the US Dept. of Homeland Security, Transportation Security Administration. In 1986 Doug was awarded Criminal Investigator of the Year by the Loudoun County Sheriff's Office in Virginia for his undercover work in narcotics enforcement. In 1992 and 1993 Doug testified in court that a sheriff's office official and the county prosecutor withheld exculpatory evidence during the 1988 trial of a man accused of the attempted murder of his wife. Doug's testimony led to a judge's decision to order the release of the man from prison in 1992 and awarded him a new trial, in which he was later acquitted. As a result of Doug breaking the police "blue wall of silence," he was fired by the county sheriff. His story was featured on Inside Edition, Current Affair and CBS News' "Street Stories with Ed Bradley". In 1992 after losing his job, at the request of the Federal Bureau of Investigation, Doug infiltrated a group of men who were plotting the kidnapping of a Dupont fortune heir and his wife. Doug has been a guest on national television and radio programs speaking on the stories he now writes as an investigative journalist.