Adam Jones signs richest contract in Oriole history
Nobody saw this coming because this rarely – if ever – happens with the Orioles.
They're finally acting like a contender instead of a pretender and the symbol of this transition is quite possibly the unlikeliest of figures.
It's a 26-year-old center fielder who before this year hit above .280 once, never hit more than 25 homers, drove in more than 70 runs once and never scored more than 70 runs in any of his five previous seasons.
For those of you keeping track at home: These are not attributes of players worth $14.25 million a year, but that's exactly what Adam Jones received with a six-year, $85.5 million deal that's the largest contract in team history and makes him the second-highest paid player at his position in the big leagues. Get his baseball card. He's going to be around for awhile.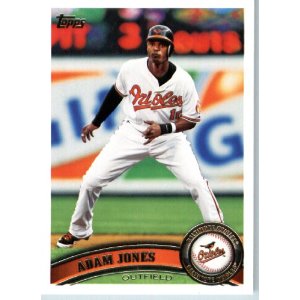 And he's worth every penny.
Why? Because the Orioles are finally stepping up and being aggressive, shelling out big dollars for their players instead of shipping them to other teams for prospects, who more often that not ever come close to playing in The Show.
Right now: Who in the majors has been more valuable to his team more than Jones has been to the Orioles?
Josh Hamilton in Texas?
Justin Verlander in Detroit?
Ryan Braun in Milwaukee?
Matt Kemp in Los Angeles?
Arguments could be made for all four those players, who have been great. But I could also argue that Jones has been more valuable to the Orioles.
I don't need to make a case for Jones, who leads the team that basically involves using a bat to his a ball.
His numbers do it. Entering Sunday's game against the Double-A Kansas City Royals, here are Jones' American League rankings in all the major statistical categories: second in stolen bases (8), third in slugging percentage (.597) and runs (34), fourth in homers (14), ninth in runs batted-in (31) and 10th in batting average (.309.)
I bet the Seattle Mariners are really happy they traded Jones, who they picked in the first round in 2003, to the Orioles as part of a trade in 2008 in which they received pitcher Erik Bedard, who is a Pittsburgh Pirate. Bedard is 23-30 since being dealt to the Mariners.
I'm pretty sure the Orioles got the better of that deal, but I wasn't convinced until the past few months.
When Jones took the field on Opening Day, I swear he didn't have "Orioles" written across his jersey. He had the words "Trade Bait."
Who would have thought a guy who has been so mediocre his picture was next to the word in Webster's Dictionary would be on the verge of signing a deal that would make him the face of the franchise?
I know what you are thinking: Jon, Jones made the All-Star Game in 2009.
My response: That season, he hit .277 with 19 home runs and 70 runs batted-in for a team that finished in last place (64-98) and just missed winning the division by 39 games. Major League Baseball stipulates every team must – repeat, must – be represented at the All-Star Game. In Jones' case, it was like him being named "Skinniest Kid At Fat Camp." Congrats, somebody has to get the nod. If Jones would have been on any other team, he'd have been watching the Midsummer Classic on TV.
Back to the question: Not me – and not anybody other than someone who sports orange glasses and an Oriole belt buckle year round.
I thought Jones had a worse chance of making it through the season in Baltimore as an extra in a horror movie who wanders  into the woods trying to find help – you know, the dude who might of well have the words "Kill Me With An Axe" tattooed on his forehead.
But this signing sends a clear message to Jones' 24 teammates and the team's diminishing fan base: We're committed to winning.
I can't believe I wrote that sentence and wasn't referring to owner Peter Angelos' slogan when trying to get asbestos victims to sign on the dotted line.
If Jones gets paid roughly the same amount of the gross domestic product of a Central American country, the team's younger stars – namely pitchers Jason Hammel and Wei-Yin Chen, catcher Matt Wieters, first baseman Chris Davis and closer Jim Johnson – will know that if they produce, they won't have to go to Boston, New York, Anaheim or Philadelphia to break the bank.
They can just try to keep up with the Joneses, which take the phrase to a new meaning. Jones is making $6.15 million this season, but he'll get a $2 million bonus immediately before seeing his salary escalate to $8.5 million in 2013, $13 million in 2014 and 2015 and $16 million in 2016 and 2017 and $17 million in 2018.
Jones' deal easily surpassed previous Orioles record for a contract – a six-year, $72 million deal signed by shortstop Miguel Tejada before the 2004 season. It's also more lucrative annually than the $15 million Albert Belle made during his five-year, $65 million deal he signed before the 1999 season.
The only center fielder in the game who makes more than Jones is the Dodgers' Kemp, who signed an eight-year, $160 million deal after he finished second in the National League Most Valuable Player race. The Rangers' Josh Hamilton, who entered Sunday leading the American League in home runs (20), runs batted-in (53) and slugging percentage (.771), makes $12 million a year, but he's in line for a Texas-sized raise since he'll be a free agent at season's end.
I've bashed this team for years. But every night, I find more to like about this team. The Orioles went to D.C. and took two of three games at National Parks, which had a distinct orange and black hue in the stands.
The Orioles are in first place and it's Memorial Day, a day that generally marks the time of year we reflect on a loss season that won't end for more than 100 games. Not this year.
Not this year. Remember my friend Chris who gave blood for tickets to that doubleheader in which both of us failed to see any of the five home runs the Orioles hit in their win over the Rangers earlier this month?
Well, he asked me if I wanted to buy the "Orioles Legends Celebration Series Package" in which you get tickets for five games in which the Orioles unveil a statue of one of their well, legends – Earl Weaver (June 30), Jim Palmer (July 14), Eddie Murray (Aug. 11), Cal Ripken Jr. (Sept. 6) and Brooks Robinson (Sept. 29).
What do you think I said? Of course. I'll be among the first to see the statues, receive an exact replica ministatue to take home and see games against the Indians, Tigers, Royals, Yankees and Red Sox. I'll also get the replica ministatue of Frank Robinson, whose statue was unveiled on April 28. It may very well be the best $75 I'll spend this summer – unless Jones wants to pick up the bill.
Apparently, he's not hurting for money.
(Feature Photo: The Orioles unveiled their statue of Frank Robinson on April 28. Photo by Jon  Gallo.)

Jon Gallo is an award-winning journalist and editor with 19 years of experience, including stints as a staff writer at The Washington Post and sports editor at The Baltimore Examiner. He also believes the government should declare federal holidays in honor of the following: the Round of 64 of the NCAA men's basketball tournament; the Friday of the Sweet 16; the Monday after the Super Bowl; and of course, the day after the release of the latest Madden NFL video game.