WASHINGTON- On Tuesday evening President Donald Trump and congressional leaders paid tribute to former first lady Barbara Bush.
.@FLOTUS Melania and I join the Nation in celebrating the life of Barbara Bush: pic.twitter.com/4OW72iddQx

— Donald J. Trump (@realDonaldTrump) April 18, 2018
Bush, 92, died at her Houston home on Tuesday evening, family spokesperson Jim McGrath announced in a Twitter statement. The former first lady suffered from heart disease and recently underwent a series of hospitalizations. McGrath announced Sunday that she was in failing health and had decided to forgo further treatment.
She is the wife of former President George H.W. Bush, 93, and the mother of former President George W. Bush, 71. The couple was married for 73 years. They have 17 grandchildren and seven great-grandchildren.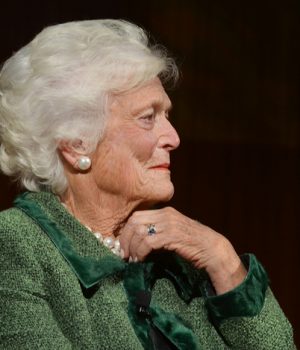 In December 1943, while training as a naval aviator, he wrote:
"I love you, precious, with all my heart and to know that you love me means my life. How often I have thought about the immeasurable joy that will be ours someday. How lucky our children will be to have a mother like you."
At the end of the letter the future president wrote:
"Goodnite, my beautiful. Everytime I say beautiful you about kill me but you'll have to accept it."
Presidential historian Michael Beschloss first tweeted the letter.
Navy pilot George H.W. Bush writes to his fiancee Barbara Pierce, December 1943: pic.twitter.com/p3gltpaMAq

— Michael Beschloss (@BeschlossDC) April 18, 2018
As first lady (1989-93) Bush was known for championing literacy. During her time in the White House Bush helped establish the nonprofit Barbara Bush Foundation for Family Literacy. The foundation partnered with other charities to help low-income adults and their children learn how to read and write.
"Barbara Bush holds a revered place in the hearts of generations of Americans," House Speaker Paul Ryan (R-Wis.) said in a statement. "She so loved her family and our country. She led both with clarity and character. She shined a light on the power of a parent reading to a child."
"Mrs. Bush brought dignity, civility, and spirit to everything she did," House Minority Leader Nancy Pelosi (D-Calif.) said in a statement. "Her strength of character, the strength of her principles, and the strength of her faith were a great gift to our nation. She leaves a living legacy in the Barbara Bush Foundation for Family Literacy and the deep spirit of volunteerism she championed on behalf of children and families."
Barbara Bush wielded her formidable qualities on behalf of her nation, the family she loved, and the many worthy causes she supported. Today a nation joins the Bush family, their many friends, and all the country in their grief, and in prayer.

— Leader McConnell (@SenateMajLdr) April 18, 2018
Mrs. Bush personified grace and class as First Lady and throughout her life; she will be missed. I send my heartfelt condolences to the Bush Family.

— Chuck Schumer (@SenSchumer) April 18, 2018
The funeral will be held Saturday at St. Martin's Episcopal Church in Houston, according to media reports.
This article is republished with permission from Talk Media News