Greatest Dog City – San Francisco
SAN FRANCISCO — My dog has the best life.
I say this after gathering Lampard's things — water, water bowl, tennis balls, etc. — because in a short while we're going for a massive hike along the San Francisco Bay where he is free to run around off leash provided he respond to voice commands.
(And yes Chelsea soccer fans he is named after Frank Lampard. He's named after two soccer greats; his full name is Lampard Didier Drogba.)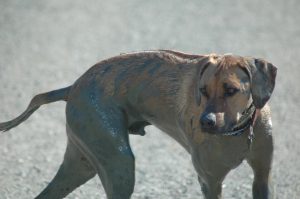 But back to San Francisco.
Living here has been a revelation when it comes to my dog.
I'm not just talking about the fact that there are hundreds of acres scattered in and around the city where he can romp undeterred by a leash. I'm talking about the fact that the people of San Francisco love their dogs. Where else in the country is there an active dog owner Political Action Committee?
To start with the most mundane aspect of dog owner life: There are tons of off leash dog parks, granted some are your typical city space of dirt or stone, where dogs are allowed to play. Dog walkers are limited to a certain number of four legged clients and bags are distributed at the gates. I'm imagining that some of these are kept up by the city but the two in my area are run by building associations and/or residents who have been banded together.
And boy do they take pride in the cleanliness of their parks. In my area alone, there are a half dozen landscapers, who keep the Mission Bay area pin neat and who take the time to say hello to my dog every day.
Sometimes as we walk up and down the Embarcadero, I feel like I'm with someone famous as tourists will line up to pet my dog and talk about him. And its not just tourists. I've driven around the city with him in the backseat and heard people yelling out to him, telling him how cute he is. (Weird but true).
And yes, I do think San Franciscans take things a little bit too far when they take their dogs into the grocery store but I will admit to having walked through a large mall with him once or twice.
My coffee shop, Philz Coffee, offers dog treats to customers provided they leave their pooches outside. (If it's slow enough, the employees will walk out to feed him the bones or hand me my cup of coffee. I promise to write about San Francisco's amazing coffee scene before I leave here. At Philz they make each cup to your specifications, including sweetener and cream.)
By comparison when I was in DC there was nothing we liked better on warm Sunday mornings than walking down to Peacock Cafe for brunch where the dog would lay under the table while we ate a delicious brunch.
But it feels like they've taken it up a notch here.
A few Sundays ago with some friends and three dogs we took two bottles of wine down to this little place near our apartment; ordered up burgers and fries; and watched our dogs play while we ate and drank for hours and hours in the warm May sunshine.
Several months ago one of those friends directed me to a Rhodesian Ridgeback Meetup group on meetup.com. I will confess I felt a little idiotic joining a dog group but it has been a great experience.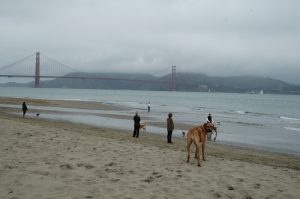 And just to give you some context on my level of geekiness, while the Rhodesian Ridgeback group has a mere 43 members (as of Saturday) the English Bulldog group has 1,167 members. (Bulldogs both French and English are incredibly popular in San Francisco as their size makes them great apartment dogs.)
The Rhodesian Ridgeback group meets up once a month at Crissy Field in view of the Golden Gate Bridge. I've never seen all 43 dogs show up but there are hundreds of other dogs running across the beach all competing for space with families having picnics. When my dog stole a donut out of an 18-month-old's hand — to my great mortification — the parents assured me that my dog just beat their dog to the prize.
Meanwhile, when I first arrived here I was stunned to discover that my dog was not welcome at several state parks. (Sure he was welcome in the parking lot but not allowed on any trails in order to protect the wildlife.) I was relieved when the guard pointed me in the direction of a dog friendly spot.
And since then I've been nothing but amazed at all the spaces where my dog is allowed to roam.
For example, there is Fort Funston National Park where hundreds of owners take their dogs to run around and play in the former fort that once housed Nike missiles. Sure the battlements are barely visible and the 200 foot bluffs are crumbling — there is even a sign warning that dogs and people have fallen off — but there are hang gliders, which provides a gorgeous backdrop, especially when you've descended the hundreds of feet to the beach. (Check out the pictures — the place is breathtakingly beautiful.)
There are also wonderful surprises like the bay trail that I found in Hayward, which is near the San Mateo bridge on the East Bay. From the Hayward Regional Shoreline I could, if I had the energy, walk my dog all the way up to Oakland. As it is, I've taken him for a nearly four hour round trip hike along the water all with him off leash.
(And at this point I should also mention there are tons of great dog washing areas, which if you judge by the picture of him covered in mud have obviously come in handy. The trick that time was letting the mud completely dry so he could go in the car without leaving a mess.)
Still on my list of things to do is take the dog and walk to the top of Coit Tower — the 210 foot Telegraph hill landmark. We haven't made it over the Bay Bridge to Point Isabel or to nearly a dozen other amazing spots in the city.
I look forward to checking more off my list and if you have recommendations, please write and I will add to this post. (And I haven't even written about dog friendly places outside of San Francisco. Apparently if you rent an hotel room in Carmel, your pet gets its own bed.)
END NOTE: We're back from a long and tiring walk. When I started writing this post I was on my way to Hayward and today we went to Fort Funston. Someone's been snoring and having running dreams for four hours.
Dog Friendly San Francisco
WEBSITES:

Welcome to Sarah's life of wine, travel, food and child. Sarah Abruzzese is a former Washington D.C., reporter, living in southern California. She's working on launching 7 SUNDAYS CLOTHING (www.7SundaysClothing.com), a UPF 50+ sun protective clothing company for children. Beside working on the clothing line, she spends her days running after a toddler and then if there is time left over, eating well, visiting wine country and exploring the West Coast. Follow her travels on twitter #sabruzzese.