'Wonder Woman': Girl Power at its Best
Thank you, Zeus.
Thank you for crafting Wonder Woman out of clay so she could be as close to perfection as possible – a superhero who combines brains and brawn with beauty and benevolence to save the world from death and destruction.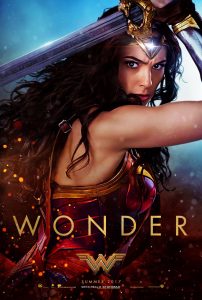 Thank you, Zeus for providing Wonder Woman with god-like speed and strength that prevents the audience from taking her eyes of her as she whizzes around in her tight blue skirt and shiny red corset, complete with bullet-proof bracelets and her trademark Lasso of Truth.
But you know who else wants to thank Zeus? DC Comics, which finally has a hero who can deliver a good film and end the company's recent string of superhero stupidity that's included "Suicide Squad," "Batman v Superman," "Man of Steel," "Watchmen," "The Green Lantern" and "Superman Returns."
But most of all, thank you Hollywood for casting Gal Gadot, who looks like she jumped straight out of a comic book and onto the screen, with her long black hair flowing in the wind and her eyes focused on her enemy with a goddess-like gaze that show's she's ready to deliver a butt kicking.
Gadot plays the superhero created in 1941 by William Moulton Marston perhaps better than anybody who has ever played the title character of any movie based on a comic book. She's better than Robert Downey Jr. (Iron Man), Ben Affleck (Super Man), Ryan Reynolds (Green Lantern) and Tobey Maguire and Andrew Garfield (Spider-Man). Gadot also gets the edge over Chris Hemsworth (Thor).
Screenwriter Allan Heinberg sets "Wonder Woman" ultimately during World War I. The movie starts when Wonder Woman was simply Diana, the daughter of Daughter of Queen Hippolyta (Connie Nielsen), niece of Gen. Antiope (Robin Wright) who was training to fight Ares, the God of War.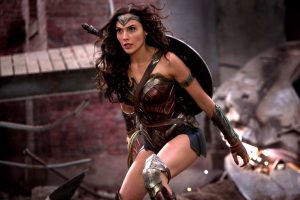 But all of the sudden, a plane falls out of the sky and into the sea. Diana pulls the pilot from the sinking aircraft and quickly learns his name is Steve Trevor (Chris Pine), an American spy who was keeping an eye on the Germans who were making chemical weapons in war-torn London.
Trevor and Wonder Woman form a dynamic duo by combining witty banter and unmistakable sexual tension to keep the audience engaged as they try to save the world from the bad guys, led by rogue general Ludendorff (Danny Huston),
Director Patty Jenkins succeeds in making sure "Wonder Woman" isn't just a series of fights in which the only difference is the size of the explosions. She delivers a narrative in which she tells Wonder Woman's story, from her youth as Diana to the woman everyone has come to know.
The story moves rather seamlessly for a film that's close to two and a half hours. But the Jenkins' never loses that audience's attention, as she combines effective CGI to make Wonder Woman's power larger than life with a meticulous attention to detail in all scenes, from the streets of London to the battlefield.
As a heroine, Wonder Woman has been around, but she's never quite stuck. She made her comic book debut in the 1940s and was the focus of a 1970s television series starring Lynda Carter  that was among the first  TV's first superhero shows.
Gadot appeared as Wonder Woman in last year's Batman v Superman. Now, it's time for her solo act. All the great superheroes – Iron Man, Superman, Batman, Spider-Man and Thor – don't just get a movie.
They get a franchise.
The true measuring stick for "Wonder Woman" won't be what it does at the worldwide box office, where it could easily surpass more than $500 million since it's better than all of the recent movies in its genre.
Instead, "Wonder Woman's" true power will be unveiled in a few years, when she picks up a sequel and proves that when it comes to making a name for females superheroes, she's the right woman for the job.

Jon Gallo is an award-winning journalist and editor with 19 years of experience, including stints as a staff writer at The Washington Post and sports editor at The Baltimore Examiner. He also believes the government should declare federal holidays in honor of the following: the Round of 64 of the NCAA men's basketball tournament; the Friday of the Sweet 16; the Monday after the Super Bowl; and of course, the day after the release of the latest Madden NFL video game.