A young motorcyclist in a Che Guevara T-shirt attends a chavista rally in Caracas. (Larry Luxner)
Beset with annual inflation of 62 percent, one of the world's highest homicide rates and shortages of just about everything, Venezuela's Nicolás Maduro is struggling to save his endangered presidency — even as relations with the United States get worse.
Earlier this summer, the Obama administration announced it was suspending the U.S. visas of "a number of Venezuelan government officials who have been responsible for or complicit in human rights abuses." That follows "street mobilizations" organized by the Maduro government last February in which 43 people died, hundreds were injured and between 2,000 and 3,000 were thrown in prison.
It also came three days after the State Department failed to secure the extradition of Gen. Hugo Carvajal, Venezuela's former intelligence chief, who was wanted in the U.S. on drug charges and had been detained on the Dutch-speaking island of Aruba.
Those affected by the visa revocation include high-ranking Venezuelan military, National Guard and police officials, as well as politicians who ordered the violent crackdown.
But those State Department sanctions are unlikely to have much effect, say two experts who spoke Aug. 11 at Inter-American Dialogue, a Washington-based think tank.
"They were under no illusions that the sanctions could produce anything, but they thought it was absolutely vital to send a message about human rights," said Michael McCarthy, a senior lecturer at Johns Hopkins University. "The State Department felt it needed to show it's calling the shots, not wait for Congress to be the one making decisions. The administration also wanted to be very sensitive to the dialogue process sponsored by UNASUR and the Vatican that took place in South America, because they didn't want to be seen as offending Brazil and Colombia before taking these measures."
McCarthy, a former elections monitor who traveled to Venezuela on behalf of the Carter Center in 2012 and 2013, spoke along with Javier Corrales, a professor of Latin American Studies at Amherst College in Massachusetts. He said the country's bus driver-turned-president was totally unprepared for the difficulties that faced him in the wake of the March 2013 death of his predecessor, 58-year-old President Hugo Chávez.
"What did Maduro inherit? Some people say he came into power without a honeymoon. I would go even farther: he came into power on life support, after a heart attack," he said.
"Maduro faces really basic problems with a population that is simply disenchanted with the country. The government is aware of this, but they also know they're not going to make fast progress on this issue," said McCarthy. "On the political front, Maduro and chavismo, more broadly, are at their most divorced point from the public than they've ever been. Popular-sector actors are no longer part of the everyday process of the administration. Maduro has been able to organize some public demonstrations, but all those rallies have taken place outside Miraflores Palace. Maduro hasn't been able to move through the city, take tours around the country and be embraced by the pueblo the way Chávez could."
McCarthy said parliamentary elections are likely to be held in December 2015, but much will depend on the composition of Venezuela's National Election Council (CNE). And while Maduro is faring badly, his detractors aren't doing much better.
"The opposition looks to be seriously divided. It may, in fact, fragment in some serious way before the elections take place — not only because Ramón Guillermo Aveledo, executive secretary of the Mesa de Unidad Democrática — resigned, but because there are signs that sectors of the opposition currently led, at least in the media, by María Corina Machado, are forming parallel structures to the Mesa de Unidad structure. Not that these people are going to abstain from elections, but they may be hesitant about participating. The situation is so volatile that things could change from week to week."
Corrales, who's written several books on Venezuela, said the country is "seeing the rise of one-party rule" under Maduro and the ruling United Socialist Party of Venezuela (PSUV). On July 28, the PSUV chose Maduro as its new leader following a six-day party congress — its first since the death of Chávez.
The party is also spending huge sums of money on political campaigns, which is all the more remarkable considering Venezuela's dire economic problems.
"Despite all the talk about the need for fiscal austerity — and two major devaluations and restrictions on imports — Maduro has spent more than Chávez spent in 2012 to get re-elected, and we're going to see more of that," Corrales said. "But this will nevertheless not placate the most serious dissent Maduro is having within the party. He is not catering to the most radical faction of all, those who think this government is still too capitalist."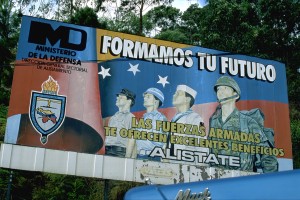 He also warned that Venezuela is becoming more militarized under the new president.
"By the time Chávez died, close to 20 percent of the cabinet had a military background. Maduro has increased that presence," he said. "The presence of the military in the Venezuelan government is much greater than a cabinet presence. They're running companies that engage in export and import, as well as the fight against price-control violations. Maduro recently promoted 229 officers to the level of general, more than Chávez ever did. He knows that the military doesn't see him as one of theirs, so he has to cater to them more."
Corrales said that Maduro has been able to survive up until now "by becoming indebted to new sources of support for the revolution." These sources, he said, "are less people-based and more institutional-based. It's unfortunate that these are not democratic institutions."
McCarthy said that Cuba is playing a much larger role in the Venezuelan government's day-to-day operations than it did during the 14 years Chávez was in charge.
"Cuba is concerned primarily about oil shipments. The Cubans are arguing for a more flexible economy, considering the recent reforms they've made to their own system," he said, adding that Venezuela's recent announcement that it would like to privatize Citgo indicates that major new initiatives by state petroleum monopoly PDVSA like development of the Orinoco oil belt appear to have stagnated.
"If they had a real plan to develop the Orinoco oil belt, they wouldn't be selling Citgo. So the fact that the government is thinking of selling it tells us Orinoco is going badly," he said. "It also tells you how desperate the government is failing. They're probably not going to get a lot of money for it, relative to the benefit they get from Citgo's refineries. Economically, this government still hasn't confronted reality."