Valley Forge & the Making of America's Army (Book Review)
The book, "Valley Forge," by authors Bob Drury and Tom Glavin, should be taught in history classes in every high school in America. It is a tale of how our then-beleaguered Continental Army, about 12,000 strong, survived the horrific winter of 1777/1778, at Valley Forge,  Pennsylvania.
Back then, Valley Forge was a winter encampment located "about 23 miles northwest" from the then-British occupied city of Philadelphia. The land, which was situated on rolling hills. had earlier been cleared for agriculture.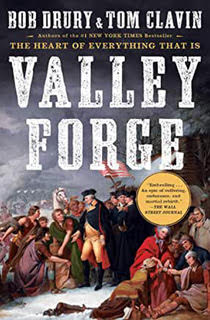 The man that primarily made that survival possible was its strong-willed Commander-in-Chief of the Continental Army, General George Washington. He was one of Virginia's greatest sons. He was then forty-five years old and at the top of his game.
Would you believe that as Washington was surviving the hell of Valley Forge, others in the Continental Army were plotting to undermine his authority? The authors named a few of them: Major General Thomas Conway and General Horatio Gates. They became known as the "Conway Cabal."
Against all odds, Washington not only survived the difficult challenges of Valley Forge, but he also prevailed over them. As a result, he became an inspiration to many both in and outside the Continental Army.
The troops were able, depending on the weather and food supply, to retrain and recoup. There were an estimated 400 women and children with the troops, who were then mostly made up of militias from the different colonies.
At Valley Forge, Washington had the assistance of his three young aides-de-camp; Alexander Hamilton, the Marquis de Lafayette, and John Laurens. They were all in their early 20s.
Hamilton would evolve into one of the Founding Fathers of the American Republic. Lafayette, of French origins, helped to secure vital arms from France during the eight-year conflict. Laurens served with great distinction in the army and later, at age 27, died in the Battle of Combahee River.
The authors put it this way about the talented and ambitious trio: "It is rather astounding that by the fall of 1777, three men barely out of their teens had become some of the most essential figures of the American Revolution."
Together, with other key supporters, Washington and company, transformed "a mostly-beaten, half-starved, rag-tagged group of soldiers." Despite lacking vital supplies, it would soon evolve into a powerhouse army that would eventually run the mighty British military not only out of Philadelphia, but also out of the country.
Around 2,000 of the troops at Valley Forge, however, did not survive the winter. They died from various diseases, like smallpox. In fact, another bio on Washington reported that during his military career, he had personally survived "not only smallpox, but malaria, diphtheria, tuberculosis and pneumonia."
One big fear was that the fall of Philadelphia to the British would be "calamitous," which proved to be wrong. The reasons, the authors pointed out were that the "Continental Congress was safe in York, PA, and thanks to Alexander Hamilton, most of the city's storehouses were either emptied or destroyed."
It was at the Valley Forge encampment that the Prussian officer, Baron von Steuben, made his appearance. He was a huge character that not even Hollywood could make up. For example, he held no titles of nobility from the Germans/French or anybody else. Nevertheless, he taught the mostly raw troops new military skills, how to march and fight as a unified army and to do so "as a discipline force." As a result of von Steuben's experiences at Valley Forge, he would later author a popular book on military training.
The British General William Howe is profiled in this book, too.  He comes off as not having a killer instinct nor hatred of the American rebels. This turned out to be a great blessing for Washington and his troops. After the battle of Germantown, instead of pursuing Washington's battered army, he moved his troops into Philadelphia "in order to avoid another large engagement." Howe was more interested in suppressing the rebellion than "driving the Americans into despair."
Besides fighting the British, Washington also had to fight the Continental Congress. The troops needed clothing and food. It was during the early stages of Valley Forge encampment that close to 3,000 men were declared "unfit for duty" as a result of lack of clothing. Feeding the troop at different stages became problematic. It was estimated that about one-third of the troops were without "shoes, stockings, or shirts." Washington did get a congressional committee to visit the camp which, finally, resulted in relief on both the food and clothing fronts.
Over the eight years of the revolution, it was France that was General Washington's staunchest ally. It supplied arms, uniforms, munitions and supplies. Lafayette played a critical role in that effort, as did America's brilliant representative in Paris –  Benjamin Franklin.
The authors finished up their first-rate history book by stating: "The Valley Forge winter had been the most costly symbolic victory of the rebellion." It is beyond cavil that George Washington was at the center of that victory for which, "no other man in no other place can boast of such an achievement."

Bill Hughes is an attorney, author, actor and photographer. His latest book is "Byline Baltimore." It can be found at: https://www.amazon.com/William-Hughes/e/B00N7MGPXO/ref=dp_byline_cont_book_1