2 out of 4 stars
The biggest problem with "The Secret Life of Pets 2" is its name.
It's misleading — it should be called "The Secret Life of Pets 2 and 3 and 4," because basically, that's what it is: three different films forced to come together at the end.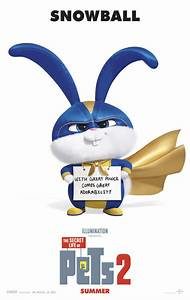 The follow-up to 2016's smash hit "The Secret Life of Pets," which took home more than $875 million at the worldwide box office, "The Secret Life of Pets 2" sees the return of all the pets that made the first film so enjoyable. But the animated movie's downfall is that director Chris Renaud's story isn't nearly as good as the one he told in the original.
The story centers on the neurotic terrier mutt Max — kind of. He still hangs out with his canine brother sheepdog Duke (voiced by Eric Stonestreet), but they must adjust to a different lifestyle when his owner Katie gets married and welcomes a baby boy, who slowly becomes Max and Duke's best friend.
For some reason, the family takes a trip to a farm owned by Katie's uncle, who owns a no-nonsense dog named Rooster (Harrison Ford), who teaches the timid Max courage. The transformation of Max — voiced by Patton Oswalt, who took over for Louis CK — is the highlight of this chapter, but he isn't strong enough to carry the movie.
And that's the problem. While Max and Duke are saving sheep on the farm, Gidget — the diva purse pooch voiced by Jennifer Slate — stars in what is essentially "The Secret Life of Pets 3." Gidget, who was more of a complementary character in the first film, gets more of a starring role in the sequel. She's pretty good, and worth a few laughs as she changes her identity after losing Max's beloved squeaky toy, which Max left her to guard when he went to the farm.
Her scenes with fat, cantankerous cat Chloe (Lake Bell), pugnacious pug Mel (Bobby Moynihan) and sidekick dachshund Buddy (Hannibal Buress) as they plot to regain possession of Max's toy are all unrelated to what Max is doing on the farm.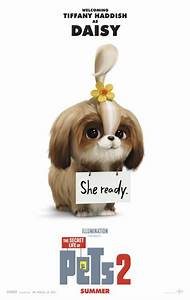 Meanwhile, in yet another unrelated chapter of the movie — which might as well be called "The Secret Life of Pets 4" — bunny Snowball (Kevin Hart) puts on a silly outfit and calls himself "Captain Snowball." He agrees to assist fearless Shih Tzu Daisy (Tiffany Haddish) on a rescue mission to free a caged white tiger cub being held by sadistic circus owner (Nick Kroll) and his pet monkey.
Haddish infuses Daisy with her attitude and style, making her by far the film's best new character — one who will almost certainly get even more screen time when another sequel is released in a few years.
On their own, all of the scenes are above average. They all have their share of funny lines that kids will enjoy, but the movie is disjointed for the majority of its 86 minutes.
By the time all three storylines come together for a very, very predictable ending, it's too late.