In much of the free world, the name Johns Hopkins is almost sacrosanct. The Baltimore merchant/venture capitalist – a powerful figure in the America of the mid-nineteenth century – endowed institutions which for more than a century have had a global reach. But what is Hopkins' true legacy, and how did one stipulation in his will – to build a hospital which would treat patients regardless of sex, age or color – create a sea change, not only in medical care, but in neighborhoods throughout Charm City?
To answer these (and many more vexing) questions, we spoke with Antero Pietila – author of the new book The Ghosts of Johns Hopkins (Rowman & Littlefield). Pietila's thirty-five years with the Baltimore Sun included coverage of the city's neighborhoods, politics and government. He also spent seven years reporting as a correspondent in South Africa and the Soviet Union. A native of Finland, where he graduated from Tampere's School of Social Sciences, Pietila became a student of urban racial rotations during his first visit to the United States in 1964. He later obtained a Master of Arts degree at Southern Illinois University, Carbondale. He is the author of Not in My Neighborhood: How Bigotry Shaped a Great American City (2010). He is a contributor to The Life of Kings: The Baltimore Sun and the Golden Age of the American Newspaper, as well as an ebook, Race Goes To War: Ollie Stewart and the Reporting of Black Correspondents in World War II. The Ghosts of Johns Hopkins is available locally at Red Emma's in Station North and at Amazon.
BPE: Thank you for sitting down with us today. You've titled your book The Ghosts of Johns Hopkins. This isn't an actual ghost story. Or is it?
AP: No. There is no full-length biography of Johns Hopkins and neither is this one. He simply did not leave enough material behind. What I'm trying to do is present a self-standing companion volume to my book, Not In My Neighborhood. The new book talks about how Baltimore became what it is today, and I do it through the man, Johns Hopkins, and the institutions he created. Not In My Neighborhood talked about ethnic rotations on the west side of Baltimore, but there has never been such an examination of the east side.
This is it.
The starting point is the assumption that anybody who knows anything about Baltimore is likely to know two things: Where the Inner Harbor is and where Johns Hopkins Hospital is. What I do is go through the ethnic rotations after Johns Hopkins (the man) is gone, and they start at a time when the Democrats come back to power in 1899. The city hall neighborhood had been predominately German in the early days, but it became increasingly Black, so there was an attempt to gentrify the area and displace Blacks. A few things were moved away from the city hall area, particularly the Colored High School, which is today's Douglass. That was relocated to the Pennsylvania Ave. corridor.
BPE: The school was actually called the Colored High School?
AP: Yes, it was. But what really changed that downtown area was the Great Baltimore Fire.
The Black area was the nearest place to the burned out central business district that was untouched by flames. Once the fire was out, all of the dislocated businesses needed temporary headquarters and business space. So, once the Blacks were dislocated, one group went to Old Town in east Baltimore around the Johns Hopkins Hospital area. The other group – the strivers – went to the Pennsylvania Ave. and Druid Park area.
BPE: What do you mean by "the strivers"?
AP: The more educated Blacks.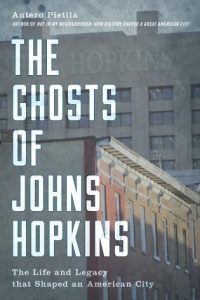 BPE: Baltimore was a very cosmopolitan city at the start of the Civil War. There were many free Blacks who were business owners, so one may assume they had a fair education?
AP: Yes, but at the start of the Civil War, the Black population of Baltimore was only about 24,000. I don't recall the exact number, but it increased after the war was over. In any case, I look at the ethnic rotations in the Old Town area. From German, to Irish, to German Jewish, to Eastern European Jews and finally Bohemian around Johns Hopkins. When the Eastern European Jews moved into the area, the German Jews became uncomfortable and moved to the Eutaw Place corridor. Many of the muckity-mucks of that era, such as Daniel Coit Gilman and Woodrow Wilson lived in Eutaw Place. Later, when other areas were opened up, such as Roland Park., they started withdrawing. More and more Jews moved to Eutaw Place and that created a soft real estate market, and when a Black lawyer leap-frogged over to McCulloh Street, that led to the 1910 residential segregation law.
But that's not about Hopkins.
I start the book talking about Hopkins: who he was and how he conducted his business – his role in the Civil War, which was very interesting. Hopkins was born into the slaveholding tradition, but he became an abolitionist.
He became an abolitionist, but he didn't advertise it. On a daily basis, he dealt with powerful men who were slaveholders.
BPE: He was a merchant, right?
AP: Yes, and he had to deal with everybody. I call him a pragmatic opportunist, and that is exactly what he was. One example is that when he dealt with farmers, there was no cash in those days, so he would barter his goods in return for home distilled whiskey, which could be easily transported. He brought that whiskey to Baltimore, re-bottled it, and sold it as Hopkins' Best. For that, he got kicked out of the Quaker Meeting and was apparently never readmitted.
I say in the book that he believed it was his divine right to make money.
At 54, he retires from his other businesses, but he continues as a venture capitalist. He joins the B&O Railroad as a full time executive. He is the largest stockholder – his ownership is only exceeded by the ownerships of the city and the state. This is at the same time when the Garretts come in. In fact, what Johns Hopkins does is he engineers the election of John W. Garrett.
When the Civil War came, Hopkins and other powerful men were determined to keep Maryland neutral. Most of the B&O ran through Maryland and Virginia, and they were afraid of losing their investment. Virginia was threatening to leave the Union and confiscated the railroad. These men got Lincoln to promise that there would be no troop transfers in Baltimore, but it happened anyway, the day after Virginia seceded, and that's what caused the Pratt Street riot.
BPE: How does what happened with Hopkins' business dealings affect the hospital and the university?
AP: Well, neither had been built when Hopkins died in 1873. The university opened three years later, then the hospital in 1889. The medical school opened in 1893. We really don't know why these institutions came into being, but I theorize that this is the reason: When Hopkins was 37 years old, there was a cholera epidemic in Baltimore. He contracted cholera, and while he was being treated, he saw how conditions for Blacks in particular were terrible. So, when he announced his will in 1870 – three years before he died – he made it clear that he wanted to create a 400-bed hospital which would treat indigents regardless of sex, age or color. That was extraordinary for the time, because there was no hospital in Baltimore that treated blacks. What is interesting is that in his will, he made no similar mention about admitting Blacks to his university, so it isn't until after WWII that the school admits its first Black undergraduate.
In any case, it seems clear that Hopkins is more interested in the hospital than the university.
BPE: Let's fast-forward to where Johns Hopkins Hospital is today in relation to what you were saying about population movement.
AP: Well, the hospital has always been controversial – primarily because it admitted Blacks. By the 1950s, the Bohemian population around the hospital is dispersing. Blacks are moving in and there is a process of slumification. Today there is controversy about gentrification, but I reject that term as it applies to the Hopkins area. In the strictest sense, in my view, it is not an attempt to gentrify an area as it is to re-gentrify an area that was previously affluent.
I'm not trying to blame anybody. I'm just trying to explain.
So when I talk about the controversy of the current 88-acre plan, I talk about those who are guilty of not helping the previous process of rejuvenation – the East Baltimore Democratic organization, which was Du Burns and Robert Douglas' organization.
BPE: Are you saying the Eastside Democratic Organization somehow had a hand in preserving slums?
AP: They did it for their own benefit – particularly the East Baltimore Community Corporation was a very ingenious effort to take in Federal money which political organizations could not, so they created all of these fronts. They got lots of housing dollars, for instance, for creating new housing and rehabs, and that never happened in an orderly fashion – if it happened at all!
I talk in my book about the time when (William Donald) Schaefer was the mayor and Robert Douglas was the state senator from east Baltimore, and Douglas had this electronics firm which he operated. The city gave him money to rehab the American Brewery and nothing ever happened, and by the time someone asked why nothing was happening, Rob Douglas said he was bankrupt. More crucially, Douglas never had a lease and the city would not expel him. Du Burns said Douglas is a businessman, and the city doesn't expel businessmen.
BPE: How much money are we talking about?
AP: A couple of million dollars.
BPE: That all just disappeared?
AP: Right. I relate that but also the numerous false starts with Hopkins-generated rejuvenation projects.
Part of that is them being controlled by the Eastside Democratic Organization. It has gone through several metamorphoses. The current effort has been slow and at times haphazard, but it seems to be moving along.
BPE: It sounds as though you are maintaining that these minority set-asides – which were meant to facilitate minority businesses – were a means for setting up sham businesses to make political payoffs.
AP: Yes, that's pretty much what was going on. This is not really germane to Hopkins, and you have to connect the dots, but Rob Douglas – aside from his electronics business – owned Metropolitan Magazine. So he also was a player in the city's cable TV franchise sweepstakes.
BPE: As I recall, getting cable set up in the city was quite the fiasco.
AP: It could be seen as a fiasco, but it was totally fixed. Then Schaefer got cold feet, but in the end, the results were the same. Baltimore County awarded its franchise to a politically-connected local outfit, which was then sold to Comcast. The same thing eventually happened in Baltimore City.
BPE: Why did Schaefer get cold feet?
AP: He thought the conflict of interest was just too obvious. Many of the councilpersons had conflicts. One of them was Victorine Adams. Her husband – Little Wille – stood to benefit from the sale of some property, while her cousin, parking lot operator Allen Quille, was one of the cable company's investors.
In any case, my book provides a resource for today's leaders. We expect that everybody knows who Schaefer was; that everybody knows about Du Burns or who (former police commissioner) Donald Pomerleau was. Yet, we are increasingly dealing with a population for whom none of these names has a deeper meaning.
My book starts with a Hopkins biographical section, then moves into a discussion of the creation of Baltimore's racial situation. Then it talks about how the lumpenproletariat is being ousted from east Baltimore for the renewal.
BPE: Lumpenproletariat? I'm not familiar with that term.
AP: It's a Marxist term which means the poorest of the poor. These would be people who are so consumed with their daily worries that they are incapable of revolutionary action.
BPE: Like writers?
AP: (laughing) Exactly. There are many chapters which have a clear link to Hopkins.
Others may not.
One of the most revealing chapters is titled "Mobtown in the 1950s." This describes Baltimore nightlife and political interaction with gangsters and so on.
BPE: Baltimore didn't have the kind of gangster activity one might associate with New York, New Jersey, Chicago and Kansas City.
AP: That's correct, but what I focus on is a murder that happens in east Baltimore and reveals how the Baltimore City Police Commissioner is in the pocket of the Gambino mob.
The big man in Baltimore was a guy named Frankie Carbo, who Budd Schulberg called "America's unofficial boxing commissioner." Boxing was a big thing here, and Carbo owned The Colosseum on Monroe Street. In New York, he controlled Madison Square Garden, and he owned boxers, like Sonny Liston, for instance. The chapter starts with that story, but goes into the nightlife here in Baltimore in the 1950s – particularly in the area we now call Station North. The nightlife district extended along Charles Street all the way to North Ave., and some of those places were fronts for gangsters.
BPE: Does your book also mention the Black jazz clubs of that era?
AP: Yes, I actually start with The Block and then talk about the Black clubs on Pennsylvania Avenue, before getting into the clubs around Station North. Your readers might be interested to know that in the late 1940s – when hoity-toity Roland Park excluded Blacks and Jews – a Lithuanian woman from Pigtown was able to buy a mansion there. She happened to be a madam on The Block. A couple of years later, a new female reporter came to work for the Baltimore Sun and was paid a pittance of what her male colleagues made. She needed a moonlighting job, and so, Helen Delich Bentley became the night manager of this whorehouse.
The book ends with a look at Baltimore's potential and what's happening around Hopkins Hospital. It talks about how there is this activity radiating from around the waterfront and moving up Broadway and Central Ave. as avenues of renewal.
I talk about how Broadway has long been a target for redevelopment but how ironic it is that the Hopkins Bayview Campus east of Greektown is attracting a lot of commercial development.
BPE: Using the Harbor as its center, it seems like Baltimore now has rehabilitation spokes of a wheel going out in many directions. What do you think is driving all of this renewal?
AP: What is driving it is that lots of people have made money by building on the waterfront and being able to fill those spaces. The prices have skyrocketed in Canton, so when we talk about modest prices in Greektown, there is a generational and ethnical change happening.
BPE: And Hopkins figures into this how?
AP: Well, when Schaefer gave it the old City Hospital, that place was an oversized mess. It started a second life at the Francis Scott Key Medical Center, but as Hopkins poured more money into it, it was eventually rebranded as Bayview, and became a satellite for Hopkins. It's interesting that Hopkins is now in the process of getting rid of all of the semi-private rooms, because the market has changed. This is something I identify as part of Hopkins' endeavors in that area. It is not only in the hospital industry, it is also in the hospitality industry.
People who can afford to travel for medical care want a degree of luxury. This is what is driving the redevelopment on Broadway and is increasingly driving it in east Baltimore.
Of course, I also talk about some of the challenges Hopkins has.
In this city, Hopkins basically has branch offices. Hopkins is a multi-billion-dollar international enterprise. In Saudi Arabia alone, Hopkins takes care of 360,000 employees and dependents of the Aramco oil company. In the United Arab Emirates, Hopkins controls three hospitals there. Similarly, there is a building on Orleans Street now that was donated by the first president of the United Arab Emirates. Trump has thrown a monkey wrench into this with his visa requirements programs. It remains to be seen if this will continue.
Another issue is that, in its recent history, Hopkins has been one of the largest federal contractors in the area of academia. Trump has also made noises about changing some of that procurement. These are all unknowns.
BPE: So, in the end, it isn't just about admitting visa-seeking students – it's about putting a choke-hold on a lot of money?
AP: Right.
One other person I talk about in my book is James Rouse. That is a name which is meaning less and less to people, but by the time Schaefer became mayor, much of the heavy lifting about redeveloping the Harbor had already been done. It was for Schaefer to add the bells and whistles, so he then drafts Rouse.
But Rouse had been involved in earlier projects. He was one of the people spearheading the Baltimore Plan, which was a nationally known redevelopment project not far from Hopkins. The plan was to redevelop a slum neighborhood while keeping the population in place. Up to that point, the pattern had been that, if a slum was seen as an area with potential, the Blacks would be evicted and the area would be redeveloped for whites. Rouse rejected that idea, so with money from the real estate industry, he started this program, which eventually collapsed when desegregation came along and Blacks had the opportunity to move elsewhere.
BPE: Didn't people self-segregate in those days – more along economic than racial lines?
AP: Yes, and what is interesting is that the racial makeup of the slums was mixed. What is also interesting is that within one year of school desegregation, an elementary school in the Mondawmin area changed overnight from zero to forty-four percent Black. Whites took their children out of the public school and put their houses up for sale.
Let me add that the Federal government played a hand in the creation of the slums.
There had been slums in east Baltimore going back to before the Depression, but the first Federal housing projects started in east Baltimore in the 1940s. Many of these projects are still in place.
I first came to Baltimore in 1969, one year after the riots, and the city was experiencing terrible psychological trauma. Nothing was happening here. What is interesting is we are now a couple of years removed from the Freddie Gray incident, and because of all the crime and the controversy, the mood of the city is terrible. But there is a hell of a lot of construction going on. So the ultimate question today is: Is there a pent-up demand for all of this housing? Or are they creating a bubble?
So, the arc of my book starts with the industry of the man, Johns Hopkins, and ends with the industry of the institutions which bear his name. But ultimately, it is a book about Baltimore's neighborhoods – what is happening now and what happened to the people who once populated them.
BPE: Thank You.
(NOTE: This post has been updated to correct one misspelled name.)