Summer of Love: Ellicott City entrepreneur dusts mill town with flower power
Bangles and bracelets on display at Summer of Love in Ellicott City. (Anthony C. Hayes)
On July 30, 2016, a catastrophic flash flood tore through Ellicott City, Maryland, leaving two people dead and some 30 historic buildings severely damaged.
Kitty Morgan – a photographer, musician and proud child of the 60s – was working for her friend Tom Canning that night, at Zebop of Ellicott City. Zebop was a fixture in Ellicott City as a retailer of hippie clothing.
"I'd come back from New York last summer, " said Kitty, "to visit my family and to help out Tom (the owner of Zebop) by managing his hippie store. As you know, on July 30, Ellicott City was hit with this devastating flood. I was actually trapped inside the store that night and brought a man inside who had been washed down the street. He was out to dinner when the storm hit and was all dressed up in fancy clothes, but when I got him inside, he was soaked to the skin. I got him dried off and gave him some hippie threads to wear. It was kind of amusing to see him sitting there on the floor – barefoot with these funky pants on. Needless to say, he's a real supporter of my new store."
The "new store" is called Summer of Love – a delicate play, perhaps, on the twin themes of the hippie scene of the late 1960s and the outpouring of support the people of Ellicott City received in the wake of the devastating deluge. Like Zebop, Summer of Love will feature a wide array of vintage-styled attire, guaranteed to leave shoppers feeling groovy.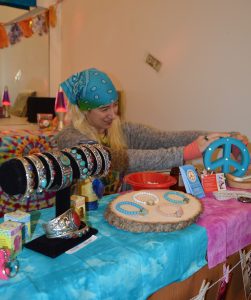 Starting a new business was definitely not on Kitty's mind when she returned to the Baltimore area from New York last summer – nor was she set on going into competition with Zebop.
Situated as it was in the heart of Ellicott City, Zebop was one of the many businesses which were forced to close while construction crews rebuilt the heavily damaged Main Street.
"For the rest of the summer, Tom and I worked on the road. We recovered what we could from here and filled it out with items from Tom's other stores, then sold the merchandise at music shows and festivals. We did the Main Street Festival, which had to be moved to the grounds of the Merriweather Post Pavilion in Columbia.
"We worked with the idea of reopening the shop in Ellicott City, but at the end of the summer, Tom determined it was best for him not to reopen here. Tom decided instead to concentrate his efforts on his stores in Frederick, Maryland and at the beach in New Jersey. This broke the hearts of many longtime customers – including myself – because I was a customer way before I ever started working in Zebop. Tom realized this loss, so what he did was connect me with most of his vendors so that I could open a store here myself."
Will Summer of Love be a reincarnation of Zebop?
"We'll carry much of the same merchandise as Zebop, but I've added other things which I thought were fitting to include in a hippie shop.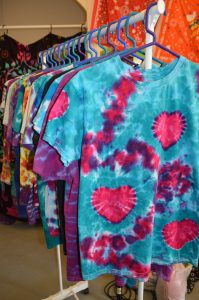 "We were open further up the street for the month of December in a space at La Palapa. We did well there, which was encouraging, so I looked at moving into the old Zebop location. But I finally settled on this location, a few doors down from where Zebop was. It's closer to the railroad bridge and has a really big storefront window. There will also be a café down here, along with another little boutique, and a guy doing custom t-shirts. I love my new space and my landlord, Loretta, so here I am."
Kitty proudly told us that, while buying some of her wares from out-of-state vendors, she will also be looking to local artisans to fill out her shelves. One rack of brightly colored tie-dyed shirts in her shop is the work of an Arbutus artist named Chris Brannon.
Kitty also hopes to make Summer of Love a unique destination for music lovers who'd like to gig or just sit back and chill.
"We are planning on hosting a number of 60's-centric special events throughout the year – like bring your own guitar day and DJ's spinning vinyl. Friends can check these out by visiting our website and our Summer of Love FB page.
"We just had our grand re-opening yesterday, and we'll have an official ribbon cutting this coming Saturday, February 4 at 2:00 pm, with Howard County Executive Allan H. Kittleman. We'll be running some specials for the opening, but mostly we just want people to come out and see our new space, and show their support for everything which is happening with the rebuilding of Ellicott City."
Millions of dollars and countless man hours are going into restoring Ellicott City, but once the dust from the rebuilding settles, entrepreneurs like Kitty Morgan will be the backbone of the burgeoning business district. Support from shoppers in Baltimore, Columbia, and greater Ellicott City will be key to helping the historic mill town rebound. Support – and of course a lovin' spoonful of good vibrations.
* * * * *
Summer of Love is located at 8018 Main Street in beautiful historic Ellicott City, Maryland. Off-street parking is available at several lots both east and west of the Patapsco River. For more information (including shop hours) visit shopsummeroflove.com or look for the Summer of Love Facebook page.

Anthony C. Hayes is an actor, author, raconteur, rapscallion and bon vivant. A one-time newsboy for the Evening Sun and professional presence at the Washington Herald, Tony's poetry, photography, humor, and prose have also been featured in Smile, Hon, You're in Baltimore!, Destination Maryland, Magic Octopus Magazine, Los Angeles Post-Examiner, Voice of Baltimore, SmartCEO, Alvarez Fiction, and Tales of Blood and Roses. If you notice that his work has been purloined, please let him know. As the Good Book says, "Thou shalt not steal."