Stroke survivor Missy Kirby on the comeback trail
When Melissa "Missy" Kirby survived a stroke three years ago, her doctors doubted that she would be able to open her eyes again, let alone walk.
Today the 45-year-old Baltimore woman will walk across the finish line of the 5K Comeback Trail  in Washington, D.C., with assistance from her loved ones.
She will be pushed in a wheelchair during the race, where she will walk the last several yards to cross the finish line, assisted by others, a feat she could not have accomplished six months ago. Missy, who communicates by typing on a tablet, said she hopes to send a message that stroke survivors are "still the same" people that they were before. She said she is grateful to be "surrounded by love" as she heads to Washington with her family.
Missy, a mother of two and a partner with her husband Matt at the Shine Creative video production firm, does not know if she will be able to walk independently again.
She suffered a stroke April 8, 2014 following a quick jog during her 9-year-old daughter Colette's lacrosse practice at Towson High School. She fell on the track and onlookers called 911. About 24-hours later, the Johns Hopkins Neuro Ward found a blood clot near her brain stem. Doctors found out that she had eight or nine small strokes. The cause of the stroke was never determined.
For the first three weeks she stayed at the Neuro-Critical Care Unit where she was in a coma and on life support. She came out of the coma and continued to show progress. She was later transferred to acute rehabilitation. Her condition was called 'Locked-In Syndrome,'  which meant she was cognitively aware, and could respond to questions by blinking her eyes. After daily therapy, she was able to do a thumbs up and a head turn and even more today.
Missy is taking "it one day at a time," said her father, George Sarkis. Working through the first stages of recovery from a stroke has been a journey of community building, self-advocacy and education for Missy and her family.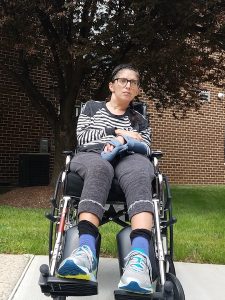 Missy is living in a Columbia care facility as she continues her therapy.
Recovery from stroke is not just physical; it's also mental, Cathy Sarkis said to her daughter's medical team. "You have to really think about how you talk about people."
The mother's insights were incorporated into the nurses' training curriculum after caretakers spoke about Missy's medical needs as if she weren't in the room. Like many stroke survivors, Missy retained her intellectual abilities, although she lost control over much of her body.
Cathy Sarkis encouraged those who have had a stroke to become self-advocates. "Don't be afraid to speak up about anything you think needs to be done better. Some say you have to pick your battles, and well, yes, but nothing is too small to matter."
The Sarkises encourage families experiencing a medical crisis to do their own research on their loved one's medical condition so that they can become informed about treatment options and evaluate the quality of medical care given by different doctors and institutions. They believe Missy's stoke might have been less damaging if she been given new drug immediately after the incident.
"Families have to stay on top of the medical facility, no matter what," Missy's father said.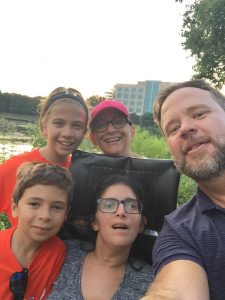 Families and those with medical needs must advocate for themselves not only within medical institutions, but also to access health care benefits. The Sarkises had to hire a lawyer to obtain Medicare coverage for their daughter's medical support, and hosted several fundraising events in their community to help cover medical bills.
Her parents consider themselves lucky to be able to care for their daughter full time. "Fortunately, from a financial standpoint we were able to retire and help our daughter every day, but that doesn't happen for many people. It took a lot of resources to get the top-quality care that we desired" Missy's father said.
Both George and Cathy Sarkis had to learn new ways of participating in their community and solving problems as a team in order to cope with their daughter's stroke. At first it was difficult for them to accept that after caring for friends and neighbors for years, they were on the receiving end of community support.
"In the beginning, I think if people didn't bring us food I wouldn't have eaten," Cathy Sarkis said. "I would encourage other families in a similar situation to take the help people want to give you." An online sign-up form was set up so that the Sarkises were able to ask for help with dinner, transport or other services they needed.
For her husband, other changes had to be made in their lives.
"We learned to work together as a team, not for me to be a dictator as the father, but to listen to everybody's ideas, and not judge, George Sarkis said.
Missy's participation in the Come Back Trail today celebrates her and her family's successful journey back from a stroke over the past three years. The National Stroke Association describes the Comeback Trail is a "5k course with a shorter survivor path celebrating the physical, mental, and spiritual journey of stroke recovery."

Sarafina Harper studies English, Anthropology, and Gender and Women's studies at the University of Maryland, Baltimore County. She seeks to investigate current events using her anthropological background to reconcile the multitude of cultural lenses that shape our world. She understands the personal experience as inherently political and is an advocate for human rights. Sarafina is a poet and visual artist; her favorite canvases include every available wall, piece of furniture, or willing human being. She experiences live music as a spiritual sacrament and thrives where the freaks and artists wave their flags with pride.