Vichyssoise: A pureed soup of potatoes, leeks, onions, cream and chicken stock. Though the name of the soup is French, this recipe is more American in origin. Traditionally served cold but can be eaten warm. (Pronounced: vish·ē·swäz′).
Here is a recipe from Chef John Walsh of the Classic Catering People, Official Caterers of the Ravens Training Center.
Vichyssoise with Brie
By Chef John Walsh of The Classic Catering People
Makes 6 cups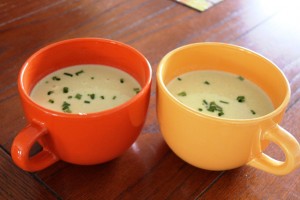 Ingredients:
2 cups finely diced raw potatoes
4 tablespoons butter
6 leeks, cleaned and cut into 1-inch pieces
1 cup diced sweet onions
3 cups chicken stock, light
4 ounces of Brie
1 teaspoon sea salt
1/2 teaspoon freshly ground black pepper
Dash of nutmeg
1 1/2 to 2 cups heavy cream
Chopped chives
1 bunch chervil
Directions:
Cook the potatoes in salted water to cover until just tender.
Melt the butter in a skillet and cook the (onions) and leeks gently, tossing them lightly, for a few minutes. Add the chicken stock and bring to a boil. Lower the heat and simmer the leeks until tender. Add the potatoes and Brie to the leeks and the broth. Season to taste with salt, pepper and nutmeg.
Put mixture in the blender (you will need to blend it in two lots) and blend for 1 minute, or until smooth. Pass through chinose (or chinois) and chill and add heavy cream. Garnish with chopped chives and chervil.
Can't find chervil? Substitute with parsley or chives.
A chinois is a cone-shaped kitchen utensil used for those sauces and soups which require a smooth or silky consistency. This metal cone-shaped tool with fine holes, can be used with a pestle to separate the liquid from the solid ingredients.
Leeks have been cultivated by humans for centuries, even the Egyptians and Phoenicians cultivated leeks.
The vichyssoise can be served hot, but then it is called a cream of white asparagus soup.
The day I tried this recipe, the temperature in Mt. Airy, Maryland was 26 degrees. The warm kitchen quickly filled with the aroma of leeks, broth and potato simmering over the stove. I have to admit that after pureeing the soup in the blender, I skipped the chinois step and added cream directly to the leek mixture and heated it until warm. It was fabulous. My tasters joined in and I had to make a second batch, in order to follow the exact recipe. I found the chilled vichyssoise to be equally as wonderful, more so than the warmer version, but with the freezing temperatures, the warmer version won out this session.
The Potato in History: The Inca's of Peru were the first to cultivate potatoes around 8,000 B. C.
The Incas had many uses for potatoes other than dinner:
Placed raw slices on broken bones to promote healing
Carried them to prevent rheumatism
Ate with other foods to prevent indigestion.
Measured time: by correlating units of time by how long it took for potatoes to cook.
Various folk remedies recommend using potatoes:
Treat facial blemishes by washing you face daily with cool potato juice.
Treat frostbite or sunburn by applying raw grated potato or potato juice to the affected area.
Help a toothache by carrying a potato in your pocket.
Ease a sore throat by putting a slice of baked potato in a stocking and tying it around your throat.
Ease aches and pains by rubbing the affected area with the water potatoes have been boiled in. From Potato Goodness, fun-fact-history website.

Ann Marie Bezayiff received her BA and MEd from the University of Washington in Seattle. She is an author, blogger, columnist and speaker. Her columns, "From the Olive Orchard" and "Recycled Recipes from Vintage Boxes", appear in newspapers, newsletters and on Internet sites. Ann Marie has also demonstrated her recipes on local television. Currently she divides her time between Western Maryland and Texas.