Savage Eagles baseball team enjoys major league experience at Camden Yards
The Savage Boys and Girls Club's U-12 travel baseball team, the Savage Eagles, recently experienced a practice they'll never have again, as the squad took the field at Oriole Park at Camden Yards and received instruction from Orioles shortstop J.J. Hardy and third base coach Bobby Dickerson.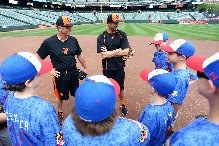 The boys' day in the big leagues was a surprise by coach Adam Leader, who told his players they were entering an essay contest with the topic of "what it takes to be the best teammate."
Leader, however, knew his team would win because it was a fictitious contest, as he already won the experience through an auction in conjunction with Major League Baseball's Winter Meetings.
"It's definitely an experience they will remember for the rest of their lives, which was our big reason for doing this," Leader said of the day, which included a behind-the-scenes tour of park.
Leader's reward for his team benefitted a terrific cause: LUNGevity Foundation and critical lung cancer research in honor of former Baltimore Orioles' public relations director, Monica Barlow, who died of lung cancer in February 2014 at age 36.
"Monica Barlow means a lot to us, and the LUNGevity Foundation is very important to this organization and to us as individuals," Dickerson said. "Anything we can do to help, we welcome it."
The Eagles' practice at Barlow's old workplace was held on what would have been her 38th birthday.
"It was a no brainer for me," Hardy said when asked why he spent his free time teaching the Eagles how to become better fielders. "It just shows you how important Monica was to us…we don't want to forget her."
The LUNGevity Foundation, which is the largest national lung cancer-focused nonprofit, has built a strong relationship with the Orioles, as the team will again host the Breathe Deep Baltimore walk in Barlow's memory on Oct. 3.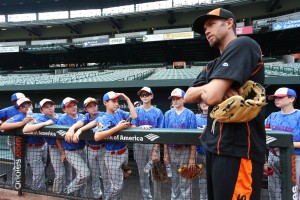 The LUNGevity Foundation is passionate about making an immediate impact on increasing quality of life and survivorship of people with lung cancer by accelerating research into early detection and more effective treatments, as well as by providing community, support, and education for all those affected by the disease.
One in 15 Americans will be diagnosed with lung cancer in their lifetime, including more than 221,000  this year with the disease, which kills more people than the next three cancers – colorectal, breast, and prostate – combined.
"The Baltimore Orioles have been an extraordinary ally in the quest to raise awareness and funds for life-saving lung cancer research. The team was the impetus behind Major League Baseball designating LUNGevity the beneficiary of the 2014 Winter Meetings Auction. The team showed amazing support of the lung cancer community, raising funds for critical research and addressing a health concern that can affect anyone with lungs," said Andrea Ferris, president and chairman of LUNGevity. "We are thrilled to continue working with the Orioles and to have the opportunity to honor Monica's memory, provide young baseball fans a once-in-a-lifetime experience, and inspire hope amongst lung cancer survivors nationwide."

Baltimore Post-Examiner is run by a creative cadre of dedicated journalists – some who worked at the Washington Post, Baltimore Examiner and other regional and national publications. It's the Post-Examiner because we love the play on the word "Post" but we are also hoping to answer that question: What's next after newspapers? We see a lot of websites come and go – and many simply are not making it for various reasons. We have been a model of success since we launched in 2012 with "a little bit of everything" and we aim to continue to break that cycle of websites coming and going.