Ambrosia and Waldorf Salads: Create a base of fruits, nuts, with a gentle sprinkling of sweetness, and you have two traditional American recipes. Tasty additions to any meal and just in time for the first fruits of spring.
Ambrosia:
The food of Greek and Roman gods, recreated in the kitchen of a Southern goddess and published in an 1867 cookbook entitled Dixie Cookery by Maria Massey Barringer of Concord, North Carolina.
The dessert begins with oranges and shredded coconut. Early recipes layered peeled and sliced oranges, grated coconut and a sprinkling of sugar, in a glass bowl. As expected, over the decades, American cooks and culinary chefs added their own touches. Here is a traditional recipe from a newspaper clipping, taped onto a recipe card. Carefully cursive written notes and directions border the yellowed tape. Still a favorite of the kitchen circuit.
Five Cup Dessert or the Twenty-four Hour Dessert, 1967
Recipe card from Porterville, California
1 cup mandarin oranges, drained
1 cup pineapple chunks, drained
1 cup tiny marshmallows (miniature marshmallows)
1 cup sour cream
1 cup angel flaked coconut
½ cup maraschino cherries, cut in half
Combine all ingredients. Cover and chill in refrigerator for twenty-four hours. Serve in sherbet glasses. Makes eight servings.
Variations:
Fruits, canned or fresh: diced pears, strawberries, grapes, blueberries, bananas.
Binders (in place of sour cream): whipped cream, heavy cream, yogurt, sprinkling of sherry or Madeira, or a sprinkling of sugar (or sugar substitutes).
Here is a decidedly different version. In 1966 Hagel G. gave the following recipe to an owner of one of my recipe boxes. The directions though vague, apparently made sense to the recorder.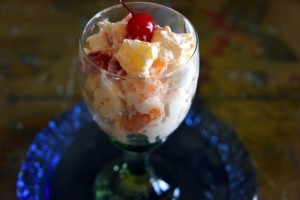 Pineapple- Mandarin Orange and Orange Sherbet Salad
Preparing desserts or salads with Jell-O was second nature to cooks at this time. Not so much today!
Small can crushed pineapple
Small can mandarin oranges
1 package orange Jell-O.
Use 1 cup liquid including juices. When thickened, stir in pint of orange sherbet.
The excerpt below may be the source of the above recipe.
Over time, many modern innovations were applied to ambrosia. In 1950, the Record-Chronicle of Denton, Texas, printed a version of ambrosia that used a package of orange flavored gelatin, grated orange rind, and orange juice along with a package of shredded coconut and chilled, whipped evaporated milk. An excerpt from an article entitled: How Ambrosia Became a Southern Christmas Tradition by Robert Moss, Serious Eats.com.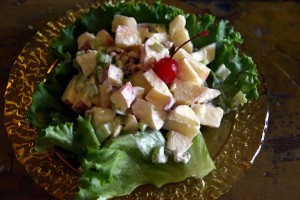 Waldorf Salad:
This salad of apples, celery and nuts combined with a mayonnaise dressing and served on a bib of lettuce, made its debut at the Waldorf-Astoria Hotel in the late 1890s. The original recipe is attributed to a Mr. Oscar Tschirky, the maître d'hôtel. Add peeled grapes (Yes! peeled grapes), dates and/or raisins for a different taste or cubes of chicken, turkey, or salmon for a light meal.
Waldorf Salad, 1960s recipe box
2 cups diced apples (cut into fourths, remove core but leave peeling on for color)
2 Tablespoons lemon juice
1 cup chopped celery
½ cup broken walnuts
¼ cup mayonnaise or salad dressing
2 tablespoons light cream
Sprinkle apple cubes with lemon juice to keep color bright. Combine apples, celery and walnuts. Blend mayonnaise and cream. Add to apple mixture and toss. Chill thoroughly. Serve on crisp lettuce. Top with a maraschino cherry (optional). Serves 6.
Make this salad your own: try adding dried cranberries or cherries, substitute pears or pear apples for apples, add mandarin orange slices. Try adding a tablespoon of lemon zest. Candied pecans or walnuts add a sweet crunch to the salad. Toasted pine nuts work. For a little heat, add a finely chopped and seeded hot pepper.
Not a fan of mayonnaise? Substitute yogurt, sour cream, whipped cream or frozen whipped topping as a binder. Experiment with combinations.
It's all in the directions:
Waldorf Salad: Recipe Card
Chopped red apple
Chopped nuts (walnuts)
Chopped Celery
2 tablespoons lemon juice
Mix with evaporated milk or salad dressing
Watergate Dessert is a close cousin to Ambrosia and Waldorf Salads. A little confusion is to be expected since the recipe calls for pineapple chunks and a binder, usually a frozen whipped dessert, but unlike the other two desserts, it calls for a package of pistachio pudding mix, The Watergate dessert made its way through the kitchen circuit in the mid-1980s after pistachio pudding mixes first appeared on grocery shelves. It's still popular today.
Enjoy!

Ann Marie Bezayiff received her BA and MEd from the University of Washington in Seattle. She is an author, blogger, columnist and speaker. Her columns, "From the Olive Orchard" and "Recycled Recipes from Vintage Boxes", appear in newspapers, newsletters and on Internet sites. Ann Marie has also demonstrated her recipes on local television. Currently she divides her time between Western Maryland and Texas.