Being a Baltimore native I remember lots of things and I also remember when those things didn't exist. When they had the first City Fair in the Inner Harbor there was barely anything there. We were lucky to have pavements. As the years went by one by one attraction and restaurants were soon dotting the waterfront. Not to mention of course Harborplace.
The only thing I recall being there over all those years was the Domino Sugars sign. Like a beacon that iconic sign was a sure sign, we were in Baltimore's harbor. Now there are many things that ring out the Inner Harbor. How about the World Trade Center, Science Center, Aquarium, pirate ships, the Hyatt and let's not leave out the Rusty Scupper sign. Its red letters welcome diners year round.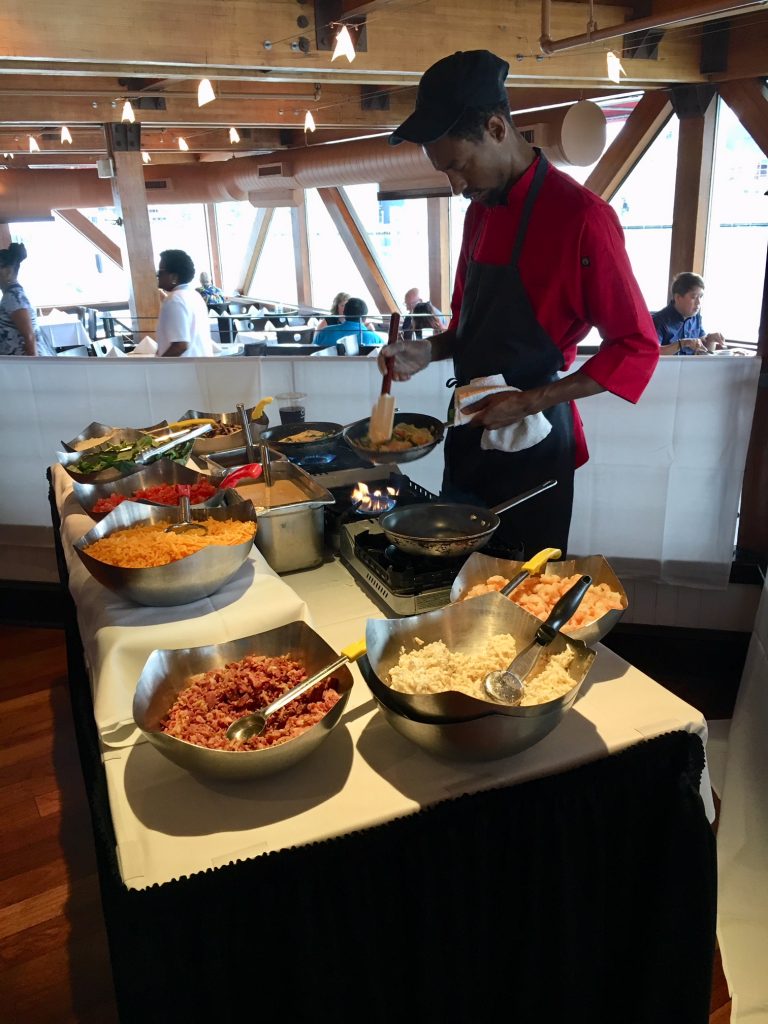 I'm glad the Scupper (as many people refer to it) is still there because this article is about that very restaurant and I'd hate to write about something that isn't there. I do believe I was told it has been on Key Highway for about 26 years. And not by coincidence so has its General Manager Ed Prutzer. Most likely at the door directing traffic and keeping an eye on the customers. And doing it all with a smile.
The Scupper offers lunch and dinner but for my purposes here, I will limit my comments to their lavish Sunday Brunch. I'll begin by saying it occurs only on Sunday (you can't take anything for granted) and there are two sittings, 10:30 -12:30 p.m. and 1 to 2:30 p.m. It doesn't matter which one you select, it's all you can eat at both and plenty to eat at that.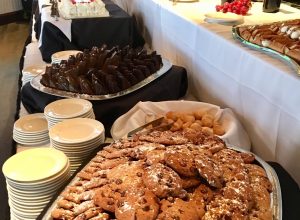 I know what you're thinking, downtown, oh no, where do I park? Relax. You can park on Key Highway or there 's a parking lot on the property. Parking is validated so you pay only $9.00. OK, the car is parked so you walk in. But wait a minute. I hope you have a reservation. If not, you better hope they can find room for you. I'm telling you this, both sittings are usually filled. So make a reservation.
The buffet is $45.00 and $16.00 for those under 10. And worth every dollar of it. Most likely the first thing you'll be offered after being taken to your table is your choice of either a Mimosa, Bellini, champagne or Red Sangria. Well, it's not really a choice, you can have all four if you want. Then it's off to the buffet, located at various locations, it's that big.
All right let's take a look, how about the prime rib or roasted pot roast carving station, not yet, OK so let's wander over to the omelet station, now that looks like the place to start. But don't overdo it, you are just beginning. Let's go back to the main buffet and look over the French toast, waffles, salads, bagels, and lox, shrimp and scallops, mac & cheese, scrambled eggs, roasted pumpkin grits, the many other entrees and of course dessert.
Ed told me a few of the items remain weekly while others change. That decision is generally left up to Chef Pedro. Leave that to him. All you have to worry about is getting the food on your plate, making it back to your table and eating. You'll be dining to the music of a jazz trio and enjoying what has to be one of the best
Baltimore views. The panorama goes from the Science Center all the way around to Canton.
I don't recall how many times I went to the buffet.  But here's the good news, no one cares. The 90 minutes or so I was there the restaurant was crowded. I kept a look as to how the staff handles the crowd. I determined it's a combination of having done it so often, Ed and staff at the front desk and a trained staff, from servers to carvers. My table was serviced by Bridget and we were well taken care of.
If you can hang around downtown until 4 p.m. the Scupper has Sunday Fun Day. This happens on the second level deck (rain or shine) with live entertainment and a light fare menu. A few of the food items include fish tacos, sliders, steamed shrimp and chicken wings. It ends at 8. No charge.
Without question, the Rusty Scupper is a Baltimore staple and has been for those 35 years. And by the way Ravens fans, for home games they offer a free shuttle to M & T Bank Stadium. But be sure you have transportation back. The shuttle is one way only.
Reach them at 410-727-3678 or go to rusty-scupper.com.