The area known as Oregon Ridge has a long history in Baltimore County.  It goes back to the 18th Century when it was part of two extensive land tracts.  One of the tracts was purchased by the Price family in 1739.  That house today is The Oregon Grille.
That restaurant is usually on a list when people talk about the best restaurants in and around the city.  I regret it had been about three years since my last visit, but that was rectified just a short time ago when I made a return visit.  As I was dining there I thought to myself why has it been so long?  I actually answered myself and it was at that time I considered treatment.
The exact address is 1201 Shawan road in Cockeysville.  It is basically situated in horse country.  But civilization in the form of the Hunts Valley Towne Centre is but a few minutes away.  Coming up 83 just head west on Shawan and in about two minutes you'll see it on the right.  The sign is a big hint you've arrived.
The restaurant is open seven days for lunch and dinner with a Sunday Brunch from 11 a.m. to 3 p.m. that is reasonably priced from $12.00 to $18.00.  There are three levels with seating for about 225.  You'll find private areas for that meeting or party.  You'll also find a delightful outdoor covered dining area.  On a balmy summer night, an excellent choice.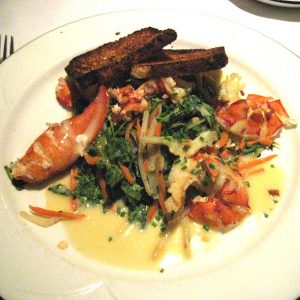 You can also plop yourself in the lounge and watch some TV.  Maybe enjoy the daily Happy Hour from 4 p.m. to 7 p.m. and seven nights a week listen to relaxing piano music played by the veteran Alan Fields.  He begins at 6:15 p.m..  Be careful one night I have threatened to show up and sing.  Best call ahead to avoid that.
I'm told the chef offers a special each night.  Always a good idea to trust the chef.  And if you plan your visit you can partake in one of the popular daily promotions.  For example, Thursdays there's free blue point oysters in the bar and upper patio; Tuesdays chow down on the complimentary colossal shrimp and Wednesdays $5.00 martinis.  Bring a designated driver. By the way, the chef is Chef Cunard, a  graduate of the Culinary Institute.  No big deal to me, I once drove past the Culinary Institute.
On your way in take a look at the fresh herb garden.  Yes the chef actually uses vegetables from the garden in his creations.  I had a salad during my visit and was told many of the veggies came from right outside.  On my way out I tried to grab a few but it seems they frown on that.
The wine cellar, which I didn't get a chance to see, has over 800 bottles.  Whatever you like, chances are they have it.  And while I'm on the subject of dress, just pretend, let me mention the dress code.  Simply, in spite of what might be common belief, there is none.
Jackets are not required, though in the evening many men wear them.  But this time of year just as many come in with golf shirts.  I'd stay away from jeans.
Most likely your host will be the very congenial and dapper Dave Derewicz.  He has had experience working in many of the area's finest restaurants, The Prime Rib and Ruth's Chris for two. He's the perfect way to begin you meal.  Of course all of the hosts are well trained to make your visit as pleasant as possible.
You might be asking what are some of the signature items.  All right don't be pushy.  Let me offer as a few examples – the crab cake,
New York steak, the dry prime sirloin strip steak, the lobster, cowboy steak (24 ounces), bacon whipped scallops, pan seared rockfish and the prime rib.  If you aren't hungry now, see a doctor.
There's plenty of free parking, it's locally owned and operated and reservations are generally not necessary.  Though on weekends and holidays it might be a good idea to make one anyway.
You can reach The Oregon grille at 410-771-0505 or go to the oregongrille.com.