One Child for Another: A Memoir
One Child for Another
A Memoir by Nancy Murray
Review/ Shirley J. Brewer
In One Child for Another, a poignant recollection of life-altering choices and circumstances, author Nancy Murray brings us along on her traumatic—yet ultimately triumphant—journey. At the close of her memoir, Murray includes a poem, "A Summertime Flower," written by her younger self in the summer of 1980. It begins, I'll die like a flower in wintertime, and ends, I pray that in Spring we can make a new start.
Back to that beginning: Nancy Thorpe is the youngest of six children raised in a Catholic family. She endures a violent father who sexually abuses her on a regular basis from the age of three. Her beloved mother knows about the abuse, but does nothing. Nancy grows into an awkward teen. She rebels with a loud mouth and comedy routines, skips school, dabbles in drugs, and sneaks out for late-night partying. At age sixteen, she gets pregnant by a peer she doesn't know very well. High at the time–she doesn't protest the boy's advances, so accustomed is she to abuse. Frightened and feeling alone, Nancy initially decides on an abortion, but changes her mind when her mother offers her support.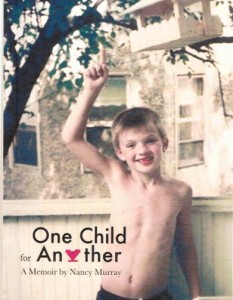 Most of the book details Nancy's experiences at St. Ann's Infant and Maternity Home, once she determines she will have her baby, and then give it up for adoption. At first, she rebels against the nuns and their strict rules. One humorous incident involves a crucifix. Although she chafes at her lack of freedom, Nancy does make friends, including Joe the cook, who makes her special breakfasts. And there are Charlene, BJ, Pam, Tiffany, and others. Every girl has a story. Nancy's mother rescues her from obligatory parenting classes, and takes her to an ice cream parlor instead.
The story explores Nancy's conflicting feelings for her mother. Grateful for her mom's good cheer and support, she is also angry because her mother failed to protect her from her father's abuse. Throughout the book, the author reveals the fabric of secrets and lies that permeates her family experiences.
Keeping a journal and writing poems help Nancy cope with the ups and downs of her pregnancy. A turning point occurs when she fires Catholic Charities and finds another organization to help her with the adoption. She begins to realize she is a strong person and can make good decisions. Another moment of strength takes place when Nancy stands up to her mother, who wants her to consider keeping the baby. The story continues with the birth of Nancy's son. After she returns home, Nancy finally confronts her father. To me, this is the authentic heart of the book. I could feel the strength of my new voice and I understood the power behind it.
In the epilogue, the author skips ahead twenty-two years, and fills us in on her happy connection with her now-adult son, Dillon, his adoptive parents, Kathy and Tom, and Nancy's two grown daughters.
It is never easy to revisit challenging periods in our lives. Nancy Murray digs deep to candidly explore a past that included abuse and betrayal, fear and uncertainty. I think every reader will empathize with her challenges, and cheer when she stands up for herself. Her reward for pain and sacrifice is a satisfying relationship with a young man gifted with two generous and loving mothers. How she arrives at the place where she can start again makes for a satisfying read.

Shirley J. Brewer graduated from careers in bartending, palm-reading and speech therapy. She serves as poet-in-residence at Carver Center for the Arts & Technology in Baltimore. Her poems garnish BarrowStreet, Poetry East, Slant, Gargoyle, Comstock Review, and many other journals. Shirley's poetry chapbooks include A Little Breast Music, 2008, Passager Books, and After Words, 2013, Apprentice House. In 2017, Main Street Rag released her first full-length collection of poems, Bistro in Another Realm. Shirley was awarded the first Creativity Award for Excellence in Plorking (Play + Work) from the University of Baltimore, where she earned her Master's degree in Creative Writing/Publishing Arts. Her definition of shame is a bare wrist.