NHL Winter Classic: Capitals win a classic over Chicago Blackhawks, 3-2
WASHINGTON, D.C. – It looked like a large, toy Zamboni, weighing about 45 pounds, about 3 ½ feet long, 2 ½ feet tall, painted camouflage in honor of military service, complete with shiny silver nuts and bolts and black wheels.
It looked like a Christmas gift only the truest hockey fan would want. Yet fans were lined at least eight deep, using their cell phones to snap pictures of its beauty, making, of all things, a chocolate cake one of the biggest attractions leading to the NHL's Winter Classic at Nationals Park on Jan. 1.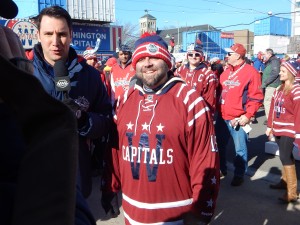 A few feet away, celebrity chef Duff Goldman, the 40-year-old owner of Baltimore's Charm City Cakes, wore a Capitals jersey as he basked in the glory of his masterpiece at the NHL's Spectator Plaza, a free event attended by thousands across the street from the stadium.
Goldman, who started making the cake in Baltimore with three other bakers three days before the game and finished it at Nationals Park, wasn't alone, as a capacity crowd of 42,832 packed Nationals Park to see hockey return to its outdoor roots.
"As a kid, I grew up playing the game outside on days just like today – just like those guys did, too," said Capitals fan Adam Graham, 29, as he pointed to the Washington Capitals and Chicago Blackhawks whizzing around the ice. "Hockey was always meant to be played outdoors, so going to a game like this makes me, in a way, feel like a kid again."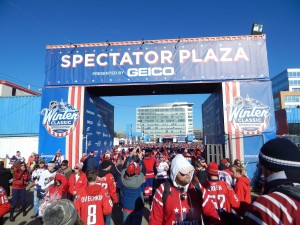 Like Goldman's cake, everything about the Winter Classic is bigger and badder than what many are accustomed to seeing at bakery or at a regular-season game.
"What you saw here today from 43,000 people was a level of enthusiasm for hockey, for the Capitals, that I'm not sure many people imagined could ever have been accomplished here in Washington," NHL Commissioner Gary Bettman said.
The action started hours before forward Troy Brouwer's power-play goal with 12.9 seconds left lifted the Capitals to a dramatic, 3-2 win.
At the Spectator Plaza, fans in Capital red and Blackhawk red created a sea of smiles. Kids shot pucks through holes to try to win Visa gift cards, while others waited in long lines to be pictured for the own Upper Deck hockey card made, while adults mingled, many with a breakfast sandwich in one hand and a cold beer in the other.
The Winter Classic is the NHL's time to shine on day where the only nuisance was a brisk, chilly wind that reminded that hockey is – and will always be – a winter sport. It's the NHL's biggest regular-season event – All-Star Game included – and turned Nationals Park into the place to be on New Year's Day, with the cheapest seat going for $315 an hour before faceoff. The most expensive one? A cool $1,211 – the same price for a great seat for the Ravens-Steelers playoff game, according to Stubhub.
"In the regular season, it doesn't get any bigger than this because it's hockey being played outside – just as it should be," said Susan Strohman, a 32-year-old Capitals fan from Bethesda who paid $325 for an upper-deck ticket weeks before the game. "When I saw D.C. was getting this game, I knew I had to be here. This was my Christmas gift to myself. I wanted to be part of this spectacle."
And what a spectacle it was.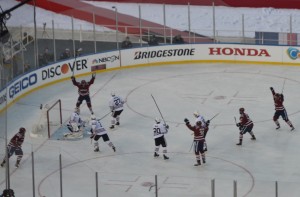 The rink was undeniably Washington. A large replica Capitol building was in center field and was connected to the rink by a frozen slab of ice mirroring the iconic reflecting pool. The rink was surrounded by a pristine white fluffy material to resemble snow.
Billy Idol performed "Rebel Yell," while Gavin DeGraw played a few songs during the first intermission, with Lee Greenwood entertaining fans with "God Bless the U.S.A." between the second and third periods.
"The atmosphere couldn't have been greater," Bettman said. "The weather was spectacular. I mean, the replica Capitol Building, the reflecting pool, actually somebody showed me a picture of somebody skating on the reflecting pool in 1918 to give you a sense of how far these things go back here."
The Capitals, who defeated the Pittsburgh Penguins in Heinz Field in 2011 in their only appearance in the Winter Classic, didn't waste time giving their fans a reason to rise to their feet, as Eric Fehr blasted a shot past goalie Corey Crawford seven minutes into the game.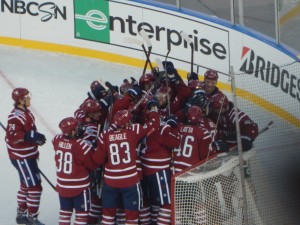 The Winter Classic's biggest obstacle was the sun, which cast a shadow over half the ice, forcing the teams to switch sides in the middle of the first period. But the sun didn't bother the Capitals. Alexander Ovechkin pounced on Jack Hillen's miss to extend Washington's lead to 2-0, causing Capitals fans to start chanting "Rock The Red."
Chicago, however, silenced them quickly, as Patrick Sharp slapped a shot from just in front of the blue line past Braden Holtby to cut the Capitals' lead in half.
The Blackhawks tied the game just over three minutes into the second period, as center Jonathan Toews slipped a perfect pass to Brandon Saad, who put it in the back of the net, past a helpless Holtby.
The team's exchanged chances and missed opportunities, with each failing to convert power plays – until Brouwer saw a loose puck in front of the Blackhawks' goal.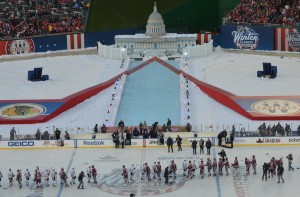 "I turned around, threw it to the net," he said. "I'm not sure where it even went in, but I heard the noise of the crowd, heard the noise of the guys on the ice, and it was one of those where you know the time, you know the score, and you're just trying to get a puck on net, and thankfully it went in."
Fans roared as many tossed their commemorative seat cushions they received for attending into the air, knowing Washington had turned the Winter Classic into a classic victory.
I'm pretty sure that everybody is going to remember this moment for a long time and as I said, it's a great feeling," Ovechkin said. "And it's going to be in our memories."