Mock juries rule against MGM Resorts International Las Vegas in concert massacre, source says
LAS VEGAS — Three independent mock civil juries all ruled against MGM Resorts International and returned verdicts in favor of the victims of the October 1, 2017 Las Vegas Massacre, according to a senior level source close to law enforcement.
MGM Resorts International claim our source is wrong and added that "100 percent" or our stories have been false. However, MGMRI could not specify what is wrong since our stories have been based on public records and law enforcement officials and officers.
Our source insists the mock civil trials took place.
The mock jury trials were convened by lawyers representing MGM Resorts International, the owners of the Mandalay Bay Hotel where gunman Stephen Paddock killed 58 Route 91 Harvest music festival attendees and wounded nearly 500 more, as he fired down from his 32nd floor Mandalay Bay Hotel suite, the source said.
The mock jury trials which were conducted last year were comprised of jurors who were paid to serve on the panel and who were carefully selected in advance, just as in an actual jury selection to represent a cross-section of ages, educational background, and professions, the Baltimore Post-Examiner was told.
All three mock juries, independent of each other found that the MGM Resorts International owned Mandalay Bay Hotel was found negligent in the mass shooting, the source said.
When debriefed by MGMRI attorneys after the verdict, the juries in all three mock trials uniquely focused on the word "prevention," as the reason to return a verdict in favor of the plaintiffs (victims), the source said.
The mock plaintiff's attorneys focused on the fact that the mass shooting was a preventable act and all the juries independently agreed that the defendants were culpable because they could have prevented the mass shooting, the Baltimore Post-Examiner was told.
Mock jury trials are nothing new. They are used by attorneys to discover weaknesses in their cases, as well as how tactics and evidence would impact the actual case if litigated in a courtroom.
The mock jurors are paid and enter into a confidentiality agreement not to discuss the substance of the outcome.
If you get bad results it forces the defendant's attorneys many times to go to mediation rather than taking a gamble on facing an actual civil jury, specifically if the damages are exorbitant.
In tracking and reporting on the Las Vegas Massacre, the largest mass shooting in American history, for over the past 15 months, many questions by the public, and by the victims and their families have emerged.
Many of those questions still have not fully been answered due to a consistent application of denial and delay by MGM Resorts International, the Las Vegas Metropolitan Police Department and the Federal Bureau of Investigation.
Evidence and key information are conveniently missing and or unavailable in many instances and that is frustrating to me because that is something I have no control over.
In November, attorneys for MGM Resorts International moved to stay litigation in the pending lawsuits and agreed to seek mediation with attorneys representing the victims of the Las Vegas Massacre.
In doing so all pending court motions came to a halt.
If mediation proceeds successfully, then the legal discovery process in which all evidence and records, including all the hotel surveillance video in the possession of MGMRI reference to the massacre, that normally would be requested through subpoenas, would not occur.
That would also mean MGMRI executives and Mandalay Bay Hotel security personnel would not be facing scrutiny under oath during depositions.
How convenient is that?
At that time, MGMRI said, "While we continue to believe ultimately courts would find in MGM's favor, we hope that entering into mediation will allow the parties to work together toward a fair and timely resolution."
Could it be that MGMRI's decision to enter into mediation was because they lost their case in three mock jury trials?
There is never a guarantee that mediation will come to favorable results for both sides, thus ending the mediation process and if that should occur then all motions would continue in the court.
What I find very interesting is why MGMRI agreed to mediate the case if they are under the impression that the court would find in their favor, as they said.
Before they would have to produce evidence, now they want to settle the case.
MGMRI what are you afraid of?
What unreleased evidence do you have in your possession MGMRI that you do not want the public to see, let alone be subpoenaed by the victim's attorneys to present in court?
Or maybe it's what MGMRI doesn't have; proper records of training in active shooter response, security negligence, Innkeeper Law, etcetera, etcetera.
Remember, in our July 7 article, "Where was Mandalay Bay's elite emergency response team when Paddock started killing people,?" we reported that Wendy Price, Director of Safety, Security Training and Firearms for the Mandalay Bay told Security Consultant James Cameron, one day after the Massacre that "MGM, as well as Mandalay Bay, has an elite emergency response and training team. Our entire company trains extensively on these types of events and have for several years."
So if that's the case where was this elite team when people were being killed and why was it that MGM's extensively trained armed security personnel failed to act to save lives during the several minutes that they stood by and did nothing as they listened to Paddock's gunfire?
I can only presume that the reason you had these no show elite emergency response teams and the active shooter training at the Mandalay Bay was that the threat of an active shooter may be a possibility one day.
That's admirable. But then why did your security personnel just stand by and do nothing as people were being killed?
That should sit very well with a civil jury.
Foreseeability?
The small arsenal of weapons discovered in a guest room in one of the hotel high-rise towers of the Mandalay Bay in 2014.
That convicted felon's weapons included an AR15 semi-automatic rifle and a bolt-action .308 caliber rifle, coincidentally the same type of rifles Paddock would bring into the Mandalay Bay Hotel in 2017. Sound familiar MGMRI?
What would a civil jury think when they hear about the MGMRI corporate security executive who was aware prior to October 2017 that a sniper attack from an elevated position from a hotel high-rise tower posed a threat.
What is different in this litigation is that we learned last year that MGMRI has an insurance policy for terrorism/active shooter incidents? Although the actual amount of the insurance policy has not been made public, I can presume its most likely in the hundreds of millions of dollars.
MGMRI gave the proverbial finger to the attorneys for the massacre victims last March when they released about an hour of the hundreds of hours of hotel surveillance video footage in their possession of Stephen Paddock to the media without notifying the victim's attorneys, who had been requesting such video for months.
Without any concern, sensitivity and common decency for what the victims of the massacre went through, MGMRI did not even notify them of their intention to release the Paddock video. Instead, the victims found out by watching the news, thus opening old wounds.
To add further insult to injury, in July in one of the most disgraceful and despicable acts I have ever seen by a corporation, MGMRI took unprecedented action when they sued over a thousand victims of the Las Vegas Massacre.
In December, MGM Resorts International once again showed their true colors when ABC News' Nightline aired an interview with Mandalay Bay Hotel Security Officer Jesus Campos.
Along with that, MGMRI gave ABC News previously unreleased hotel surveillance video of Campos, once again that the victims attorneys have been requesting and never received.
MGMRI only releases self-serving portions of surveillance video that goes along with their public relations campaign.
Of course, ABC News did not ask Campos why he never investigated the drilling sounds emanating from Paddock's suite after finding a metal bracket drilled into the fire stairwell door and jamb with screws, adjacent to Paddock's suite, and why he just walked away.
The Nightline story was another orchestrated public relations stunt on the part of MGMRI, just as it was in October 2017 when Campos appeared on comedian Ellen DeGeneres' show.
Yes MGMRI, that was really funny.
As I pointed out in my story after the airing of Nightline, conveniently ABC News made no mention of the six Mandalay Bay Hotel armed security personnel who were in the vicinity of Paddock's suite during the gunfire but failed to act to save lives along with two Las Vegas Metropolitan Police Department officers.
Remember 58 people were murdered, yet ABC did not think it was pertinent to put that in their story.
One corporation protecting another?
MGM Resorts International before seeking mediation believed that the post 911 law known as the Support Anti-Terrorism by Fostering Effective Technologies Act may give them immunity.
I guess maybe MGMRI wasn't too sure that stunt would end up in their favor, so off to mediation they went.
I'm wondering if the shareholders of MGMRI were advised of the results of those mock jury trials and if that had any impact on why they requested mediation.
Someone said to me the other day, what's the big deal, they are insured?
My answer, yes they are. But if MGMRI's insurance company has to pay out hundreds of millions of dollars in a settlement agreement, just to say, I could only imagine what the price increase in their insurance premiums would be.
That is something the stockholders may be interested in.
On Saturday I made telephone contact with Debra DeShong, the Sr. Vice President for Global Corporate Communications and Industry Affairs for MGM Resorts International, requesting comment.
Obviously annoyed by what I told her, DeShong said that she reads my stories and they "Are 100 percent wrong all the time," and to call her back on Monday, before hanging up on me.
I sent Deshong an email on Sunday indicating that I would call her back on Monday and that, "I am giving you the opportunity to back up your incorrect assertions and go on the record."
I contacted Deshong on Monday as she requested. She did not call back.
On Saturday I sent an email to Michael Doyen, the lead attorney handling the civil cases against MGMRI, also requesting comment. Nothing heard.
The Baltimore Post-Examiner has been saying for well over a year that the Las Vegas Massacre was foreseeable and preventable.
On January 3 MGMRI announced that it plans to cut its U.S. staff to save $100 million by 2020. The layoffs are part of a program to boost operating cash flow, MGMRI said in a statement.
Maybe they are anticipating an increase in their insurance premiums.
Editor's Note: Twitter continues to erupt about Doug Poppa's coverage on the Las Vegas mass shooting: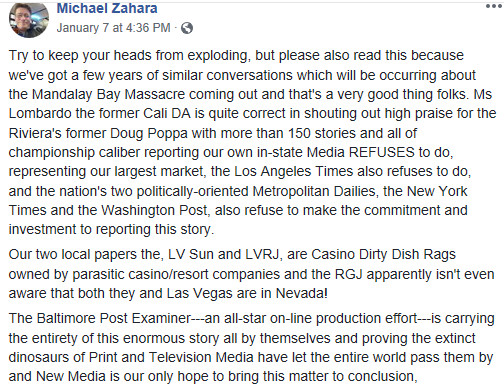 Doug authored over 135 articles on the October 1, 2017 Las Vegas Massacre, more than any other single journalist in the country. He investigates stories on corruption, law enforcement and crime. Doug is a US Army Military Police Veteran, former police officer, deputy sheriff and criminal investigator. Doug spent 20 years in the hotel/casino industry as an investigator and then as Director of Security and Surveillance. He also spent a short time with the US Dept. of Homeland Security, Transportation Security Administration. In 1986 Doug was awarded Criminal Investigator of the Year by the Loudoun County Sheriff's Office in Virginia for his undercover work in narcotics enforcement. In 1992 and 1993 Doug testified in court that a sheriff's office official and the county prosecutor withheld exculpatory evidence during the 1988 trial of a man accused of the attempted murder of his wife. Doug's testimony led to a judge's decision to order the release of the man from prison in 1992 and awarded him a new trial, in which he was later acquitted. As a result of Doug breaking the police "blue wall of silence," he was fired by the county sheriff. His story was featured on Inside Edition, Current Affair and CBS News' "Street Stories with Ed Bradley". In 1992 after losing his job, at the request of the Federal Bureau of Investigation, Doug infiltrated a group of men who were plotting the kidnapping of a Dupont fortune heir and his wife. Doug has been a guest on national television and radio programs speaking on the stories he now writes as an investigative journalist.