If you were watching the Miss Universe beauty pageant on Fox Sunday Night then you saw one of the most astounding moments in live television: the host, comedian and Family Feud host Steve Harvey, mistakenly crowned the wrong woman Miss Universe.
The program went off without a hitch, as far as viewers were concerned. You have the talent, swimsuit and evening gown competitions, some entertainment, a bunch of commercials and then the final ten contestants are brought out.
We get views of Planet Hollywood Casino-Resort in Las Vegas, NV, where the contest was held, and Fox has a nice show to go up against Sunday Night Football on NBC.
During the commercial break Harvey takes to Twitter to remind everyone, "Remember your vote matters go to http://www.missuniverse.com/vote  @MissUniverse #MissUniverse2015"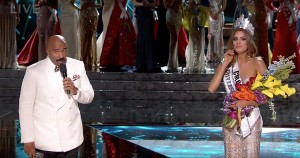 And then the final two contestants. The only thing Steve Harvey has to get perfect in the show is this moment. Miss Colombia Ariadna Gutierezz and Miss Philippines Pia Alonzo Wurtzbach, are out there on stage, waiting for Harvey to announce the winner. He gets the card and the results are in what is described as small print. According to Harvey the teleprompter said the winner is …
Well, he said the winner is Miss Colombia Ariadna Gutierrez. She gets the crown, starts her walk down to the front of the stage, waves, cries and waves and cries even more. It's the happiest moment of her life, until …
Steve Harvey walks out to the front of the stage, surprising Miss Colombia, because this isn't how it is supposed to happen. Harvey stops a few feet from Gutierezz and announces, "Okay folks, I have to apologize."
Apparently Gutierezz was the first runner up, not the winner, Wurtzbach is the new Miss Universe. Shocked, Miss Philippines walks out to Miss Colombia and waits for the equally shocked Gutierezz to hand over the crown.
Harvey waved the card around, assuring people that it is the correct result, Miss Philippines won, not Miss Colombia.It says it right here — in small print! He had to get only one thing right all night and he failed.
Awkward …
•••• •••• ••••• •••• ••••
UPDATE: Gossip blogger Perez Hilton was on Good Morning America (ABC) Tuesday Morning claiming Miss Colombia Ariadna Gutierezz was a "straight up diva bitch."
According to Hilton, Gutierezz was unhappy with her translator. "She was giving the most awful side-eye, throwing major shade …"
Hilton slammed host Steve Harvey, who messed up the one thing he had to do right all night. According to the blogger, the final results were not in the teleprompter, because organizers did not want the contestants to see the result. It was only on the card and Harvey messed it up.
According to anonymous sources Harvey didn't attend the rehearsals for that part of the show.
Also: after the show Gutierezz tweeted she was the one and only Miss Universe. Hilton — and many others — found that to be tacky, at the very least. Sources close to Gutierezz claim she could be close to a nervous breakdown as a result of what happened.
•••• •••• ••••• •••• ••••
UPDATE: As if this couldn't get any funnier, in a WTF sort of way:
Harvey added insult to injury with his tweet shortly after he screwed up: "I want to apologize emphatically to Miss Philippians and Miss Columbia. This was a terribly honest human mistake and I am regretful." (sic) Oh Dear, it's Miss Philippines and Miss Colombia. It's a good bet the millions of Americans that didn't know the difference between "Columbia" and "Colombia" do now, but in all likelihood will forget in a few weeks time and go back to writing "Columbia" for everything related to Colombia.
Then all the conspiracy theories surfaced, within minutes of the pageant, with the prime conspiracy being a woman handed Harvey a different envelope after he announced the winner. "It wasn't a mistake by Steve Harvey," one person wrote. "It was a dirty humiliation, a manipulation to make Miss Colombia look ridiculous in front of the world."
It was in social media where Harvey and the pageant organization took the biggest pounding. On Monday Twitter was atwitter with the hashtag #Lacoronaserespeta — "The Crown Must Be Respected."
No, it was a mistake that makes Steve Harvey the butt of jokes — three days after the event. A tweet from God: "I'd like to apologize wholeheartedly to Miss Colombia & Miss Philippines for my huge mistake in making Steve Harvey."
A page on change.org was created to force the pageant to give the crown to Gutierezz. It now has over 45,000 signatures.
A Colombian law firm, De la Espriela, is planning to sue the Miss Universe Pageant because, "The crown is an acquired right that cannot be taken away from us." It's the Colombians' right to be crowned Miss Universe every year! Good luck with that argument.
In 2014 Miss Colombia María Paulina Vega, was crowned Miss Universe and she had the awkward responsibility of placing the crown first on Miss Colombia's head, and then removing it to place it on Miss Philippine's head.
As a result all the Spanish-speaking contestants are throwing a lot of shade at Pia Wurtzbach, Miss Philippines, blaming her for the embarrassing situation. Miss Germany, Sara-Lorraine Reik, told a reporter, "I really couldn't believe it, I was so upset. For me (Miss Colombia was robbed) as the real winner. I was very happy for Miss Colombia because she really deserved it. I'm really not happy with the result and so are the other girls, I'm sorry to say it." She added, "Because none of us voted for Philippines. I'm sorry to say it." Is she really sorry to say those things? Maybe Reik should tweet the hashtag, #jk (Just Kidding).
Lucky for Reik, a different Miss Germany is taking a lot of the grief on social media for her statements.
Now the questions about Miss Colombia are appearing, primarily: How much plastic surgery has she had? No definitive answers to that, as of yet, but you can be sure the speculation and gossip will continue.
Miss Colombia, Ariadna Gutierezz, has returned to Miami, FL to spend Christmas with her family and plans a trip to Colombia to meet with local media.
Miss Philippines, Pia Wurtzbach, is rumored to be dating Philippine President NoyNoy Aquino. It isn't true, according to Aquino's sister, talk show host Kris Aquino. She said, "I don't think she liked Noy … I think she entertained him, but the thing is, you can tell from her character [Wurtzbach] is single-minded." Was that intended to be suggestive? "Entertain" is a euphemism for having sex, usually for money.
For all involved, this is their 15 minutes of fame. Millions of people that had no interest in the Miss Universe Pageant are now engrossed in the continuing saga. How long before it's turned into a mini-novella?
•••• •••• ••••• •••• ••••
UPDATE: As if it doesn't get any stranger — or better, depending on your perspective — The CEO of the porn company Vivid Entertainment, Steve Hirsch, has offered Ariadna Gutierezz $1 million to appear in some porn movies. She'll get to choose her partner and positions she wishes to use. He would also commission a "Vivid Girl Crown" and said, "it will be grander than anything Miss Philippines will ever wear."
Wow. Who could say no to that?
All photos via YouTube unless otherwise noted.

Tim Forkes started as a writer on a small alternative college newspaper in Milwaukee called the Crazy Shepherd. Writing about entertainment issues, he had the opportunity to speak with many people in show business, from the very famous to the people struggling to find an audience. In 1992 Tim moved to San Diego, CA and pursued other interests, but remained a freelance writer. Upon arrival in Southern California he was struck by how the business of government and business was so intertwined, far more so than he had witnessed in Wisconsin. His interest in entertainment began to wane and the business of politics took its place. He had always been interested in politics, his mother had been a Democratic Party official in Milwaukee, WI, so he sat down to dinner with many of Wisconsin's greatest political names of the 20th Century: William Proxmire and Clem Zablocki chief among them. As a Marine Corps veteran, Tim has a great interest in veteran affairs, primarily as they relate to the men and women serving and their families. As far as Tim is concerned, the military-industrial complex has enough support. How the men and women who serve are treated is reprehensible, while in the military and especially once they become veterans. Tim would like to help change that reality.