Little Skillet – a hidden gem in SOMA
SAN FRANCISCO— I've been trying to recreate the perfection of my first meal at Little Skillet every time I've gone back.
On that first visit I had the most delicious barbecue pork sandwich ($10) that was made with this gorgeous slow roasted pork shoulder and slathered in their barbecue sauce and jammed inside a roll with some of their tart crunchy slaw. It was lip licking good and exceptionally filling.
I hardly touched the crispy potato chips that filled the brown to-go box and with huge portions we easily could have shared that meal.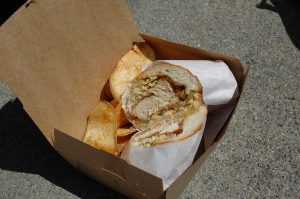 The sandwich came tightly swaddled in paper and without that wrap, I doubt anyone would be able to consume it without a knife and fork.
Since then I've had the fried chicken poboy ($10) and the shrimp and grits ($10.50) but each time and with each perfectly delicious bite, I think back to that barbecue pork and wish I'd ordered it again.
Don't you just hate when that happens?
It's not to say the fried chicken poboy doesn't taste good. It is really good. There is definitely delight when biting into the juicy chicken with a really crisp batter.
And the grits — well they were just fine especially after you mix in the shrimp and add a bit of salt and pepper. They came with bits of scallion and these really nicely cooked shrimp that were dry rubbed before cooking.
No, all of those options are really excellent and judging by the number of people lined up outside the alleyway establishment who are ordering these menu items, they clearly hit an excellent note.
But for me, it's just that the pork sandwich was lovely and the texture, tartness and sweetness really appealed to me.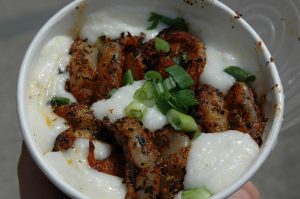 We'd discovered this alleyway delight a few months ago. A friend had recommended the Blue Bottle Coffee outlet next door and said if we had the urge we really should overlook the location and try their chicken with waffles.
The location isn't as disreputable as it sounds. Bloomspot has its bright clean looking headquarters across the alleyway, which is really just a short street. It's certainly not like any alleyway I've been in in DC.
I will confess, I was a bit hesitant to eat there as the main dining area seems to be the loading dock across the way, where the owners have even painted a line requesting people not eat beyond a certain point so as not to block entrance and access to the building. The loading dock seems to always have a few diners camped out there.
But we did and I can't be happier.
I loved ordering our meals at the little window and now that they've expanded their footprint I enjoy their success.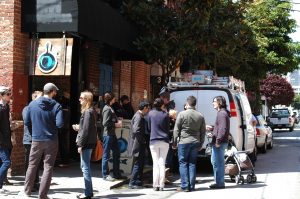 For those who love fried chicken the to-go window's success isn't a surprise. They serve a highly beloved fried chicken and waffles. Bon Appetit included Little Skillet in its 2010 list of Top 10 Best Place for Fried Chicken.
And sure, I've found the one item on the menu that I love above all others something that when I leave here I'll still remember.
NOTE: This post is far shorter than anything I've written before. I'm curious if you all would prefer longer posts or more like this one.
NOTE 2: Sorry for the lack of posting these last two weeks. I've got news that I'll share soon!
Little Skillet
360 Ritch Street
San Francisco CA 94107
415-777-2777

Welcome to Sarah's life of wine, travel, food and child. Sarah Abruzzese is a former Washington D.C., reporter, living in southern California. She's working on launching 7 SUNDAYS CLOTHING (www.7SundaysClothing.com), a UPF 50+ sun protective clothing company for children. Beside working on the clothing line, she spends her days running after a toddler and then if there is time left over, eating well, visiting wine country and exploring the West Coast. Follow her travels on twitter #sabruzzese.