Impromptu! Kamyar696 shares the secrets behind improvised comedy
What if you were told that everything you've learned about career success can be acquired through the art of improvised comedy? It's true – improvised comedy or improv – as its known, is a lot more than physical antics and belly laughs. In fact, one of the key rules of improv comedy is that the artist is not on the stage to make himself/herself look good, but others. Among the various artists, if there's one comedian who has mastered this surprising, high pressure, and hilarious form of art, it has to be the 26-year-old Iranian musician cum Instagram comedian, Amir Hamdollahzadeh, also fondly called as Kamyar696.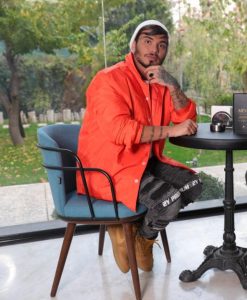 Kamyar696, whose social media is an extension of his real life, has been topping charts among influencers in the comedy space. Since his time as a comedian and an influencer, Kamyar696 has made it a point to feature content on his Instagram page in the form of videos, posts, stories, and highlights with utmost consistency and dedication. As an improvisational comedian with no background or formal training, Kamyar696 took the giant leap by practicing "the way of no way" technique. He knew the fact that he would learn everything with experience, by watching, and altering strategies from time to time, if need be.
When sharing the secrets behind improvised comedy that have helped him so far, Kamyar 696, said, "The first time is always scary but don't be afraid of getting embarrassed. The key is to 'fake it till you make it' – this applies to anything improvised. Also, since improv comedy involves giving performances that are made on the spot in front of a live/virtual audience, listening to what people are waiting to hear is essential and may often generate a new idea as well. Lastly, if there's one advice I've received and often preach to others, it is, knowing that comedy isn't solely about being funny! If you are a great conversationalist, you can do wonders as an improvisational comedian."
As of today, in the world of top Iranian influencers, social media stars, and creators list, with more than 2.1 million followers on Instagram alone, Kamyar696 is considered an Iranian internet celebrity. When talking about what gives him the boost to perform well, he shared, "I do not start with an intention of sounding funny or getting laughs. I begin with something generic and relatable, and the humor automatically follows. My trust in my comedic sensibilities has worked in my favor. I have always relied on my gut that I can talk about any topic and yet be funny. What adds to this is the perk that I have a unique style of comedy that very few can imitate."
Currently, the young comedian is invested in creating a body of work for his online videos and performances that make an impact while being relatable to modern audiences.