How to train your grill meat
For all you carnivores out there, say it with me, say it loud and proud: Meat tastes better when it's cooked over  a flame.  Perhaps my favorite thing about summer is that summer is grilling season.  This week, I've got some great things to put on your favorite sacrifices for the altar of deliciousness, a few rubs, a barbecue sauce, and a marinade. Perfect for the 4th of July.
Now, I'm going to make it clear right here and now, I am not the best cook in my family.  My older brothers can out cook me any day of the week.  My oldest brother can make Mexican food like no one else I've ever met.  Sadly, he doesn't write anything down.  Fortunately, my middle brother seems to write down everything that works well, and he's a creative genius so that's a lot awesome recipes – not a one has let me down.  Have I mentioned he's also kind enough to share?  He is, which is where we get our first two recipes today.
Dry Rub (courtesy of Joe Fealy)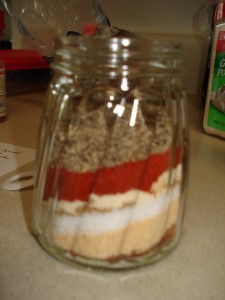 There's a lot of ingredients to this one, but don't let that deter you.  The smoky flavor it brings to your dinner will be worth it.  This rub goes great on every meat I've put it on: fish, chicken, pork roasts, steaks, it's even great on ribs with a bit of brown sugar.
2 tsp. Celery Seed
2 tsp. Chili powder
2 tsp. Nutmeg
2 tsp. Garlic powder
3 tsp. Salt
1 tsp. Ground ginger
1 tsp. Coriander
1 tsp. Onion powder
5 tsp. Paprika
3 tsp. Black pepper
Rub it onto your meat of choice about two hours before you plan to grill, and reapply when you grill if you feel it necessary to do so.
BBQ Sauce (courtesy of Joe Fealy)
This recipe rocks my socks. It's sweet, it's smoky, it's spicy – truly, not for the weak in the hotness department.  Again, there are a lot of ingredients, but again, don't let that deter you. It's amazing with pork, but also goes well with beef and chicken.
½ Cup Ketchup
½ Cup Molasses
2 Tbsp. Worcestershire Sauce
3 Tsp. Honey
2. Tsp. Dijon Mustard
2 Tsp. Grated ginger
2 Tsp. Crushed red pepper
2 Tsp. Cumin seed
1 Tsp. Onion powder
1 Tsp. Garlic powder
1 Tsp. Celery seed.
1 finely chopped poblano pepper
2 Tsp. Dry Rub – optional (see above)
2 Tbsp. Olive oil
Heat olive oil, pepper, and pepper flakes until pepper is soft, then add remaining ingredients and bring to a simmer.
Best served warm, makes 2-3 cups.
Garlic Lime Rub
This next rub is for the garlic lovers among us.  There's no shame in it, garlic happens to be the GP's favorite vegetable.  This rub more savory, not near as spicy, definitely for those who love the food that won't get you a good night kiss.  To those of you who do, we're enjoying the good stuff.  I haven't tried this on anything else, but it tastes excellent on pork chops.
4 Cloves of garlic, minced
1 Tsp. Cumin
1 Tsp. Chili powder
1 Tsp. Paprika
1 Tbsp. Lime juice
salt and pepper to taste.
Rub this on a pair of pork chops and wait about a half hour before grilling. 
Tampico Broil
The marinade for this is out of this world.  (Thanks again, big brother!)  It is light, citrusy, sweet, but with a bite that only garlic and cilantro can give.
1-2 lbs sirloin steak, or a small roast
½ Cup gold tequila
½ Cup orange juice concentrate
½ Cup lime juice
1Tbsp. fresh grated ginger
¼ Cup chopped cilantro
1 chopped garlic clove
¼ Tsp. red pepper flakes
Combine ingredients, place sirloin in marinade and turn to coat. Refrigerate at least overnight.
Broil sirloin to desired doneness.  Slice thinly against the grain to serve.
Cooking Secret: The easiest way I have ever shredded chicken is with my stand mixer.  Throw the cooked meat into the mixer with the dough paddle attached, and spin it around on a medium speed for a minute or two, or until shredded to your desired fineness.
I hope these help put some flavor in your summer, and happy grilling!

Sally is a wife and domestic diva in Maryland. She approaches life with gusto, humor, and a passion that is unmatched. She is a classic woman, with a modern twist and is the kind of woman who will throw back a beer and watch Star Trek with her husband, and entertain the church croquette group with homemade cheese cake. Sally offers something for everyone, and is always experimenting and cooking up a storm in her kitchen.