Gold Investments Are On The Rise- Is It A Wise Move Right Now?
The recent pandemic saw gold prices hit record highs as investors sought a safe haven during unprecedented economic uncertainty. Historically, gold investments have been highly demanded as they are seen as a store of value thanks to their ability to maintain their purchasing power. As a result, many Americans have begun to turn to gold investment IRAs and other investment options as a way for preparing for retirement. However, recent gold prices have tumbled to a 4 month low, prompting analysts and investors alike to question whether investing in the precious metal is still a safe bet. With the market showing strong signs of volatility, investors considering gold IRAs, ETFs, and other investments need to take into account all sides of the issue to be adequately prepared.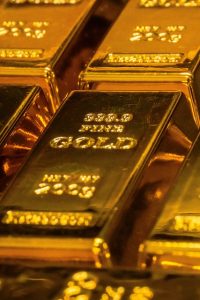 The Gravitation Towards Riskier Investments Like Cryptocurrency Could Bode Well For Gold Prices 
More investors are shunning traditional investments like gold and stocks in favor of digital currencies. While the guidelines around cryptocurrency investments are still murky, gold has an established system for trading, investing, and taxation. However, cryptocurrency has shown to be extremely volatile compared to gold. The prospect of extreme gains has gone on to lure many investors towards cryptocurrency investments in recent months. Several gold exchange-traded funds (ETFs) experienced an outflow of $4.4 billion in December 2020. At the same time, The Greyscale Bitcoin Trust enjoyed an inflow of $1 billion. As more investors become interested in the cryptocurrency market, it is expected to put pressure on the price of gold and driving it lower. For investors looking to capitalize on long-term holdings and low buy-ins, this could be the ideal point.
Accelerated Inflation Means Weakening Of Your Retirement Savings Value 
With the federal government forced to allocate massive amounts of spending in response to the pandemic, inflation rates are predicted to skyrocket. The annual inflation rate is estimated at 4.7 percent for May- the highest since September 2008. In June, a report by the Wall Street Journal pegged prices at a 13 year high, up 5 percent across the board.
Not only has this affected everyday purchasing decisions for American consumers, but it has also meant that millions of employees with 401k and traditional retirement saving accounts will experience a decline of its value in the coming years- faster than they initially planned for. As the value continues to dilute, investing in a gold IRA may be a more suitable alternative particularly since gold prices tend to rise during times of high inflation. When you are ready to cash out, investors can use buyback programs like the one offered by Noble Gold or have the gold shipped. Using a gold IRA comes with a small fee. For storage, Noble Gold charges $150 plus a recurring annual fee of $80. Using gold investments as a hedge against inflation rises is an age-old trick and one that has worked in the past.
Recent Track record For Gold Prices Remain Spotty
However, the theory of gold as an inflation hedge remains unproven while trending gold prices have been spotty in the last year. After all, the hike in prices in response to inflation is not proven to occur every time. For instance, from 1988 to 1991 when the inflation rate averaged 4.6 percent, the returns on gold were a negative 7.6 percent.
Instead, investors looking to hedge their risks against rising inflation may want to consider an alternative portfolio containing real estate investment trusts, stocks, and treasury inflation-protected securities like bonds. Gold prices have struggled in the last year, after enjoying a positive end of 2020. The uncertainty of the pandemic and economic turmoil is set to continue for the foreseeable future- and there is no telling how the prices of gold will respond. Expert analysts have begun to revise and lower their initial gold price forecast for the coming years.
Since the beginning of 2021, spot gold prices have gained about 0.66 percent. However, the upward trend is difficult to confirm or predict thanks to gold's mixed performance this year. While there certainly are perks of investing in a gold IRA or ETF to combat the rising inflation, the uncertainty surrounding the economy will continue to play a key part in the direction that gold takes in the coming months.