SAN FRANCISCO— I had quite a treat last week when I visited Omnivore Books on Food in Noe Valley.
I mean who doesn't love an entire store filled with cookbooks?
Clearly — and I know I risk being accused of overusing this expression — it was total Food Porn.
I think I browsed the stacks for well over an hour and was finally able to limit myself to three books, but I could easily have bought a dozen and I'm still thinking about a few that I looked at but didn't purchase.
I was introduced to this wonderful store when fellow food blogger (@velvetaroma) invited me to an event for the new cookbook, "Herbivoracious," by Michael Natkin (@michaelnatkin).
I wasn't able to go, but I spent some time researching Natkin's press tour and happily fell to reading Omnivore owner Celia Sack's May newsletter. (You can follow Omnivore Books on Twitter @OmnivoreBooks.)
Sack was bemoaning the fact that while in Paris she'd missed a visit to Omnivore by the marvelous Jacques Pepin. (I bemoaned the fact that I too had missed Jacques Pepin. But any France trip sounds like heaven.)
After seeing a photo of Pepin manning the counter at Omnivore  I promised myself that I would make it to this wondrous spot.
Housed in a former butcher shop, the store retains the old walk-in freezer that now doubles as book storage and the giant ceiling mounted meat scale that lends the store an air of history.
But more importantly, the overflowing shelves in the beautifully appointed store contain hundreds of current and out-of-print cookbooks. Many of the recent releases have been signed by the authors as the store clearly is an important cookbook tour stop. Sack publicizes the visits on Twitter.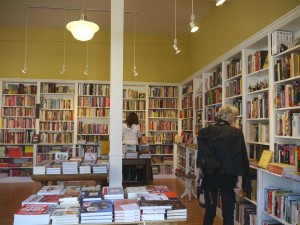 There were even a few cookbooks signed by Pepin sitting on a table and I had to remind myself that all of my family members already own "Essential Pepin" and I really didn't need to buy it again.
Speaking of Paris, visiting Omnivore Books reminded me of the incredible cooking supply store E. Dehillerin that was a favorite of Julia Child. Dehillerin's is a pilgrimage I make every time I visit the city. At Omnivore I had that same excited feeling of being surrounded by history and competence.
The visit required several telephone calls to my mother, who was disappointingly unavailable. I wanted to discuss any holes in her cookbook library and talk about some of the older books displayed on the shelves. In a counter display "Traditional Skills at Your Fingertips" there was also a pamphlet on raising chickens, which my mom has been contemplating. (Omnivore actually had fresh eggs for sale at the counter. )
Perhaps the only painful part of visiting Omnivore Books, which must be noted, is that the books were full price.
That said, I felt like I was paying for excellent, educated recommendations and a future reading list. And I felt like I was paying for the ravenous way I read through cookbooks while seated on a small stool in the middle of the store.
Sure, I can go on Amazon to look at books that other people bought, but listening to the saleswoman describe gluten-free choices to some casual shoppers was fascinating. (You don't get that online.)
And I'm happy with the books that I bought.
The first book was a wonderful British book on curing and smoking — a new obsession — by Dick and James Strawbridge called "Made at Home: Curing and Smoking."  I really want to recreate that French Laundry dry cured duck ( https://baltimorepostexaminer.com/travelling-to-the-west-coast-then-stop-at-the-french-laundry/2012/04/09) and one day mimic my mother's Gravadlax.  I think this book will help me.
It was only when the bookseller was talking on the phone with a client about wine tasting books that I remembered that this subject was on my "to buy" list. But I hadn't known where to start.
After a brief conversation, I bought a book on pairings that she recommended, "What to Drink with What You Eat: The Definitive Guide to Pairing Food with Wine, Beer, Spirits, Coffee, Tea— Even Water— Based on Expert Advice from America's Best Sommeliers," by Andrew Dornenburg and Karen Page.  I'm on chapter four and am riveted.
I also picked up a copy of Thomas McNamee's bestselling book about Alice Waters and Chez Panisse. I know so little about the woman who revolutionized food preparation in this country. School children, who benefit from her push for better meals, should all be required to learn about her. (We haven't even made it out to her Berkeley restaurant — another reservation impossible.)
McNamee was at the store on Saturday talking about his latest book on "The Man Who Changed the Way We Eat: Craig Claiborne and the American Food Renaissance." I missed his visit.
Overall Omnivore is a member of a very rarified group of booksellers — independent cookbook specialists — and I highly recommend a visit.