Fireworks to me mean another opportunity to make a stylin' statement.
That's exactly what I did to celebrate the Fourth of July. And I'm into making statements. So ladies, think about what you can do with some old clothing in your closet the next time a holiday rolls around.
You don't always have to buy something new. In fact, you don't have to be patriotic just one day of the year. I made something for the holiday that you can wear all year around. Of course, the colors – red, white and blue are ideal for Independence Day.
This year's Fourth of July was different for me for many of reasons. The most important one being that it was my first year actually living in our nation's capital. I have spent many Independence Days celebrating in Washington, but this year I found myself giddy with excitement to start new a tradition, my own tradition in the city I feel privileged to call my home.
I always plan my Fourth of July attire mid-June if not sooner, and of course always make a pair of patriotic earrings for the special day. I just love the excuse to wear red, white and blue and want to make sure I have the best possible outfit for this hot  holiday.
Not that any one needs an excuse to wear red, white and blue, but it makes it more exciting to hold out for the holiday.  However I didn't have time to plan ahead because it's been a crazy seven months because my work keeps me busy until 8 p.m., which is a bummer because  I missed out on the pool portion of the rooftop party I was invited to.  It's a shame for me and for my readers because I had the perfect bathing suit to wear! But there is no use crying over wet sparklers. Maybe next time.
After work I frantically pulled everything red, everything white, and everything the right shade of blue out of my closet. For those of you who don't know what the right shade of blue is, let me tell you, in my opinion it is a royal or cobalt blue. Navy blue won't pop as much in the dark unless you tastefully accent it with a bright red accessory or two.
After I tried on dozens of different outfits and dozens of variations of those outfits, which by the way all made me look and feel like an over-the-top American Gladiator (not necessarily a bad thing, just not the look I was going for.) I decided to recycle last year's red dress and earrings. Disappointing, I know but I liked the challenge of having to use the same clothes to put together a new look, for my new life in Washington. I had to get creative with the time crunch and my limited resources, which is often how the best jewelry and the best outfits are made.
The dress I was working with is an American Apparel Cotton Spandex Jersey Bandeau dress. I got this dress brand new, with tags, for half the price at a store in Bangor, Maine, a few years back. It is one of those dresses that can be worn in several different ways.
I decided to wear it as a skirt, a high waist skirt, because I cannot get enough of high waist fashion in my life. One of the bazillion reasons I love high waist things is that it gives you a chance to wear tops that one wouldn't normally be able to wear with any thing else.
For example it makes belly shirts socially acceptable again because the high waist covers your belly button.  For me on this hot day I was looking for a way to stay cool and still have a somewhat modest appearance. I broke out this lacy white bandeau top that still had the tags on it because I never knew what to wear it with and it worked perfectly – the lace almost came all the way down to the top of the dress.  I had converted the dress into a skirt by turning the dress backward,  cross wrapping the halter straps in the back to the front and tying them in a small bow.
I was really pleased with this look because it was so different from the simple ones I have settled for in the past. I was also excited because I was determined to wear these amazing red and white boat shoe heels. They are not an everyday kind of heel so I was grateful to have an excuse to wear them.
I am still kicking myself for not buying them in blue as well. Last but not least, I accessorized my two favorite rings right now because one is a red Betsy Johnson ring and the other is a blue Juicy Couture ring. Since the one big earring look is back and most of my earrings are big and long, I decided to only wear one of the red white and blue fabric earrings I made.I braided my hair to one side, applied my bright red Revlon lipstick. When I got my roommate Ashleigh's approval I was good to go and texted Uber to come get me.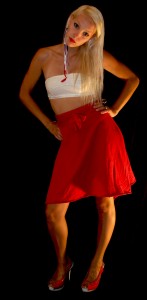 It is always best to bring some sort of cover up for last minute clothing alterations or to avoid any kind discomfort.
Here's the breakdown of cost:
1. Dress: Red American Apparel $16
2.  Top:  White Lace Wet Seal  bandeau $10
 3. Shoes:  Red and white  Qupid  heels bought from Rugged Wear House for $12
Needless to say, I had a magical Fourth of July and I danced the night away.
My heels eventually ended up in my hand which is why it's always a good idea to bring flats even when you are as stubborn as me.
I suggest you go to the nearest store and buy a pair of flats you can fold up and put in your purse because they will be a lifesaver at the end of the night.
In my experience, my feet only start to hurt when there is no more music to dance to.

Gwynne Davis is a blogger for her Earring/Jewelry business called Ear Candie. She is a recently certified Zumba teacher. She makes earrings out of just about anything. So keep an eye out for her fun blog posts & funky earrings.