Exploring Puerto Rican foods: Beans, Rice and Plantains
Beans and rice served up with a side of tostones, fried plantains, Puerto Rico style. Don't expect spicy or hot; Puerto Rican foods tend to be on the mild side. The people and their food tastes are a combination of Spanish European, African and native Taino cultures, blended together since the 1500s.
Plantains: Though related to its sweet cousin, the banana, plantains have a starch-like potato taste and consistency. Unlike the banana, it requires baking, boiling or frying before eating. If you've never tried one, you're in for a different but pleasant food taste. Worth the effort.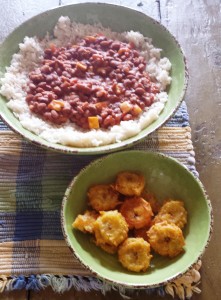 Fried Plantains, traditional Puerto Rico dish, Tostones
3 plantains, green colored
1-2 cups oil for frying
1 cup of warm water
Place the water in a shallow bowl and set aside. Once recipe called for the addition of 1 glove of garlic, minced.
Preparing the plantains. Cut ends from each plantain and then cut a slit lengthwise through the peel. Slice the plantains into 1 inch round discs and remove peel.
Heat oil in a heavy skillet. Oil should be approximately ½ inch deep or enough to cover ½ of the submerged plantain discs during frying.
Fry plantains for 3 to 4 minutes on each side until browned and lightly softened. Transfer plantains to paper towels to drain. Using the bottom of a heavy saucepan or the back of a wooden spoon, flatten each plantain to half its size (1/4 to ½ inch).
Allow them to soak for 1 minute in the warm water.
Pat dry and return the plantain to the skillet for an additional 2-3 minutes. Discs should be crispy with a golden color. Drain on paper towels and season with sea salt.
Serve with rice and beans.
Mofongo: a popular dish made from mashing fried plantains in a mortar with garlic, olive oil and stock and shaped into a crater for fillings of fish, meat or vegetables. Popular with the locals and with tourists too.
Though many recipes for beans and rice are available through what I call the kitchen circuit, I decided on this recipe which is a version based on LaGasse's Puerto Rican Beans Recipe (Habichuelas Guisadas).  http://www.elagasse.com/hab_guisafdas.html
Beans and Rice
1 cup dry beans or 1 can prepared beans
If using dry beans, follow package directions for preparation
4 Tablespoons of achiote oil or cooking oil
½ cup chopped onion
1/2 cup of sliced red pepper
¼ cup sofrito at room temperature
2 medium sized garlic clove, minced
1 cup of water
1 beef bouillon cube
1/8 teaspoon black pepper
½ cup tomato sauce
1/2 cup yellow zucchini or butternut squash cut into cubes.
Over a medium flame, heat the achiote oil in a heavy saucepan. Add the chopped onion and
red bell pepper and simmer for 1 – 3 minutes or until onion is translucent.
Add the sofrito and simmer until the sofrito starts to thicken.
Add the minced garlic, and simmer approximately 1 minute. Stir often to prevent burning.
Add the beans and water and bring to a simmer.
Add the black pepper and the tomato sauce.
Lower flame to low. Cover, and let simmer: approximately 10 minutes for cooked dried beans or canned beans.
If you are using squash, add it at this time.
Add the beef bouillon cube. Cover and simmer another 10 – 15 minutes on low heat. Test the squash for doneness, and keep simmering until the squash is soft. Add more tomato sauce or water if necessary.
Garnish with minced cilantro,
Serve warm over rice and fried plantains.
Rice, a great-grandma's recipe
2 tablespoons of butter or vegetable oil
1 teaspoon salt
3 cups of water
2 cups of uncooked rice (medium grain, calrose or Arborio)
Bring the oil, salt, and water to a boil. Add rice and cook until most of the water is gone. Stir and reduce heat to low flame. Cover and cook for additional 15-20 minutes. Stir and serve warm with beans.
Every day Black Beans and Rice, Recipe card from 2011
2 Tablespoons vegetable oil
1 onion, chopped
2 bell peppers, chopped
1 teaspoon chili powder
Salt and pepper
½ cup long-grain white rice
1 (14 ounce) can black beans, drained and rinsed
1 1/3 cup water.
Heat the oil over medium-high. Add onion and peppers. Sauté until soft 6-7 minutes. Stir in chili powder and season with salt and pepper. Cook 1minute more.
Stir in rice, add beans, and cover with water. Boil. Cover, simmer 12-15 minutes.
Remove from heat. Let stand 5 minutes, covered.
Fluff, serve with sour cream and green onions, if desired.
Pasteles: a soft dough-like mixture made from plantains or other starchy root crops and wrapped in a banana or plantain leaf and boiled. Centers are filled with variations of meats, fish, spices, sofrito, or garbanzo beans. Delicious but a lot of work to make from scratch.
Rum: Don't forget the rum. Puerto Rico is famous for its rum production.
Rum, combined with coconuts and pineapples, good food and a flavorful history, create the sweet salsa atmosphere that is Puerto Rico. Enjoy! Dance in the streets!

Ann Marie Bezayiff received her BA and MEd from the University of Washington in Seattle. She is an author, blogger, columnist and speaker. Her columns, "From the Olive Orchard" and "Recycled Recipes from Vintage Boxes", appear in newspapers, newsletters and on Internet sites. Ann Marie has also demonstrated her recipes on local television. Currently she divides her time between Western Maryland and Texas.