Ed Sheeran to play Capital One Arena
Ed Sheeran, the British singer who has been stringing together sold-out shows and chart-topping hits, recently sent a message to his fans: If you want to hear what I have to say, you better see me in concert.
Sheeran, who has always shied away from talking with the press, said he's no longer going to be engaging his 20.4 million followers on Twitter after he felt he was the target of a barrage of negative tweets.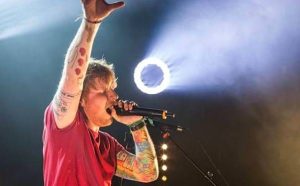 "I go on it, and there's nothing but people saying mean things. Twitter's a platform for that," Sheeran, who last tweeted on July 17, told London's The Sun. "One comment ruins your day. But that's why I've come off it."
Fortunately for his fans in the Washington-Maryland-Virginia area, they'll be able to hear what he has to say on the nights of Sept. 19 and 20 at 7:30 p.m. at Capital One Arena. Both shows, which feature James Blunt as the opening act, are sold out.
Playing in front of capacity crowds is nothing new to Sheeran, whose latest album "÷" (Divide), is dominating the music scene. Songs from the album had collectively earned more than 1.02 billion on-demand audio streams in the U.S. as of July 13, according to Nielsen Music. The album, which debuted atop the Billboard 200 chart when it was released in January of this year, could surpass the 1.51 billion streams generated from his previous album "x" (Multiply), which also debuted atop the Billboard 200 when it was released in 2014.
Sheeran's biggest hit off "÷" is "Shape of You," which debuted at No. 1, on the Billboard Hot 100, with "Castle on the Hill" charting at No. 6, making him the first artist in the chart's 58 history to have two singles debut simultaneously in the top 10
"I've never actually made an album with time off. I've always made my album on the road where … well, it's not the most stable place for a relationship or a life," the 26-year-old multiple Grammy winner told etonline.com. "You know, you kind of live in a bubble that you create. That's how tour is, but it's a very weird environment to be in (while) making an album."
The success of "Divide" led Sheeran to book his third world tour, which began in Italy in March. By the time it concludes on Aug. 12, 2018, he will have played 187 concerts — 80 in Europe, 60 in North America, 18 in Oceania, 15 in Asia and 14 in Latin America.
However, the number of shows has grown since demand for tickets has been so high venues have added performances. Sheeran was initially scheduled to play just one show the Atlanta area  last month, but he added a second show because the demand for tickets was overwhelming.
Sheeran, who has sold more than 22 million albums, sticks to the same 15-song set list, starting with "Castle on the Hill," "Eraser," and "The A Team." He also plays "Dive," "Bloodstream," "Happier," "Galway Girl," "Photograph" and "Perfect" before closing with "Thinking Out Loud." His two-song encore consists of the mega-hit "Shape of You" and "You Need Me, I Don't Need You."
"The staging and what's behind me (is going to be different from my past tours)," Sheeran told etonline.com. "I've put a lot of the time and effort into it, and it's gonna look impressive. In terms of it being a show … now I can do a show where it's singles, which is something I haven't been able to do before."

Jon Gallo is an award-winning journalist and editor with 19 years of experience, including stints as a staff writer at The Washington Post and sports editor at The Baltimore Examiner. He also believes the government should declare federal holidays in honor of the following: the Round of 64 of the NCAA men's basketball tournament; the Friday of the Sweet 16; the Monday after the Super Bowl; and of course, the day after the release of the latest Madden NFL video game.