Just like any resort town, you'll find plenty of good restaurants in Rehoboth Beach Delaware.   During my last visit time constraints limited me to three.  But I'm not complaining at all since they were three very good ones.  So let's begin our culinary tour at Dogfish Head Brewery and Eats, 320
Rehoboth Avenue, which is the main drag in town.  By the way, I was there during Restaurant Week which has become quite popular here.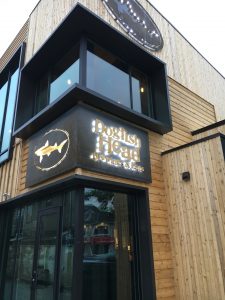 The folks who own this restaurant also own the brewery.  The beer is sold in Baltimore at more and more locations.  Dogfish Head Brewery and Eats opened in May of this year and from what I saw during my stay, it is already on most people's list.  Open seven days it has two levels and one very large TV in the main dining room.  I will assume it shows mostly sports.  Don't go in asking to see Meet the Press.
You can hear live music Friday and Saturday and of course it is casual.  There's seating for about 180 and they do not take reservations.   They are quite proud of their wood stove oven with temperatures approaching 700.  That means your pizza is ready in about two minutes.  Also on the menu tacos, chicken, various burgers, salads, soups, pork, salmon and all kinds of off centered ales, cocktails and beers. (dogfish.com).
Let's move along to 30115 Coastal Highway and stop into the Bluecoast Seafood Grill & Raw Bar.  This is just one of 10 restaurants in the SoDel Concepts of Family Restaurants.  This is a fun place popular with families.  Open year round for lunch and dinner with seating for about 250 and a happy hour weekdays from 4 p.m. to 6 p.m..  Needless to say this too is casual and they also do not take reservations.  If you want a quieter atmosphere try the private room off the main dining room.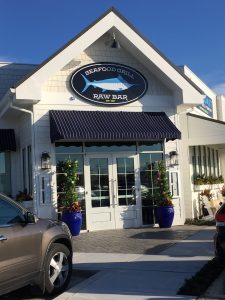 Some of the menu items include buttermilk fried calamari, fish camp stew, blackened tuna and the baked crab cakes.  There also is a nice selection of draft beer and a raw bar offering varieties of oysters.  Like Dogfish, this too just recently opened, June 9  to be exact.  Other restaurants in the SoDel family include Fish On, Matt's Fish camp, Papa Grande's and Lupo.  (bluecoastrehoboth.com)
Don't quit on me yet.
Still one more to go.  We have traveled just a bit south and have arrived in North Bethany.  We will be dining at the Big Chill Beach Club at the Delaware Seashore State Park.  We are almost under the shadow of the exquisite Indian River Inlet Bridge.  If you can look at it and not take a picture, well let's just say you have no eye for photography.
When dining here you are surrounded by 360 degrees of scenery.  There's the bridge, the ocean, more water on the other side and sea birds flying all around. The restaurant basically sits on a rooftop deck with chairs for eating and relaxing.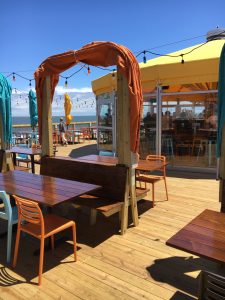 There is a $10.00 admission (out of state) to the park but once settled inside you can partake in all the activities, one of which is swimming (showers provided).  Yes there is a beach here.  And guess what, yes this restaurant also just opened in June and no reservations here either.
It's open seven days for lunch and dinner and will remain open through October.  Under tacos, you'll find the baja fish, pork carnitas, chicken tinga, baja shrimp and beef shorty.  Under Tostaritas (appetizers) you'll find chips & salsa,crab ceviche, tuna poke, south side nachos and chilled shrimp.  Under platos (full sized entrees) you'll find the crab cakes, mahi express, salmon adobo and steak frites.  There are oysters, sandwiches and salads.
If nothing else, go for the 360 view.  The company also owns three other restaurants in the area.  (lavidahospitality.com).
And as an aside, the Rehoboth boardwalk has become my favorite.  Just enough stores to keep you busy but not enough to saturate the place. There's lodging all through town but if you need assistance you can try the folks at Jack Lingo Real Estate.  From cottages to beachfront homes, they can help.