DeJuliis accused of tearing down Brochin signs in Senate race
UPDATED 5/12, 12:45 p.m. with video.
The state Senate Democratic primary in Baltimore County District 42 pitting Sen. Jim Brochin against former Del. Connie DeJuliis turned nasty over the weekend as Brochin campaign signs were removed by three men including Ron DeJuliis, the candidate's husband and the Maryland commissioner of labor.
MarylandReporter.com has obtained photos of the incident from the Brochin campaign. UPDATED 5/12, 12:45 p.m. Here is a jumpy 6-minute video.
Baltimore County police were called to the scene, a Parkville apartment complex at the busy intersection of Loch Raven Boulevard and East Joppa Road, and police issued a statement about the incident late Saturday.
The Baltimore Sun has a full account of the events in which Brochin campaign manager Marc Lazerow says he confronted Ron DeJuliis. Connie DeJuliis told the Sun it was "a misunderstanding," but her husband has been charged with a misdemeanor, according to a police spokesman.
Ron DeJuliis has served seven years as an appointee of Gov. Martin O'Malley, who has helped Connie DeJuliis raise funds against Brochin, who has voted against the governor on key issues.
The police statement said Baltimore County Police "Chief [James] Johnson is committed to the strict enforcement of election laws, and any campaign sign violations that occur during this time of year will be investigated thoroughly."
Under MarylandReporter.com's Creative Commons License, any media may use the photos with attribution and without charge.
–Jeremy Bauer-Wolf and Len Lazarick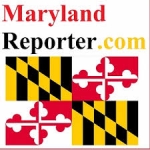 MarylandReporter.com is a daily news website produced by journalists committed to making state government as open, transparent, accountable and responsive as possible – in deed, not just in promise. We believe the people who pay for this government are entitled to have their money spent in an efficient and effective way, and that they are entitled to keep as much of their hard-earned dollars as they possibly can.