Daytripping and eating at Pizza Blitz, Chef Paolino Café, Tempo Lounge, Alfeo's Italian Kitchen and checking out Calvert County Marine Museum
You would think after all those days of running from restaurant to restaurant I'd be exhausted.  Nay Nay. We're off and running again in this segment of Eddie's Entertainment Report in the Baltimore Post Examiner. So if you're ready, and we're going even if you're not, here we go. The first stop and there are five of them is Quarry Lake Pikesville.
The restaurant is called Pizza Blitz, in Quarry Lake, which is off Greenspring Avenue (beltway exit 22). It's owned and operated by Luigi who came to the States 20 years ago from Naples Italy. And whenever I'm there, he's there. Like most restaurant owners this is a hard-working owner. And if you own a restaurant you have to be.
The title says pizza, and there are many varieties, but the menu offers lots more. My favorite is the eggplant parm dinner or sub. With a side of French fries and an ice tea, I'm ready for the night. You'll find many salads and pasta dishes. In season there's outside dining and plenty of parking in the back.
They will cater, closed Monday, it's BYOB, carry out and Grub Hub delivery….410-415-5644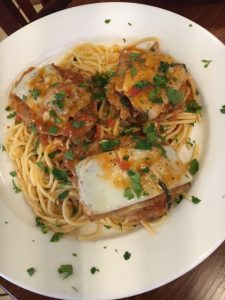 Staying with the Italian theme, let's head south on 695 and arrive at 726 Frederick Road Catonsville, the home of Chef Paolino Café. At this location for about 20 years. Closed Sunday, catering off-premise or in their private room, lots of parking, lunch to 4 pm, daily specials, full liquor license, you order at the counter, also locally owned and delicious Italian dessert….410-747-4949
Now we get back on the beltway and head all the way down to Essex, 402 Back River Neck Road, and to the Tempo Lounge. Open 7 days this is your textbook example of a neighborhood bar/restaurant. Open 7 days, daily specials, liquor store on premise, lottery, pit beef stand weekends, breakfast Saturday and Sunday, entertainment Friday and Saturday, Wednesday $3.00 crabs (a big favorite), and Tuesday is wing night.
The general manager describes the restaurant this way, 'a dive that's worth the drive.' Try the French onion soup….410-391-4441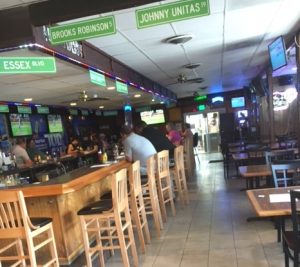 Okay here's where we get a break. We're venturing away from restaurants and going to Calvert County and the Calvert County Marine Museum, 14200 Solomons Island Road. Established in October 1970 it features lots of interesting and educational material. For example, it has regional paleontology, Estuarine life of the Patuxent River, and Chesapeake Bay maritime history.
It brings in about 88,000 visitors per year. Open daily from 10 to 5. There's also an inside aquarium, outdoor exhibits, and a habitat of North American River otters. And picnic tables. You can bring food. Throughout the year there are special events and lectures. And there's even a boat ride, Wm B Tennison.
Available for boarding Wednesday through Sunday at 2 p.m. This concludes at the end of October. While there check out the Drumpoint Lighthouse, listed as a National Historic Landmark….410-326-2402…..calvertmarinemuseum.com
Before I began this four-restaurant adventure I must have seen a Dean Martin movie. Why you ask? Because here comes another Italian restaurant. Back to Baltimore County, Glyndon, and a stop at Alfeo's Italian Kitchen, 4821 Butler Road. This is under new management and ownership and it is greatly improved from the previous owner. It's a father and son, Sam and Julius.
Closed Monday, open for lunch and dinner, catering, carry out, delivery, and a liquor license soon, along with outdoor dining next spring. Daily specials, plenty of parking, order online, BYOB (no corking charge) also weekend specials. Lots of very good Italian dishes on the menu.
If you've been here after September '22 you know this is not the same place as previously. Sam is always busy in the kitchen and Julius takes care of the front.
To pinpoint the location, it's across the street from Santoni's…410-833-7812
Okay by now you're either hungry or exhausted. So you decide on a nap or a meal. I've made my choice.

Eddie Applefeld is a Baltimore native and a graduate of Towson University. He has been in the broadcasting profession for over 30 years. Currently he is the Promotions Director of WCBM radio. Before that, he was part of the Rouse & Company show on WQSR, host of a cable TV show called Dining Out and adjunct instructor at Towson.
His past accomplishments include being named a finalist in Baltimore Tourism's Employee of the Year Program and winner of Toastmaster's Speaker of the Year contest. He was also twice a heartthrob for the American Heart Association's gala fund raiser.