Carmine's in the Tropicana Hotel in Atlantic City: Now that's Italian
I hope you don't think this is sneaky, but I do have to know for sure whether or not the smiles on servers faces in restaurants are real.  Here's how I do it.  I walk around giving out the appearance of being lost.  The idea is to see if anyone comes up to me to offer help.  I'm satisfied if I get one person to do so.  While dining recently at Carmine's in the Tropicana Hotel in Atlantic City I had three.  OK, I was convinced.
I also was convinced how good the food was when it arrived at my table.  I had what was perhaps the best linguini in red clam sauce I ever had, and trust me I have dined in many Italian restaurants.  Like how about Little Italy here in Baltimore.  I also ordered a salad.  Big deal almost all restaurants have salads.  No my friend not like this one.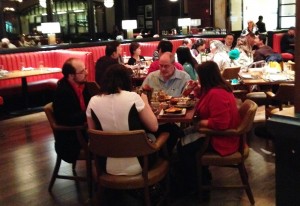 Again it ranked up there among the best salads ever.  Not sold?   OK, head up to Carmine's and try one. Then give me a call.
Carmine's offers what was described to me as southern Italian cuisine.  Personally I don't care where it's from, if it's Italian I'm there.  Here is where you have to be careful what you order.  When they say this is family style dining do not compare this to what you might have in Lancaster.  How can I describe the portions.  I'll keep it simple by using one word, huge, very huge, extremely huge.  If you are at a table with six people you can easily get away with three or four entrees, unless the other five are sumo wrestlers.  That night there were two of us.  I had leftovers for two nights.
The restaurant opened in December 2004 and was a big hit in Atlantic City right away.  It is named after a jockey since the owner is a big fan of his accomplishments.  This is a big restaurant.  There's seating for about 500 on two levels.  Most of the seating is done upstairs.  It appears as if the lower level is used for overflow dining and private parties, though the upstairs is also used for parties.  I do suggest you at least go downstairs and see how many people you can identify by their picture on the wall.   I didn't do too well.
The menus are on large wall boards and that too is fun selecting your meal that way.  You should know just about everything is prepared fresh.  They don't have a pot of spaghetti sitting on the burner waiting to be served.  Your order is prepared when you order it.  I got a tour of the kitchen and it is indeed  a madhouse back there and I saw it when it wasn't at its busiest.  I can imagine the activity on a Saturday night or holiday.   By the way, you can order smaller portions, but you have to know when.  You can get them at the bar and at the tables until three.  That's good information to have.  Of course you can order a full meal and carry out.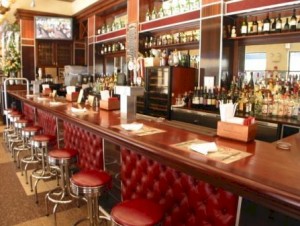 The wait staff works as a team.  In other words, you might not necessarily get the same serving you throughout your visit.  Everyone pitches to make sure the diner gets the best service they can provide.  For the diner that simply means you don't have to look around the restaurant until you see the person who took your order.  Anyone can assist.  How many times has that happened to you.  You  need something simple, say more ketchup, and you have to wait until your person appears.  Not at Carmine's.
Happy Hour is from 4 p.m. to 7 p.m. weekdays with taster items at the bar.  There are lunch and dinner specials (the same items).  Some of those specials could be fish, pasta, meat or salads.   And yes there is a gluten free menu.  If you were the one ordering food, you have to order about 600 pounds of chicken breast per week, 200 pounds of garlic per week and about 600 to 800 pounds of cheese.  That is just a tad more than I get when I shop.  The menu stays basically the same year round.
Carmine's is definitely casual and I do suggest you make reservations just about any time.  I was there on a winter Sunday night and by 7 p.m.  the place, at least upstairs, was just about full.  There are TV's in the bar area so you wont miss any sporting event regardless of the season  But be advised this is New Jersey so you'll probably be watching the Eagles and the Phillies.  Parties of 15 or more should go through the Special Events department.
As a final tip, there's this – go in hungry.  If you're going there for dinner have an early lunch.  When in The Tropicana go to the area known as The Quarter.  That's where you'll find Carmine's.  After your meal you can walk about 100 yards and gamble, or better yet, take a stroll on the boardwalk.   For  more information call 609-572-9300 or go to carminesnyc.com. By the way, there are Carmine's in Washington and New York.  I'm already looking forward to a visit.

Eddie Applefeld is a Baltimore native and a graduate of Towson University. He has been in the broadcasting profession for over 30 years. Currently he is the Promotions Director of WCBM radio. Before that, he was part of the Rouse & Company show on WQSR, host of a cable TV show called Dining Out and adjunct instructor at Towson.
His past accomplishments include being named a finalist in Baltimore Tourism's Employee of the Year Program and winner of Toastmaster's Speaker of the Year contest. He was also twice a heartthrob for the American Heart Association's gala fund raiser.