Canton is where pro football's legends live
Upon my arrival in the town of Canton Ohio I thought maybe the only thing there worth seeing was the Football Hall of Fame. I was wrong. More on that in part two. Today, I present the Hall.
It was founded in 1963 and is located off interstate 77. There are 310 members with adult admission $25.00 and parking is $10. Inductees are selected by a 48-member committee and players must be retired five years before being considered.
There can only be a maximum of seven players inducted each year with the ceremony being held the first full weekend in August, the same weekend that the Hall of Fame football game is played at the adjacent stadium.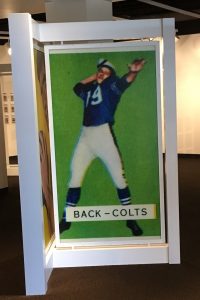 The Hall has two floors so be sure to go to each. Some of the exhibits include the NFL's First Century, Record Book, Fantastic Finishes and Dynasties. There is also a huge souvenir store and a cafe.
The mission of the Hall is summoned up in these four principles: Honor the heroes, Preserve its history, Promote its values and Celebrate excellence everywhere.
Hours are 9 a.m. to 5 p.m. daily, there's plenty of parking and an $800 million expansion is underway, opening in 2020. From Baltimore it's about a six-hour drive.
Ravens in the Hall are Jonathon Ogden, Mike Singletary, Ozzie Newsome, Rod Woodson, Deion Sanders and Shannon Sharpe.
One of the most common questions is why Canton?  The simple answer is that in 1920 a group of business people met in downtown Canton and that meeting was the start of the NFL, though originally it was known as the American Professional Football Association.
If you are a football fan, put this on your bucket list. Reach them at www.profootballhof.com.

Eddie Applefeld is a Baltimore native and a graduate of Towson University. He has been in the broadcasting profession for over 30 years. Currently he is the Promotions Director of WCBM radio. Before that, he was part of the Rouse & Company show on WQSR, host of a cable TV show called Dining Out and adjunct instructor at Towson.
His past accomplishments include being named a finalist in Baltimore Tourism's Employee of the Year Program and winner of Toastmaster's Speaker of the Year contest. He was also twice a heartthrob for the American Heart Association's gala fund raiser.