Caliburger, Ristorante Firenze welcome additions to Baltimore's culinary neighborhood
We'll begin our two restaurant visit in Columbia at the new Caliburger, 10000 Town Center, next to the Columbia Mall. It opened in April and this is the first location in Maryland. 
I was told their very first one was in China. There are also restaurants, among others, in Taiwan, London and Malaysia. As you might suspect, their forte is hamburgers. But to be totally clear you'll also find chicken, like the Cali, Chipotle and Cali spicy; salads, like the Garden, Cali chicken, and Chipotle chicken with bacon.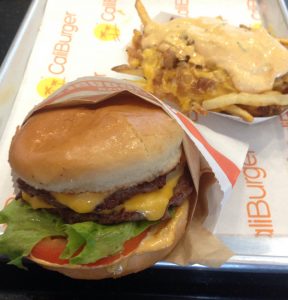 The hamburgers, the Cali double, Cheeseburger and regular burger all are fresh meat, nothing frozen. Also on the menu is the grilled chicken, Portobello mushroom, french fries (fresh cut or Cali style), ice cream sandwiches, drinks and handmade shakes.
Caliburger is open seven days, plenty of free parking, a 55-inch TV playing sports or video games, they will cater and of course carry out. Reach them at 443-979-7212 or go at caliburger.com.  By the way, the company also owns Baja Fresh.
We have now arrived in Reisterstown to Ristorante Firenze, 2 Hanover Road.  Open since February 2015 it is owned and operated by Larry and Brian Leonardi.  One of them is always there looking over the daily operation. This is a good thing.  Open seven days for lunch and dinner with a brunch Saturday and Sunday from 11-3.
There's seating for about 100, including 30 in the bar where you can watch sports. I say sports, but I imagine if you wanted to watch something else someone would change the station. All pastas are home made as are most desserts. The desserts are made by Larry's wife. You must try the tiramisu.
There is a private dining area for 24 people, carry out and off premise catering.  And you can take over the dining room if your party is big enough.
By the way, back to the brunch for a moment, how's this for a deal: Order what they call The Michelangelo and get three eggs, bacon, home fries all for only $10.
The wine selection totals about 100 with great choices from Italy or California. Also you'll find Maryland craft beers on tap. The dining room, actual two rooms, is cozy and has a fireplace to keep you warm.     
Before I go further, let me recognize Zach, the chef.  He is only 22, son of one of the owners, who was recently named a 'Rising Star' by Full Service Restaurant Magazine in a national poll.
He is the youngest person to be included on the 40 person list and only the second Marylander this year to be recognized for that honor.  So congrats Zach and thanks again for preparing for me an outstanding salmon dish.
Lunch features sandwiches such as chicken, burgers, cold cuts, sausage and peppers, veal parm and something called Pick 'Due', where you select two items (salads, pizza, pasta, soup) for ten dollars. The choices for dinner are many from eggplant parm, lasagna, ricotta, saltimbocca, marsala, numerous pastas, soup, salad and veal.
While Happy Hour is weekdays from 3-7, Wednesdays are Wine Wednesdays (half price bottles), a complete catering menu available and plenty of free parking in the rear.
When ordering wine or beer you have use of an IPAD.  Naturally, they had to give me instructions on how to use it.
Reach them at 410-394-5577 or go to eatfirenze.com.  If you have their app you can order online. 

Eddie Applefeld is a Baltimore native and a graduate of Towson University. He has been in the broadcasting profession for over 30 years. Currently he is the Promotions Director of WCBM radio. Before that, he was part of the Rouse & Company show on WQSR, host of a cable TV show called Dining Out and adjunct instructor at Towson.
His past accomplishments include being named a finalist in Baltimore Tourism's Employee of the Year Program and winner of Toastmaster's Speaker of the Year contest. He was also twice a heartthrob for the American Heart Association's gala fund raiser.