Breathless Riviera Cancun Resort and Spa a great deal for couples
The view from the Breathless Riviera Cancun Resort and Spa in Mexico. (Leonard Kinsey)
After a long winter and a lot of stress at work, when March rolled around, a tropical vacation started sounding mighty nice. Normally I'd head to Orlando to get my fix of sun and palm trees, but my dad had been raving about an all-inclusive resort in Jamaica he'd visited over Christmas. I'd never been to an all-inclusive, but was intrigued by his tales of unlimited booze and food, so I started doing some research. Turns out that while Jamaica does have some incredible resorts, there were equally incredible resorts in Cancun for much cheaper.
After going back and forth between different discount vacation package outlets, including BJs, Costco, Expedia, and TripAdvisor, I ended up booking a vacation package through Southwest Vacations that included airfare, airport transfers, and four nights at the adults-only Breathless Riviera Cancun Resort and Spa. What really appealed to me about this particular resort was that for about the same price as a regular room in similar resorts in the area, I could upgrade to the Xhale Club, which offers various VIP perks such as priority check-in, upgraded bath amenities, upgraded minibar and room service menu, daily access to the spa's hydrotherapy circuit (highly-recommended, even if you're not doing Xhale), and exclusive access to a private pool, an Xhale-only restaurant, and a private lounge. Breathless also seemed to be a good middle-ground between the 24/7 party resorts and the more family-friendly resorts.
It was a relatively quick 3.5 hour flight from BWI to CUN, and we passed through Customs with no issues. Two words of warning, though: the baggage pickup area was insanely crowded, with grumpy people crammed around tiny luggage carousels, waiting for suitcases that apparently were taking their sweet time coming out. Not an awesome way to start a vacation, so I'd highly recommend trying to fit everything in a carry-on if possible.
Secondly, after you exit Customs you'll literally be swarmed by people trying to rope you into timeshare presentations, sell you tickets to local events or excursions, or provide you transportation to your resort. While I'm sure most of these people were on the up-and-up, it was incredibly overwhelming and made me extremely glad to have booked our transfer in advance with Amstar, a well-respected company whose drivers wear very distinctive outfits, making them easy to spot through the dense crowd. Once we found them it took about five minutes before we were off to the resort in our own private air-conditioned shuttle, and from there it was about fifteen minutes to the resort.
The Xhale priority check-in was a breeze, and was made extra special with a refreshing scented towel and a cool glass of sparkling wine. The timeshare tour pitch at the end of check-in put a slight damper on the proceedings, but the pitch was relatively low-pressure and the staff member took "no" for an answer without hesitation. And to be honest, getting $300 to use on excursions in return for spending 3-4 hours on an in-depth tour of the resort isn't a bad deal if you have the time to spare. I'd just rather spend that time drinking in the pool!
Once we checked in, we headed straight for the room to drop off our bags. I'd always wanted to stay in a room with a swim-out pool, so that was one of my primary requirements when researching resorts; if it didn't have swim-out rooms, it was off the list.
I'm happy to report that our Xhale Club Junior Suite Swim-Out did not disappoint.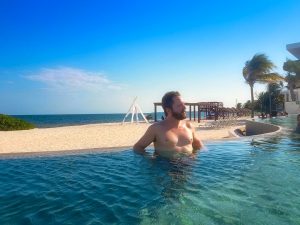 The swim-out rooms at Breathless are all connected by a lazy river, and while the water was a bit cooler than the big pools, it was so nice to be able to escape to the room for a private swim; especially at night when the water was lit up in dark shades of purple, pink, and blue.
For those not interested in a swim-out room, the floors above all had whirlpool tubs on their balconies, which looked really nice, especially since there wasn't a tub in the actual room. And, speaking of the bathing situation, given that the showers in most of the suites are located in the middle of the room and are enclosed by transparent plexiglass with a privacy curtain on only one side, this probably isn't the best place to stay if you're with a sibling or friend who you aren't comfortable being naked around!
Aside from that, the room featured everything you would expect from a luxury resort, and more: a big comfortable bed with adjustable headboard lighting, a stocked minibar, robes and slippers, a safe, a tablet for room service orders and resort information, and a high-end toiletry kit that included stuff you don't often find in a toiletry kit, such as a razor, a toothbrush and toothpaste, a nail file, a mending kit, and a shoe-shiner. Fancy!
As for the rest of the resort, it looked exactly like it did in Breathless' press photos, which was a welcome surprise. It's relatively new, having opened in 2016, and it shows – no chipping paint or crumbling concrete here. It also doesn't hurt that the grounds are meticulously cared for at a level I've only seen at Walt Disney World, with staff cleaning and landscaping pretty much nonstop.
The sprawling resort is divided up into three sections: Xhale, Energy (also referred to as Allure), and Xcelerate; each with its own separate set of rooms, pools, and bars.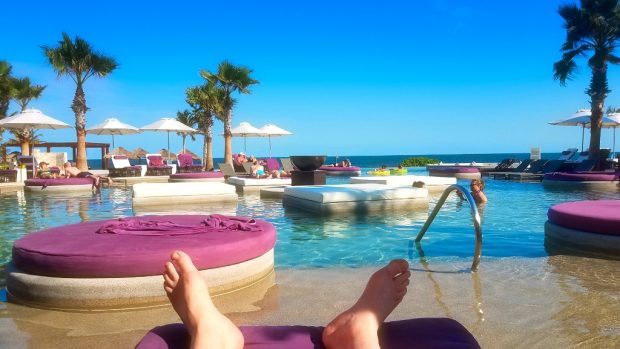 The Xhale section is off-limits to the rest of the resort guests, but Xhale members are free to visit all of the other areas. The Energy section in the center of the resort is the biggest area. That is where most of the restaurants are located, and where most of the activities take place. At the far end of the resort is the Xcelerate section, where a DJ blasts nonstop techno music and foam parties are held in the pool. Energy and Xcelerate were fun for a while, but I was happy to be able to retreat back to the Xhale section for some quiet relaxation.
Finally, an all-inclusive wouldn't be an all-inclusive without lots of food and booze options. Breathless definitely delivers on both, with eight bars, seven table-service restaurants, a 24/7 buffet, multiple quick-stop food options, and 24/7 room service.
The table-service options have various levels of dress code, from "Formal" (pants, collared shirts, and dress shoes for me, blouses, skirts, slacks or dresses for women) at Coquette and Spumante, to "Casual Elegance" (long pants and short-sleeved dress shirts for men) at Kibbeh, Picante, Silk City, and Strip Grill, to "Casual" everywhere else. Since I didn't go to either of the "Formal" restaurants I'm not sure if the dress code is actually enforced, but I can say that I would have felt out of place showing up at the "Casual Elegance" restaurants in a t-shirt, shorts, and flip-flops.
The quality of the food ranged from good to excellent, with Silk City (Asian cuisine) being on the low end, and Picante (Mexican) and Kibbeh (Middle Eastern) being on the excellent end. And most impressively, every restaurant had an extensive vegetarian menu that consisted of a lot more than the typical salad and pasta bone-throws that you get as a vegetarian option at most restaurants. I was also impressed with the alcohol selection at the bars – the house wines (including sparkling) were excellent, and the "well" liquors were actually mid-to-high level brands like Bacardi, Absolut, and Johnny Walker Red, while the Xhale Lounge featured top-shelf stuff like Bulldog and Grey Goose. Corona and Modelo were the most common beer offerings, and of course all sorts of tropical drinks were available.
Bottom line: for the price I paid, I felt like I got a tremendous deal, and I really have nothing but positive things to say about Breathless.
I fully intended to visit downtown Cancun and also planned to go on an excursion to see some cenotes (water-filled sinkholes that you can swim/dive in or zipline over), but I was having such a great time at the resort that I never ended up leaving. For someone like me who rarely relaxes and is always in "go go go" mode, that's saying something!

Leonard Kinsey is the owner of Bamboo Forest Publishing, and the bestselling author of "The Dark Side of Disney", the Anarchist Cookbook of Disney travel guides. He has lived in Baltimore for over 15 years, and enjoys drinking craft beer in unique places, eating nachos and pizza, listening to 80s hair metal, and arguing about Star Trek minutia, often all at the same time. Watch out ladies!