Bonefish Grill opens in Towson with fresh fish and neighborhood mission
Bonefish Grill's Tuna Pan Asian
Bonefish Grill, a polished casual restaurant chain that prides itself on its fresh food and cocktails, opened its newest location in Towson Square on February 16. The restaurant is modern and welcoming inside, and provides a comfortable, upscale dining experience for an affordable price.
As its name suggests, Bonefish specializes in fish and changes its menu seasonally. Everything from the cocktails to the entrées to the desserts changes at least four times a year, which keeps the offerings ever-fresh.
"Our passion for fresh fish and quality ingredients shows our commitment to providing guests with an experience they look forward to time and time again. We like to say that we take the mystery out of fish while providing a variety of offerings for meat lovers alike," said Holly Gustafson, Joint Venture Partner in Maryland.
High points on the current winter menu include ahi tuna street-style tacos–great for sharing–Chilean sea bass served with mango salsa, and an excellent chocolate crème brûlée. Landlubbers shouldn't be intimidated by the seafood focus, however, because Bonefish also serves up a tender steak.
Bonefish's bartenders make all their cocktail ingredients in-house, and diners can sip on a traditional whiskey sour made with homemade sour mix or on one of Bonefish's innovative cocktails, like a winter martini with cranberries instead of olives.
The restaurant can accommodate about 200, including a spacious bar that will appeal to diners looking for a place to enjoy a cocktail and appetizers before or after a movie  at Cinemark around the corner. "Bonefish Grill makes dinner and a movie in downtown Towson an even more appetizing choice," said Baltimore County Executive Kevin Kamenetz.
The full menu is available throughout the restaurant, but many of Bonefish's appetizers, like their tacos or their signature spicy Bang Bang Shrimp, are ideal for sharing among a party.
Bonefish may be a chain, but its commitment to responsibly sourcing ingredients reflects an attitude that has more in common with smaller restaurants than with other chain restaurants. With more than 200 restaurants nationwide, Bonefish has expanded far from its original location in St. Petersburg, Florida, but plans to keep their number of locations relatively low to focus on quality of food and service.
Bonefish is not only invested in providing diners with an affordable, upscale experience, but also in working to be a part of local communities. "To be a part of the Towson community means a lot to us," said Managing Partner Jason Roach. "Our hospitality goes beyond the restaurant's front doors and into the neighborhoods we serve."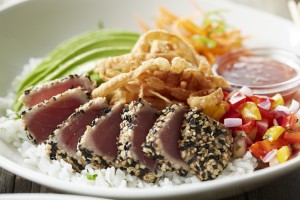 True to this mission, the new Towson Bonefish Grill donated 50 percent of its sales February 17 (up to $5,000) to United Way of Central Maryland, so here's to hoping for a strong opening week.
The restaurant is conveniently located at 127 E. Joppa Road in the Cinemark theater plaza across the street from the Towson Mall, and garage parking is available. Bonefish Grill is open Monday to Thursday 11 a.m. to 10 p.m., Friday to Saturday from 11 a.m. to 11 p.m., and Sunday from 10 a.m. to 9 p.m., including brunch. Reservations are available from their website and walk-ins are always welcome.
Nancy Hoffman covers arts, culture, and history for the Baltimore Post-Examiner. She enjoys rock climbing and giving impromptu lectures on the scandals of the Roman empire.