Billboards, endorsements attacks heats up Maryland Senate race
National Federation of Independent Business state director Mike O'Halloran explains endorsement of Senate candidate Kathy Szeliga as Nick Saioglu of Betson Baltimore, a distributor of vending and arcade machines, looks on.
By Len Lazarick
Len@MarylandReporter.com
The race to replace Barbara Mikulski in the U.S. Senate had dueling endorsements from major business and education groups Thursday.
The fairly low-key campaign is also about to get a little edgier with low-budget roving billboards from an independent group tying Rep. Chris Van Hollen, the Democratic frontrunner, to paying off Iranian mullahs and welcoming Syrian terrorists.
The National Federation of Independent Business, which represents 4,000 small businesses, endorsed Republican Kathy Szeliga, a Baltimore County delegate whom they see as one of their own because she has run the office side of her family's construction business.
The Maryland State Education Association, representing 72,000 public school educators who have off on election day, announced that Van Hollen has the backing of the National Education Association's political action arm.
The disparity in the size of the endorsing organizations is representative of the campaign rock climb for Szeliga who is outspent and outpolled by Van Hollen.
A poll released this week by Opinion Works of Annapolis, a well-known pollster, showed Van Hollen trouncing Szeliga 55 percent to 26 percent.
"It's exactly where Hogan was" two years ago before his upset victory over Democrat Lt. Gov. Anthony Brown in the race for governor, Szeliga "He faced the same challenge."
Most pre-election polls in 2014 showed Hogan trailing Brown, but by a much smaller percentage than Szeliga is behind Van Hollen.
Outspent in primary
"Why would people know who I am?" Szeliga told MarylandReporter.com. "I spent half a million in the primary and [Van Hollen] spent $8 million."
NFIB's state director Mike O'Halloran pointed out that Van Hollen has a zero rating from the group, and has "never signed the front of a paycheck." He said Szeliga knows firsthand the issues small business face and has made "tireless efforts" for small business during her six years in the House of Delegates, three as the minority whip.
Told of Van Hollen's NEA endorsement, Szeliga feigned surprise. "I'm shocked," she said. "They didn't interview me" and "I have a degree in education," teaching special education briefly in Baltimore City 20 years ago before she left to help run the family business.
MSEA President Betty Weller said Van Hollen is "the champion you want leading the fight on the toughest and most important issues. Whether it was passing Maryland's nationally-recognized school funding formula as a state senator or moving the landmark Every Student Succeeds Act through a gridlocked Congress, Chris has always gotten big victories for working families at every stage of his public service."
Independent group against Van Hollen
The new mobile billboards will start showing up at busy intersections next week paid for by Moving Maryland Forward, a group independent of the Szeliga campaign, according to Kelley Rogers of the Strategic Campaign Group of Annapolis.
The billboards are financed by "people concerned about [Van Hollen's] voting record," Rogers said. Their names will be disclosed next month in a filing with the Federal Election Commission.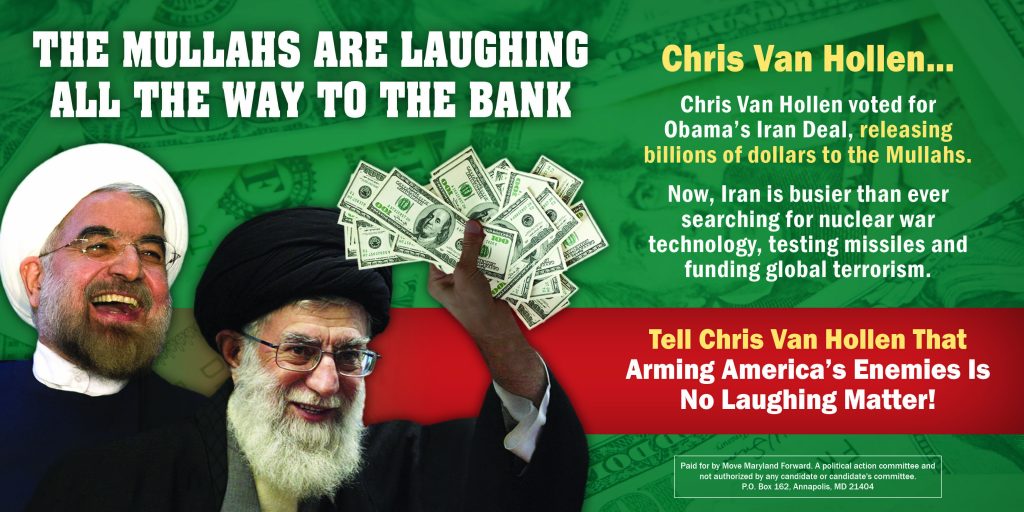 "We are in a very aggressive stage of fundraising," Rogers said. The billboards will be followed by radio ads, some direct mail, and "perhaps some TV," depending on the success of the fundraising.
The billboards mock Van Hollen's vote in favor of the treaty with Iran to stop it from developing nuclear weapons in exchange for a release of billions in frozen financial assets in the United States.
The other side of the billboard criticizes Van Hollen's votes to admit more Syrian refugees.
Van Hollen in turn links Szeliga with Republican presidential nominee Donald Trump. On Monday, he told a Howard County Democratic Party picnic that David Bossie, the head of Citizens United, which won a Supreme Court decision overturning restrictions on corporate campaign spending is "a big supporter of my opponent … He just became deputy campaign manager in the Trump campaign."
"These guys are dirty tricksters," Van Hollen said.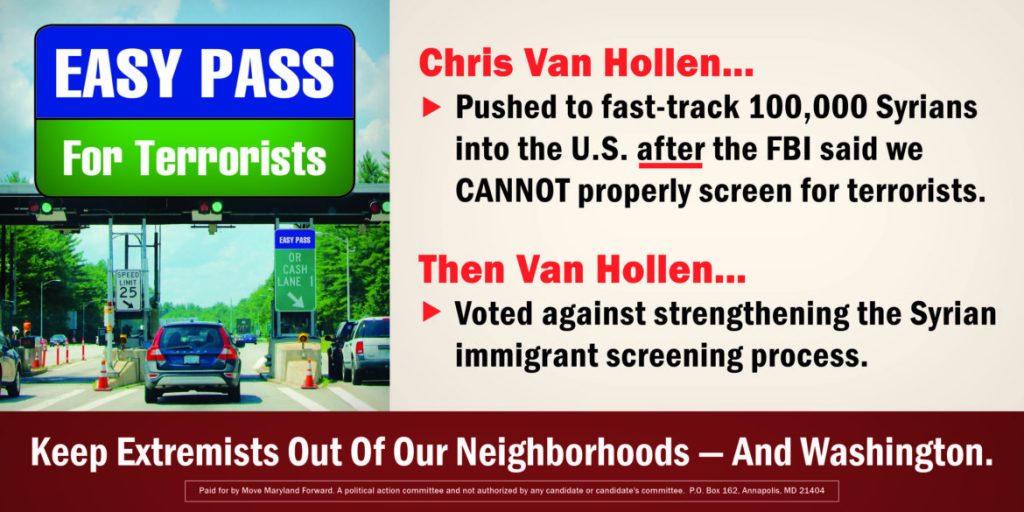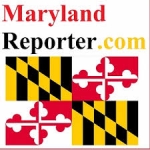 MarylandReporter.com is a daily news website produced by journalists committed to making state government as open, transparent, accountable and responsive as possible – in deed, not just in promise. We believe the people who pay for this government are entitled to have their money spent in an efficient and effective way, and that they are entitled to keep as much of their hard-earned dollars as they possibly can.