COLUMBIA, Md. — Duane Davis has been an auto mechanic for 25 of his 44 years. But he's not just any mechanic. A specialist in diagnostics, engine performance and airbags, he is now bringing his expertise in hybrids to Columbia Auto Center.
These relatively expensive vehicles are cars or trucks powered by a combination of gasoline and electricity. They burst onto the national spotlight in 1999; Japanese automakers were the pioneers, led by Honda and Toyota. But then European manufacturers like BMW and Mercedes jumped on the hybrid bandwagon, and later Detroit joined in too. Now, pretty much everyone is making hybrid cars and trucks. About 80,000 hybrids are on the Maryland roads.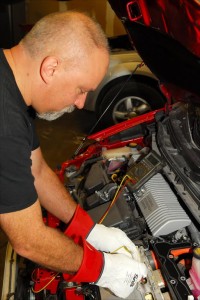 But not everyone can fix them when things go wrong.
"The problem is that many mechanics don't want to touch these cars because of the high voltage," said Davis, warning that electrocution is a very real possibility unless you know exactly what you're doing. "You've got to disable the system, then check to make sure it's disabled, then you can work on them as usual."
"There are so many hybrid cars on the market right now," he adds.  "We have a body shop and get a lot of hybrids that have been in accidents and need mechanical work," said Davis, who earlier this month flew up to New England for a week of intensive, hands-on training at the Auto Career Development Center (ACDC) in Worcester, Mass.
Columbia Auto Center is one of the few independent auto shops in Howard County authorized to repair hybrid vehicles. The shop, located on Dobbin Center Way, opened in 1985. The auto repair and body shop boasts 30 employees and 24 bays.
Consumers can now choose among 47 hybrid models covering just about every market — from subcompact to minivan — up from fewer than 25 only five years ago. The Toyota Prius line remains the most popular model, with 1.5 million units, or 50.1 percent of the cumulative U.S. hybrid market. The next most popular models are the Toyota Camry Hybrid, with about 270,000 units sold since 2006, and the Honda Civic Hybrid, with cumulative sales of 225,000 vehicles since 2002.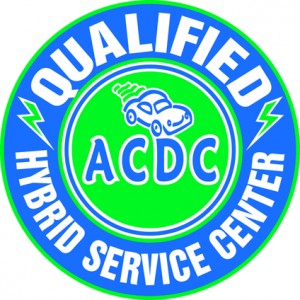 Hybrids account for just over 3 percent of the total auto and light truck market, with more than three million such vehicles sold in the last 15 years. The District of Columbia leads the nation in new hybrids sold per capita, with 3.79 hybrids per 1,000 residents (followed by California, with 1.54, and Washington state, with 1.53). But it's not just compacts anymore. Automakers are producing sedans, SUVs, crossovers and pickup trucks that run on both conventional fuel as well as electricity. Whether consumers actually save money in the long run by purchasing a more expensive hybrid depends on the specific model, though in all cases the batteries don't last forever.
"These battery packs normally need replacing after 10 years or so. They get weak and cannot ma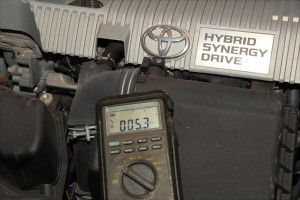 intain their performance. Maybe the car doesn't accelerate like it used to, or lights on the dashboard indicate issues," said Davis, who is ASE Master with L1 certified by Auto Service Excellence — which means he's an expert in advanced engine performance.
Yet hybrids, because of their complexity and costly batteries, are generally far more expensive, sometimes $5,000 or more, than their conventional gas-guzzling counterparts; so fixing them at a dealership can be expensive.
With hybrids, fuel economy is better, and when you get to the super high-end like BMW or Mercedes, you get performance too," Davis said. "Basically, people are buying them to be green. This market isn't going away anytime soon."