Baltimore Mother's Day plea: Stop killing for 48 hours
Daphne Alston, co-founder and president of Mothers of Murdered Sons and Daughters United, speaks to the media last year. She is joined by (from left) Rep. Elijah Cummings (D-Md.), Baltimore City State's Attorney Marilyn Mosby, and Baltimore Police Commissioner Kevin Davis. (Twitter/Baltimore SAO)
BALTIMORE – A group of mothers who have lost their children to violence are calling for a 48-hour cease-fire this weekend in Baltimore in honor of Mother's Day.
Mothers of Murdered Sons and Daughters United (MOMS) is pleading for a peaceful weekend during which no mother will lose her child to violence.
Mother's Day is bittersweet for Daphne Alston, the co-founder and president of MOMS. Her younger son Tarik Sharif Alston was fatally shot while talking on his cellphone at a party in Edgewood, Md. He was 22. The 2008 killing has not been solved.
"We no longer can keep murdering our children. It's senseless violence … senseless homicides," she said.
"We don't want no more pain. We don't want it now … we don't want it ever. We just want some peace. Let your mother have some peace."
Alston said some people who want to become active in the community to try to makes things better are afraid of getting shot.
"We're never going to get things done until we put the guns down."
Baltimore has experienced a surge in violence since 2015, the year Freddie Gray was killed. That year, there were a record 344 slayings – a sharp increase from the 2014 tally of 211. In 2016, there were 318 homicides – the second-highest tally on record.
At least 118 people have been killed in the city so far this year.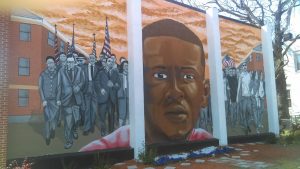 Many trace the sharp increase in homicides to Gray's death. He was fatally injured in a police wagon on April 12 and died a week later. The city erupted in protests that escalated into riots on April 27 – the same day as Gray's funeral.
Maryland Gov. Larry Hogan declared a state of emergency and sent in the National Guard, while then-Mayor Stephanie Rawlings-Blake instituted a citywide curfew for a week.
Six Baltimore police officers were charged in Gray's death. Two were found not guilty and the charges were dropped for the others.
The officers' trials caused deep divisions between city residents and police. Some officers adopted a hands-off approach to minor offenders.
U.S. Attorney General Jeff Sessions called out Charm City in a news conference Friday morning from the Justice Department in Washington during which he discussed enforcing tougher sentencing guidelines.
"We are seeing an increase in violent crime, in our cities particularly … in Baltimore, Chicago, Memphis and Milwaukee, St. Louis and many others. The murder rate has surged 10 percent nationwide – the largest increase in murder since 1968.  And we know that drugs and crime go hand and hand – they just do. The facts prove that so."
The MOMS cease-fire starts at 11 a.m. Saturday with a rally downtown at Monument Street and Broadway. Participants, who are asked to wear white, will walk to the Thomas B. Turner Auditorium on the Johns Hopkins Hospital campus for a two-hour panel discussion.
"We have worked with MOMS in the past. We will continue to support any efforts by members of the community to partner with us to reduce crime," Detective Jeremy Silbert, a spokesperson for the Baltimore Police Department, said Friday in an email.
Rev. Daki Napata, a longtime community activist in Baltimore, also supports the cease-fire.
"As a minister, I have buried more young people than I care to remember," he said Friday.
But he said more needs to be done beyond the weekend to quell the violence.
"The city needs to call a state of emergency. How many more people have to get killed?"
Napata stressed that he is not calling for martial law. But he said the federal government as well as the state of Maryland need to step in to assist the Baltimore police – because "all lives matter."
"It should not be business as usual when you have this kind of death and destruction."
This article is republished with permission from Talk Media News.
Regina Holmes has more than two decades of experience as a journalist –editing and reporting for news dailies including the Miami Herald, Newsday and the Baltimore Examiner.