Baltimore Basilica, Its Architect Benjamin Henry Latrobe & his German-American Connections
About 14 years ago, a colorful ceremony was held to mark the restoration and reopening of the 200-year-old Baltimore Basilica – America's first Roman Catholic Cathedral. (1) It was designed by the architect, Benjamin Henry Latrobe, the same man who designed the U.S. Capitol. (Yours truly was confirmed, in 1950, at the Cathedral by the late Archbishop Francis Patrick Keough.)
The setting for the ceremony was the intersection of Cathedral and Mulberry Streets, just in front of the Enoch Pratt Free Library, which faces the Basilica on Cathedral St. This site itself brought back fond memories for me, since my old high school, Calvert Hall, a Christian Brothers' institution, was once located at Cathedral & Mulberry Streets. I graduated from "The Hall" in 1955.
Getting back to Latrobe. He was born in England and emigrated to America in 1795. He was not only one of America's first professional architect, but also a distinguished public works engineer. He also had some important Pennsylvania-German family connections.
Latrobe's mother was an American! Her name was Anna Margaretta Antes. She originally hailed from Friederichstown, aka Frederick Township, PA, (now known as Upper Frederick), which is about 30 miles northwest of Philadelphia. As a young woman, she moved to England to attend school.
While there, Margaretta met Benjamin Latrobe, a Moravian missionary. They fell in love and were married in Herrnhut, Saxony, in 1756. Their second son, Benjamin Henry, the architect-to-be, was born in Fulneck, England, on May 1, 1764.
Anna Margaretta Antes, Latrobe's mother, was one of eleven children of Christina Elizabetha Dewees (1702-1782) and John Henry Antes (1701-1755). (2) Her father, the family's patriarch, was born in Freinsheim, Germany, in the Rhenish Palatinate. He emigrated to Pennsylvania, in 1720, and soon became a partner in business with William Dewees. Together, they established the second paper mill in the nation.
On Feb. 2, 1726, he married Dewees' daughter, Christina Elizabetha, who was then living in Germantown, Pa. The Dewees clan was well connected, with ties in other budding enterprises and to movers and shakers in colonial Pennsylvania, such as William Rittenhouse. Christina's father, William Dewees, was also the Sheriff of Philadelphia County.  Another member of the clan, Col. William Dewees, Jr., spelled sometimes as "DeWeese", her brother, was the co-owner of Valley Forge at the time of the American Revolution.
From where you might ask, did Benjamin Henry Latrobe's get his great talent for architecture? Let me suggest, it was from his maternal grandfather, the German-born, John Henry Antes. Besides being given the middle name, "Henry," in honor of his grandfather, I think he also inherited a genius for building things from him, too — edifices that would last the test of time. It is no accident, that the ancestral home of Latrobe's maternal grandparents was placed on the National Historic Register on April 27, 1992.
That landmark residence was built by John Henry Antes in 1736. It's on the national register, not only because of its age and its style but also because it was used as the first integrated school in America – and this happened in 1745, thirty years before the famous "shot heard round the world" was fired at Concord in 1775. Latrobe's grandfather also played a significant role in the founding of Moravian settlements in the towns of Bethania and Bethabara, near present-day Winston-Salem, North Carolina.
On the authority of the Goschenhoppen Historians, Inc., John Henry Antes, Latrobe's maternal grandfather, was considered among "the greatest master builders of the early colonial period and was responsible for the construction of many of the early Moravian buildings and mills in Bethlehem, PA." He was also esteemed as "one of the most important religious/political leaders in the middle colonies in the 18th century." The Goschenhoppen Historians spearheaded the restoration of the Antes Home and its use as "a living history museum." Its work began in 1974 with the purchase of the house, "plus 1.2 acres of land" on which it is situated.
According to the Pottsgrove, PA Historical Society, the Antes' residence, at Upper Frederick, not far from Pottstown, was also utilized as the headquarters for General George Washington between the battles of Brandywine and Germantown, from September 22-25, 1777.  Three of John Henry Antes' sons were patriots and fought in the Revolutionary War.
One of Antes' sons, Colonel Frederick Antes, a member of the Pennsylvania County Associators, was living in the house at the time of that great conflict. Frederick was credited with "helping to cast" the first cannon, a "4-lb", at Worwick Furnace, in 1776, which was used by the gallant Continental Army. He was so valued a patriot, that the British General, William Howe, put a bounty on his head of 200 pounds.
Another of Antes sons, John, a Moravian missionary, was a noted musical composer. His works include "more than twenty-five anthems and twelve sacred chorales."
Returing to the Basilica ceremony. One of the speakers was Alan M. Hantman, FAIA, who then held the office of "Architect of the U.S. Capitol." Mr. Hantman said of Latrobe and of his stunning Basilica achievement: "This building ranks first among his works of ecclesiastical architecture. Its grace and beauty are all the more remarkable when you consider it was designed at the same time he was fully engaged with his work at the United States Capitol."
Sadly, Latrobe's life, so filled with achievement, was cut relatively short, when he contracted yellow fever in New Orleans, LA. He died there, at age 56, on September 3, 1820. His maternal grandfather would have been very proud of all his grandson's significant accomplishments and of his lasting service to our Republic.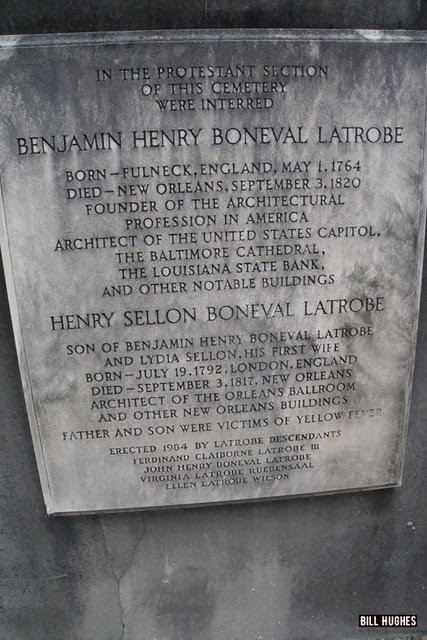 Together, as far as I know, they are the only grandfather/grandson, in the history of our country, to have buildings that they have designed registered as a National Historic Landmarks.
Latrobe's German Pennsylvania connections, via his mother, Anna Margaretta Antes, and his maternal grandfather, John Henry Antes, undoubtedly, played a critical part in sourcing his journey into the vanguard of one of America's premier architects. It is so appropriate, too, that Latrobe, whose name is mostly associated, in the public mind with his inspiring work on the U.S. Capitol, in Washington, D.C., would also have three maternal uncles who were patriots that fought for America's freedom in the Revolutionary War (1775-83).
Notes:
The Basilica is now officially known as the "Basilica of the National Shrine of the Assumption of the Blessed Virgin Mary."
My wife, Ann Hege Hughes, is a collateral relative of Benjamin Henry Latrobe.

Bill Hughes is an attorney, author, actor and photographer. His latest book is "Byline Baltimore." It can be found at: https://www.amazon.com/William-Hughes/e/B00N7MGPXO/ref=dp_byline_cont_book_1