Babe Ruth bus tour is a winner in Baltimore
On Saturday morning about 30 fans of one of baseball's, and Baltimore's, most legendary figures – George Herman "Babe" Ruth – gathered at Peabody Heights Brewery, in Charles Village, the jumping off point for a two hour bus tour.
This was the first tour of its kind to spotlight some of the sites, in and around Baltimore, that were important to the iconic Ruth's career and global celebrityhood.
Located at: 401 E. 30th Street, the Brewery itself is steeped in baseball lore. It was formerly the location of "Orioles Park." This is where the then-International League Orioles team played, and where Ruth, under the guidance of team owner, Jack Dunn, started his fabulous baseball career. He was 19 years old, and the year was 1914.
The tour was sponsored by "Baltimore Heritage," whose director of tours is Marsha Wight Wise, CTA. The commentator and guide for the very interesting event was baseball aficionado and freelance writer, Charlie Vascellaro. Trust me when I say this: We couldn't have been in better hands. Vascellaro was on top of any and all subjects dealing with Ruth and the evolving Ruthian legend.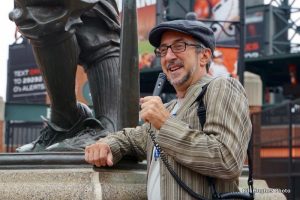 The first stop for us was – Camden Yards. Just as you enter the ball park from Eutaw Street, near Gate "H" of Oriole Park, sits a 16ft. tall bronze sculptor of Ruth. "Babe's Dream" was created by Susan Luery and dedicated in 1996.
"Babe's Dream" by Susan Luery
At first not everybody was crazy about the statue's composition. The picturesque monument, however, is so popular now, that if you're meeting someone at the park, all you have to tell them is: "See ya in front of the Babe!"
Next on our itinerary was the "Babe Ruth Birthplace & Museum," the site of Ruth's birth on February 6, 1895. To learn more, go to: http://baberuthmuseum.org/babe-ruth-birthplace-museum/babe-ruth-birthplace-exhibits/ It is located at 216 Embry Street, only blocks from the stadium. In fact, it's so close, they've imprinted baseballs on the sidewalks pointing the way to the historic building. Very clever, indeed.
Here you will find all kinds of vintage photos, old news reel clips, and memorabilia of all kinds, dealing with Ruth's storied career from his days as a minor league player with the Orioles, to the launching of his major league career. Ruth played first with the Boston Red Sox and then moved onto the New York Yankees and its fabled stadium in the Bronx.
After that stop, we headed out to West Baltimore to the former site of St. Mary's Industrial School for Boys, at Caton and Wilkens Avenues. That school, Ruth's school, is long gone, although some parts of it still stand. Its replacement at the location, Cardinal Gibbons's H.S., has also been closed by the Archdiocese of Baltimore, leaving behind a compelling wall mural of Ruth.
The baseball field, however, where Ruth learned to play the game from 1902 to 1914, has been fully restored. It looks beautiful! It was here at St. Mary's that the "King of Swat" fell under the wise and caring mentorship of the late, great Brother Matthias of the Xaverian Order of Monks. (Blessings on the memory of Brother Matthias.) The rest as they say is history.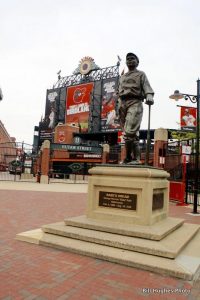 By the way, another resident of St. Mary's just before Ruth made an appearance there was Asa Yoelson. The world knows him now by the name of the celebrated entertainer – Al Jolson!
We completed our journey down Ruthian Memory Lane with a trip to Loudon Park Cemetery located further west on Frederick Road. Buried there is Ruth's father – George Herman Ruth, Sr. He died on August 24, 1918, as a result of hitting his head hard on a pavement. He was involved in a fist fight just outside his bar, then located at 36 South Eutaw St, and now, is in the middle of the baseball field at Camden Yards!
Folklore has it that when Ruth came back to town for his father's funeral (he was playing for the Boston Red Sox then), and the casket was lowered into the grave, it was the one and only time anyone ever saw him cry. Nevertheless, Ruth picked himself up from that downer to pitch his Red Sox team to a World Series victory that year over the National League champs – the Chicago Cubs.
Ruth died of cancer in NYC, on August 16, 1948. He is buried in Gate of Heaven Cemetery in Hawthorne, New York.
On that note, the tour, which I highly recommend, returned just after noontime to the Peabody Brewing Co. for beer and sandwiches. I'm sure this is going to be at least, a semi-annual happening. If so, bookmark the website of the "Baltimore Heritage," at Baltimoreheritage.org to keep in touch about the next Ruth-based sojourn.
To see more photos, go to my Facebook page.

Bill Hughes is an attorney, author, actor and photographer. His latest book is "Byline Baltimore." It can be found at: https://www.amazon.com/William-Hughes/e/B00N7MGPXO/ref=dp_byline_cont_book_1