Amadeus: Centerstage opens season on a high note
Stanton Nash and Bruce Randolph Nelson in Amadeus at Centerstage (Richard Anderson)
Even the most casual classical music listener has heard the name and the music of Wolfgang Amadeus Mozart. His compositions are staples of the FM airwaves; his oft-performed operas fodder for Warner Bros' cartoons. But what of Mozart's contemporary – and so-called musical rival – composer Antonio Salieri.
Antonio who?
Exploring this alleged rivalry (and rumored murder of Mozart) is the subject of Peter Shaffer's play, Amadeus, the current production at Centerstage.
Skillfully directed by Centerstage artistic director Kwame Kwei-Armah, Shaffer's dialogue-laden leap is a fanciful tale about the fractious relationship between Mozart and fellow composer Antonio Salieri. The play had its genesis in an 1830 work by Russian writer Alexander Pushkin, the author of Boris Godunov and Eugene Onegin.
Amadeus premiered in London in 1979 at the Royal National Theatre. The Broadway production (1980) won the Tony for best play, and the film adaptation (1984) won the Academy Award for Best Picture.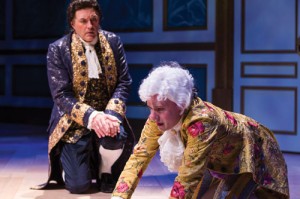 Shaffer has repeatedly re-worked Amadeus since its inception; adding and subtracting characters while dickering with the dialogue. Those familiar with the film will at once ascertain that this revival is decidedly different from the screen adaptation. The cast has been streamlined, but the addition of excess verbiage makes the story drag on at times. In short, this composition could have used a few less stanzas.
The story opens in mid-nineteenth century Vienna with an aged Salieri angrily summarizing what he considers his mediocre life. Salieri then peels back the years to the days when he was highly respected as Court Composer to the Emperor of Austria. Respected – until Mozart comes to town.
In one early scene, Salieri listens in horror as Mozart turns his staid march into an impromptu, lilting musical masterpiece.
Later, Salieri endures the indignity of overhearing Mozart proclaim, "Have you ever heard his (Salieri's) music? It's the sound of somebody who can't get it up."
Salieri curses God for making him love music, while giving true talent to the irreverent Mozart. Realizing the morass of his middling talent, Salieri starts to scheme for a way to dispose of his nemesis.
How far will this marginalized man go to exact revenge?  Only time will tell.
To make this play work, it is crucial to cast leads who assiduously embrace their characters, and director Kwei-Armah has struck gold with Stanton Nash and Bruce Randolph Nelson.
As Wolfgang Amadeus Mozart, Nash is loud, obnoxious, vulgar and vain; a conniving, cheating, cursing, fatuous, farting, philandering scoundrel. In short, Nash makes an ideal Amadeus. You know an actor is perfect for this role when two minutes into his first appearance, you start to feel like you want to kill him yourself.  But as Mozart descends into his mostly self-made hell, Nash reveals the man-child within, evoking pity for an otherwise pathetic character.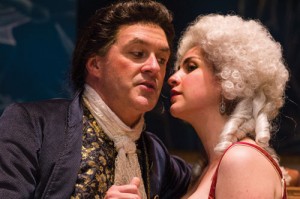 Nelson tackles the demanding role of Antonio Salieri with an uncanny stage presence that has rightly earned him recognition as one of the area's finest actors. Nelson never falters as he delivers several long, difficult soliloquies with deceptive ease and handles most of his reaction scenes exceedingly well.
In supporting roles, Kayla Ferguson shows a fair amount of range as Mozart's cloying young wife Constanze. And Natanya Washer looks and sounds simply wonderful as Salieri's star student Katerina Cavalieri.
Of the men in the palace, Kevin Orton is perhaps the most memorable as the clueless Emperor Joseph II, though Steve Brady (Count Orsini Rosenberg), James Joseph O'Neil (Baron Van Swieten), and Gannon McHale (Count Von Strack) all turn in solid, satisfying performances.
Salieri describes his wife Theresa as "a statue" and Yvonne Erickson plays that part to the hilt. Jay Russell and Lucia Spina ably fill out the supporting cast as Salieri's gossipy Greek chorus.
On the technical side, set designer Timothy R. Mackabee provides the cast with two very different looks: one speaks of late eighteenth century opulence; the other screams hopelessness. Both work fine, and the transition between the two seemed effortless.
Victoria Deiorio's sound design was refreshingly nuanced.  Michael Habeck's palace lighting could have been a bit more subtle.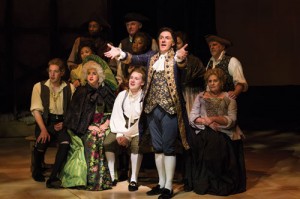 David Burdick's costumes are almost a show-within-the-show, complete with the requisite bodices, frilly bloomers and silk brocade. Paloma McGregor's choreography seemed a little odd, but it was certainly in keeping with the action at hand.
One question for the prop designer (and this is purely a pet peeve): What's with the 8 ½ x 11 sheets of music? So much care went into recreating the period for this lovely production. It would be nice to do the same by providing the actors with an authentic looking score.
The film version of Amadeus is now thirty years old, and as mentioned, very different from this stage production.  Still, each share a gripping storyline with two memorable characters.
Both Tom Hulce (Mozart) and F. Murray Abraham (Salieri) were nominated for Best Actor awards for the stunning cinematic version of Amadeus (Abraham won). But for this critic's money, Stanton Nash and Bruce Randolph Nelson are actually better.
That's the magic of live theatre.
* * * * *
The Centerstage production of Amadeus runs now – Oct 12. Approximate running time for this production is 2 hours and 10 minutes with one intermission. Centerstage is located at 700 North Calvert St in Baltimore, Maryland. Tickets and other information may be found by visiting Centerstage.

Anthony C. Hayes is an actor, author, raconteur, rapscallion and bon vivant. A one-time newsboy for the Evening Sun and professional presence at the Washington Herald, Tony's poetry, photography, humor, and prose have also been featured in Smile, Hon, You're in Baltimore!, Destination Maryland, Magic Octopus Magazine, Los Angeles Post-Examiner, Voice of Baltimore, SmartCEO, Alvarez Fiction, and Tales of Blood and Roses. If you notice that his work has been purloined, please let him know. As the Good Book says, "Thou shalt not steal."