A Breath of Fresh Air: The March on Washington Called the 'March for Israel'
As I was getting more and more pessimistic, but not depressed – I refuse to get depressed — about America's apparently large if not majoritarian protests for a "Free Palestine" with a heavy toxic dose of anti-Semitism and anti-Israel sentiment, days ago I overly cynically awaited the promise of many coming to Washington to protest in favor of Israel and against ant-Semitism.
Boy, was I wrong – very simply wrong.
There were tens of thousands, maybe many tens of thousands, patriotic and blissfully well-behaved marchers this day.
In addition, there have been anti-Israel and anti-Jewish rallies around the world, including most recently a massive pro-Palestinian rally in London along with deplorable rallies in New York, Chicago, Boston, Miami Beach, and elsewhere.  These have been filled with vileness and sometimes violence.
To my gleeful surprise, the "March for Israel" was strong, and bipartisan (no, Rashida Tlaib apparently couldn't make it – she was busy looking up "From the River to the Sea" to prove that it meant swimming locations for Hamas sign-ups).  And President Biden couldn't make it, as he needed to go meet China's President XI, and he couldn't take what the excellent Fox former presidential advisor and commentator Dana Perino called "a few hours" to be at the March in person. The president sent a low-level functionary to take his place.
But don't get me wrong – today's March was indeed bipartisan, and for a not easily moved retired Towson University professor, it was very very moving.
To see many tens of thousands of marchers demonstrating for Israel after the sickening monstrous attack by the evil terrorism specialists Hamas, replete with hostage-taking, with over 1400 deaths and other victims, with some mutilated-with-unspeakable-methods and results and after the uninformed/malicious anti-Semitic marches across the country — The Washington March was, to use the words but reverse the intent of a Cornell professor's (who should be fired) praising Hamas' October 7 Pearl-Harbor-like sneak attack on Israel, "exhilarating" and "energizing."
In contrast with so many of the hostile-to-Jewish people protests, this one had no arrests, nor did it have any counter-demonstrations.
CNN's Van Jones may have newly informed the crowd and visitors when he said, "Now if you're not Jewish, you may not know this, but since October 7, there has been literally an explosion of violence against Jewish people, attacks against Jewish people, horrific acts of hatred against Jewish people."
It was heartening to see powerful speeches in defense of Israel and Jews by Senate Majority Leader Chuck Schumer, Iowa Senator Joni Ernst — who knew what a spellbinding speaker she is? — Speaker of the House Mike Johnson, and House Democratic leader Hakeem Jefferies. Plus there was a moving video-feed address by Israeli President Isaac Herzog (parenthetically, my mother's name was Herzog) who called for unity following "the largest massacre since the Holocaust."
Ernst said, Hamas "murder[s] babies [and] rape[s] women. They abuse the elderly. How anyone in America could sympathize with these terrorists is unfathomable."
The crowd chanted "Never Again," referring to the slogan regarding Jewish strength pursuant to the Holocaust.
It was the most moving event I have witnessed electronically in the Mideast crisis since Columbia Professor Shai Davidai said bravely on Nov. 3 that he wouldn't allow his children to go to Columbia now. When Schumer, Johnson, Jeffries, and Ernst joined hands, I am slightly embarrassed to say, I teared up.
There were relatives of the hostages taken by Hamas who reminded us of the venal horror Hamas has visited on innocent Israeli and American families.  As The New York Times pointed out, "Rachel Goldberg was one of the speakers at the event. Every day, she tears off a new piece of masking tape and writes down how many days it has been since her 23-year-old son, Hersh Goldberg-Polin, was abducted. Then, she places it on her chest."
To add a grisly poignance to the March, Hamas released a video simultaneously that revealed that a hostage had been killed days ago in Gaza by Israeli airstrikes, which Israel called "psychological terrorism."
Regardless, the March for Israel was a demonstration of the resiliency and critical bipartisanship of good American leaders and people in contrast with the hate-filled marches by ignorant college students who hate Israel but know nothing about her.
What a wonderful and uplifting event – finally.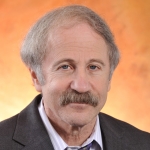 Richard E. Vatz is professor emeritus of political rhetoric at Towson University and author of The Only Authentic of Persuasion: the Agenda-Spin Model  (Authors Press, 2022) and many other works, essays and op-eds.  He is a Distinguished Professor at Towson University and has won a number of teaching awards.