Maryland's largest Hellenic celebration of nonstop Greek fun – including authentic food, drinks, live music, dancing and more – will return to GreekTown Square in Baltimore
BALTIMORE (May 31, 2017) – Calling all Baltimoreans: you're invited to B'More Greek! The St. Nicholas Greek Folk Festival, Maryland's most attended Hellenic celebration, will once again take place in Baltimore's GreekTown Square from Thursday, June 8 through Sunday, June 11, 2017.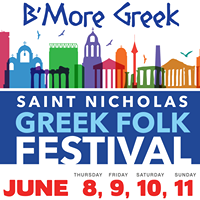 This annual four-day event celebrates the best of Greek culture: food, music, dance, faith and legendary hospitality. Attendees of the Greek Folk Festival will enjoy free admission and parking, food and drink vendors, arts and crafts, kids' activities, and live music and performances. Guests also have the opportunity to participate in Greek dancing into the evening and under the stars in the outdoor pavilion, while taking in live Greek music from local bands – reminiscent of a celebration in Greece.
"Our annual festival gives us an opportunity to showcase our Greek heritage and all of the wonderful elements of Greek culture," said Frank Mitsos, co-chairperson of the St. Nicholas Greek Folk Festival. "We invite everyone in Baltimore and beyond to B'More Greek by joining us for four fun-filled days of endless food, music and dancing. There is truly something for everyone at the St. Nicholas Greek Folk Festival!"
Highlights of the 2017 Greek Folk Festival include:
• Homemade, authentic Greek food, including gyro, souvlaki, roasted lamb and mousaka
• Traditional dessert favorites, including loukoumades and baklava
• For the third year in a row, a vegetarian Greek kitchen
• Food demonstrations with free food samples
• Outdoor and indoor air-conditioned dining spaces
• Greek wine and beer
• Live Greek music from Apollonia, The Golden Flame Band, DeeJay Serafim and more
• Performances from St. Nicholas' dance group, Hellenic Golden Coins, as well as regional Greek dance troupes in traditional costumes
• Kids Zone featuring games and arts and crafts
• Greek art and jewelry vendors
• Tours of St. Nicholas Greek Orthodox Church
• Free admission and parking throughout the festival
All festival events will take place at GreekTown Square and Events Center, located at 701 S Ponca Street in Baltimore, and at St. Nicholas Greek Orthodox Church. Festival hours include: June 8 from noon to 10 p.m., June 9 from noon to 11 p.m., June 10 from noon to 11 p.m., and June 11 from noon to 10 p.m. All proceeds benefit the philanthropic efforts of the St. Nicholas Greek Orthodox Church. For more information, visit www.GreekFolkFestival.org.