Visiting Portland: Must see places on a day out
PORTLAND— There is nothing I like more than waking up and just wandering a city when I'm on vacation.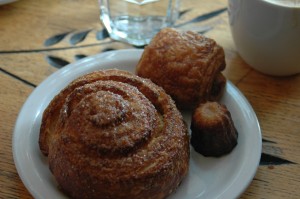 Starting the day off with a luxuriously long breakfast looking over guidebooks or the local newspaper with one and sometimes two cups of coffee, like the excellent Stumptown served at Ken's Artisan Bakery here, always strikes me as a great way to begin a day and connect with whatever place I'm visiting.
So on our latest visit, we twice visited Ken's Artisan Bakery where we picked up some of his amazingly fresh out of the oven pastries including the glorious morning bun ($3). This wonder had a buttery and crisp exterior topped with crunchy bits of caramelized sugar coupled with a soft interior so prized among croissant lovers and an added surprising bonus of a bright orange flavor that came from bits of orange zest visible from within the pastry's multiple layers.
In a celebratory mood we added several mini pastries including a well done chocolate croissant and a canalé, which sounds like an Italian pastry but is actually very French. A canalé, which is generally considered dessert, has a wonderful soft custardy interior and a caramelized outer crust.  Ken's are quite nice.
My friend Laura adores them and can actually make them, which I completely respect.
After our first leisurely morning at Ken's we decided to visit the incredible Rose  and Japanese Gardens.
It was one of those Portland days for which the city is known — intermittent pouring rain with scattered hours of sunshine.
When we got to the Rose Gardens to which there is free access we took in thousands of the roses (10,000 plus or minus according to the website) and enjoyed a gentle shower as we wandered around the visually stunning 4.5 acres of land.
And talk about the perfect time of year. All of the roses were in full blossom and the showers only heightened the colors and left fat rain drops on many of the petals — gorgeous.
In the end, we were slightly sad that the flower key failed to identify the most beautiful rose we saw. I'm posting a picture so if you know please send me an email!
According to the website, the International Rose Test Garden, founded in 1917, received roses from around the globe during World War I partly in hopes of keeping the hybrids safe from bombings in Europe
Afterward we spent more than an hour wandering the exceptional and large Japanese Garden. (For those eager for size comparisons it feels about three times as large as the wonderful one in San Francisco).
This Japanese Garden is truly spectacular. If you do nothing else on a Portland tour, you should try to visit these twin treasure gardens. I know the city is known for its food but these spots alone are worth the price of a plane ticket especially if the roses are in bloom.
For me the beauty of the Japanese garden isn't just the layers of flowers, trees or waterfalls but the lushness of the moss, the woven fences and beautiful mixture of stones.
Walking around the gardens feels incredibly private and the way the different gardens within are laid out, rounding a corner brings a surprising or beautiful site or sound.
This was my second visit and memory didn't fail me, the garden remain one of my favorite all-time spots.
I took more than 100 photographs during our meandering many for my mother who is busy improving on her gardens.
Afterward very hungry, we crossed town to dine at Frank's Noodle House that boasts "the best handmade noodles in town."
This little spot — another recommendation from Laura — didn't disappoint either.
Immediately we were served two little bowls, chunky white radish marinated in vinegar and a spicy kimchee.
With lunch the little restaurant offers for free a choice of either egg flower or hot and sour soup. I had the hot and sour soup, which was a perfect way to begin a delicious and very filling meal. (We definitely over-ordered.)
The handmade ground pork and chive steamed dumplings ($4.95) arrived piping hot encased in the most wonderful soft doughy pocket.
And of course I had to have some of the wonderful handmade noodles. I asked that mine be served with shrimp ($7.95). The dish put in front of me exceeded my expectations — wonderfully thick chewy noodles stir-fried with cabbage, green and red bell peppers, onions, celery and slathered in the house sauce that was wonderfully spicy thanks to a very visible amount of chili paste.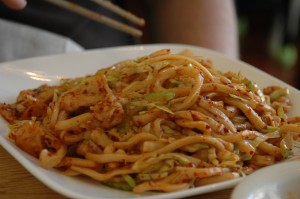 Filled and happy we got in the car to go on to our next stop, which was one of the city's dog park.
The puppy ran off a bit of surplus energy after being cooped up in the car for a few hours. (Don't worry it was very cool and we left the windows down.
He'd joined us on some of our adventures. Although, he was welcome in the Rose Garden where he begged to chase squirrels, he had to sit out the visit to the Japanese Gardens.
After a bit of play we went home to rest before our last meal in Portland — the amazing Le Pigeon.

Welcome to Sarah's life of wine, travel, food and child. Sarah Abruzzese is a former Washington D.C., reporter, living in southern California. She's working on launching 7 SUNDAYS CLOTHING (www.7SundaysClothing.com), a UPF 50+ sun protective clothing company for children. Beside working on the clothing line, she spends her days running after a toddler and then if there is time left over, eating well, visiting wine country and exploring the West Coast. Follow her travels on twitter #sabruzzese.