'Return of the Red Tails' brings Tuskegee Airmen educators to Geneseo Airshow
Living historian Michael Joseph III honoring the Tuskegee Airmen by depicting Benjamin O. Davis, Jr. at the 2019 National Warplane Museum Airshow in Geneseo, NY. (Anthony C. Hayes)
GENESEO, NEW YORK — The last thing this reporter expected to see at last weekend's National Warplane Museum Airshow was a Rousch Mustang parked beside a B-17. On a field full of warbirds – dotted here and there with streamlined Studebakers, Chryslers and Plymouths– the Mustang seemed hopelessly out of place. At least until I circled the car and noticed the distinctive red tail spoiler associated today with the Tuskegee Airmen.
Michael Joseph – a senior project engineer for Corning and a Tuskegee Airmen reenactor – explained the presence of the high-powered Mustang.
"Our organization is called Return of the Red Tails. We are trying to preserve the history of the Tuskegee airmen, and show how the excellence they pursued is relevant to young people today. We hope that example encourages students to become just as passionate about their academic careers as the Tuskegee Airmen.
"We had an event on November 3rd at Corning Community College, where we brought Tuskegee Airman Herbert Thorpe – a member of the 477 Composite Group – to speak to the students," continued Joseph. "Thorpe was a navigator/bombardier on a B-25."
An official history for the Tuskegee Airmen states: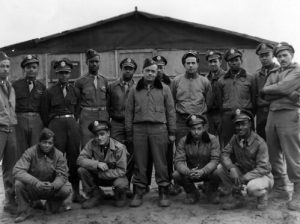 "Tuskegee Airmen" refers to all who were involved in the so-called "Tuskegee Experience," the Army Air Corps program to train African-Americans to fly and maintain combat aircraft. The Tuskegee Airmen included pilots, navigators, bombardiers, maintenance and support staff, instructors, and all the personnel who kept the planes and pilots in the air.
"The Tuskegee Airmen overcame segregation and prejudice to become one of the most highly respected fighter groups of World War II. They proved conclusively that African Americans could fly and maintain sophisticated combat aircraft. The Tuskegee Airmen's achievements, together with the men and women who supported them, paved the way for full integration of the U.S. military."
Joseph (who was dressed in an Army Air Corps uniform) paused for a moment to pose for pictures in front the C-47 "Whiskey 7″ with his son, Michael Joseph III, and reenactor Chris Gabers.
"We are using our impression work as the front end for a video we plan to publish sometime this year," explained Joseph. "One of our goals in our outreach is the development of Tuskegee Airmen tribute cars.
"I developed the first one, which is called Faithful Pursuit. It was dedicated in 2004 by Major General Mike Hall at the Wings of Eagles event down in Corning. Our latest acquisition is a 2015 Rousch Mustang. The Rousch will also be converted to represent a Tuskegee Airmen red tail."
We asked Joseph if – as an educator and reenactor – he finds that presenting the Second World War in character garners more attention than a staid presentation would? (Joseph depicts Benjamin O. Davis, Sr. — the first American flag rank officer of African ancestry.)
"I think so. I've had the opportunity to speak before youth, as both an educator in civilian clothes and as a presenter in uniform. Kids certainly are excited when they see the uniform. It adds something to it. It would be nice to have a veteran, but we realize – as the Tuskegee Airmen have – that the numbers of surviving Tuskegee Airmen are dwindling.
"I am also a member of Tuskegee Airmen Inc. – an organization founded by the surviving airmen in 1972.
"The Airmen were wise enough to open their membership to non-Tuskegee Airmen. Other organizations – like the P-47 Thunderbolt Pilots Association, the P-40 Pilots Association, The Roundtable – started to fold as early as the 1990s, because their membership was dying out.
"We still have over a thousand active members. Most are the sons, daughters, and other family members who have joined to preserve that legacy.
"Unfortunately, it's a history that most Americans still know very little about today.
"It's a story that has to be shared from generation to generation. It was something that people were aware of in the 40s but then was pretty much forgotten until the 1990s. With the latest movie – Red Tails – we have to again share that story. Even some military people I've spoken with have never heard of the Tuskegee Airmen.
"You would think that wouldn't be the case, but sadly it is."
* * * * *
For more information about ongoing efforts to honor the Tuskegee Airmen, visit Return of the Red Tails and Tuskegee Airmen Inc.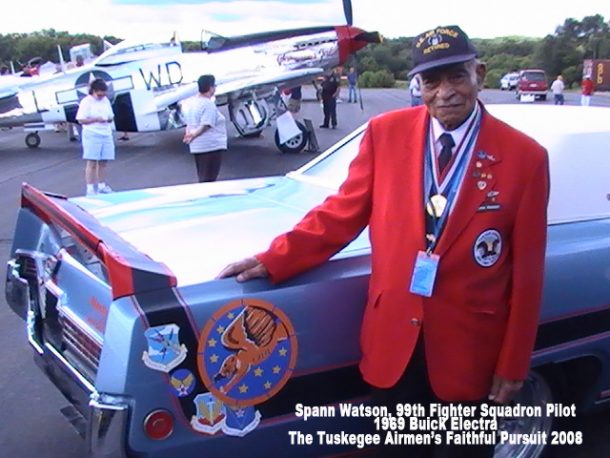 Anthony C. Hayes is an actor, author, raconteur, rapscallion and bon vivant. A one-time newsboy for the Evening Sun and professional presence at the Washington Herald, Tony's poetry, photography, humor, and prose have also been featured in Smile, Hon, You're in Baltimore!, Destination Maryland, Magic Octopus Magazine, Los Angeles Post-Examiner, Voice of Baltimore, SmartCEO, Alvarez Fiction, and Tales of Blood and Roses. If you notice that his work has been purloined, please let him know. As the Good Book says, "Thou shalt not steal."